BERRYVILLE -- The smell of metalworking oil is in the air, and the room buzzes and hums as machines turn billets of metal into custom parts for Wilson Combat's latest pistol.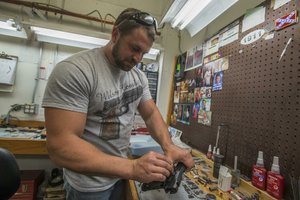 Photo by Anthony Reyes
Gunsmith Chris Davidson works on an EDC X9 at Wilson Combat. The pistol weighs under 2.2 pounds fully loaded.
Guy Joubert, the man in charge of product development at the custom gunmaker, moves between the machines, showing the workers the finished product. It's the EDC X9, a firearm with the mechanics of the venerable 1911 pistol mated with the double-stacked magazine that gives modern handgun designs, like those seen in Glocks, the ability to carry more ammunition.
"There are some similar pistols on the market, but nothing like it," Joubert said. "I call it the unicorn."
The EDC X9 is chambered in 9mm with a 15-round capacity. It's a compact pistol with the company's aluminum X Frame with rails that enhance reliability. It sports a fluted 4-inch stainless core barrel and includes an elevation adjustable tactical battle sight and a fiber-optic front sight. All the major components are built in-house.
Aimed at the concealed-carry market, the all-metal pistol is 1.4 inches wide, 7.4 inches long and weighs just under 2.2 pounds fully loaded. Its base retail price is $2,895.
While Wilson Combat has offered the hybrid pistols in the past, Joubert said those firearms included polymer parts, were significantly larger and had a visual aesthetic that was more like a classic 1911. Since it was offered in 9mm, other issues, like reliability, also had to be addressed, calling for redesign from the ground up.
"Bill [Wilson] just took the concept and ran with it," Joubert said.
Formed in 1977 by Wilson, the privately held company headquartered in Berryville in Carroll County has gone through major expansions in the past few years. It employs about 165, including about 50 gunsmiths. The company builds and sells custom model 1911 pistols, AR-15-style rifles, tactical shotguns, ammunition, magazines, custom gun parts and other shooting gear.
Arkansas is the home of other gunmakers, including Walther Arms in Fort Smith, and North Carolina-based Remington Arms has a large-scale ammunition plant in Lonoke. Last year, gun- and ammunition-maker New Hampshire-based Sig Sauer said it will centralize its ammunition production at a new plant in Jacksonville. The company plans to open the facility in early summer.
According to a recent study by Wallethub, a research company based in Washington, D.C., Arkansas ranks eighth in dependence on the gun industry. The survey ranked all 50 states on 13 key metrics that examined the gun industry, gun prevalence and gun politics.
In response to emailed questions, Jill Gonzalez, an analyst with Wallethub, said Arkansas ranked ninth in the number of gun manufacturers per capita, with 2.67 per 100,000 residents; sixth in total firearms-industry output per capita; 20th in taxes paid by the firearms industry per capita; and 28th in average firearms-industry wages and benefits per capita.
"These rankings indicate that Arkansas is quite dependant on the gun industry from an economic standpoint," she wrote.
According to data collected by the FBI, firearm background checks through the National Instant Criminal Background Check System hit record levels in 2016 at 27.53 million, up 18 percent from the year before. While those figures don't represent the number of guns sold, they are generally used as indicators of firearms demand.
An August report from research firm IBIS World noted consumer anxiety over further gun-control legislation was a major sales driver in recent years, but it anticipates a slowdown in sales over the next five years with annual growth predicted at 1 percent annually through 2021 as demand normalizes. While the election of President Donald Trump is expected to reduce some panic buying from gun owners, sales still appear strong.
National Instant Criminal Background checks for the first two months of the year were lower than last year's record numbers, but checks for January and February stood at nearly 4.3 million. Taking last year's record off the table, it's the highest total for the first two months of the year since 2013.
Since March, when word of the EDC X9 hit the firearms market, Wilson Combat has received more than 800 orders for the custom pistol, Joubert said.
Michael Bane, television host and producer with The Outdoor Channel for programs including Shooting Gallery and The Best Defense, also co-authored The Combat .45 Automatic: A Complete Guide to Purchasing, Modifying and Customizing the .45 Automatic for Competition or Carry with Wilson in 1985. He said the new pistol has generated a lot of buzz in the firearms community, and he expects it to fill a need in the concealed carry market.
"This gun is a world-shaker, even at this price point," he said.
Bane said for the past five years or so, the trend in concealed carry guns has been toward small, flat, easily hidden pistols, typically chambered in .380 ACP (Automatic Colt Pistol) or 9mm, with a capacity of six rounds. Pistols offered in that configuration by companies like Glock, Sturm, Ruger & Co. and Springfield Armory were hot sellers and dominate the concealed carry market.
Bane said over time, some people who regularly carry concealed pistols have begun to rethink what types of threats they might face, shifting from thoughts of facing a single attacker, like a mugger, to what he called "the emerging threat" of one or more assailants who may be heavily armed.
In that scenario, Bane explained, those who carry a concealed weapon might need a slightly larger pistol that lends itself to taking longer range, more accurate shots and one that holds significantly more ammunition.
"It's still like being struck by lightning," Bane said of that scenario. "But on the other hand, it happens."
The EDC X9 meets the criteria of this new way of thinking, Bane said, adding it does it in a compact, concealable package and from a customer gunmaker with an reputation for high quality.
"I think it's smart of Bill [Wilson]. You have to go toward what the market wants," Bane said.
SundayMonday Business on 04/02/2017