GRAVETTE -- Mirielle Still likes the challenges she encounters in welding class, but she admits to getting some satisfaction out of "showing up all the boys" when it comes to practicing the skill.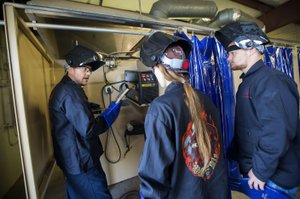 Photo by Jason Ivester
Northwest Technical Institute instructor Brian Wheeler (from left) talks Thursday with seniors Mirielle Still and Eric Hamilton in their welding class at Gravette High School. The class meets about three hours per day, 15 hours per week. Each day they spend about an hour in a classroom before heading to the workshop to practice.
"At first it was just to show everybody I could," said Still, 17, a Gravette High School senior. "I didn't really see myself doing it as a career. But now that I've actually been instructed correctly, I could turn it into a career if I'd like to."
Welding wages
In Arkansas, welders make an average hourly wage of $17.17 and annual wages of $35,720, according to the United States Department of Labor's Bureau of Labor Statistics.
Source: Staff report
Still is one of 29 students -- and one of two girls -- enrolled in two sections of the welding class, which is being offered for the first time in the School District. It's open to students in neighboring districts as well.
The program is a partnership between the district and Northwest Technical Institute of Springdale. The district provides the facilities. The institute provides the instructor. Both organizations have provided the necessary equipment, tools and supplies.
The course counts as credit toward graduation.
Welders specialize in cutting and joining metal using high heat. They are in demand in Northwest Arkansas. The region will need to hire about 265 workers who have welding or related skills each year over the next decade, according to the Northwest Arkansas Council.
Those numbers come from the U.S. Department of Labor's Bureau of Labor Statistics. The bureau has models it uses to predict job growth and how many current workers will need to be replaced.
Michael Harvey, the Northwest Arkansas Council's chief operating officer, said the bureau's projections for Northwest Arkansas are "notoriously conservative."
"We always outperform them," Harvey said.
Skyler Adams, 17, is a Gravette senior in the afternoon welding class. He had enjoyed a previous experience with welding.
"It always seemed really cool, and it just kind of stuck with me. So I heard about the welding program and I was like, 'All right, sign me up,'" Adams said.
He believes his future lies in welding.
"I can do stuff with my head -- mathematics and what not -- but I've never been a huge fan of it. I've always been more of a hands-on kind of guy," Adams said.
Brian Wheeler, who teaches the welding class, has more than 25 years of welding experience. The class meets about three hours per day, 15 hours per week. Each day they spend about an hour in a classroom before heading to the workshop to practice.
Students get 1.5 elective credits per semester. Administrators ensure the students are on track to graduate before they enter the program.
"Because of this, it helps them in the fact they don't have to choose electives that they might not want to fulfill grad requirements," said Jay Chalk, Gravette High School's principal.
Ten welding machines are set up in an old agriculture building on the district's middle school campus, formerly home of Gravette High School. The maintenance department occupies part of the building, but the department will be moving to a new facility within a few months, leaving the welding program room to expand.
Northwest Technical Institute has 21 high school students enrolled in its welding classes on its Springdale campus, but the distance to that campus makes it an impractical choice for many Benton County students. That's why the institute agreed to open a satellite in Gravette.
It's not the first satellite location for the institute. It also offers a certified nursing assistant's class at Rogers High School and a medical professions class at Farmington High School.
"It's going very well," Blake Robertson, the institute's president, said about the Gravette partnership. "We are very interested in making sure we not only address our purpose as a postsecondary, but we want to make sure that we get into the secondary schools and provide career and technical instruction that will be helpful to the students when they graduate. Because not every student who graduates is going to go to college. They can use the skills they learned in this welding class to get a job."
Most of the welding students come from Gravette High School, but nine come from Decatur High School and two from Bentonville High School.
Chalk and Wheeler have made visits to Decatur and Bentonville high schools to promote the welding class to students there.
The United Way of Northwest Arkansas this summer granted $12,000 to Gravette High School for the welding program, one of 18 First Step Funding grants distributed to local organizations. The aim of the grants is to break the cycle of poverty. The hope is the welding program will lead students to jobs with higher wages. The Gravette district has 1,800 students, of which 48 percent qualify for free or reduced-price meals.
State Sen. Jim Hendren and state Rep. Kim Hendren, both Republicans from Gravette, also were helpful in procuring some state money for the program, Chalk said.
The welding class is one more step for the Gravette School District in its career and technical department.
Three years ago, the district started career programs linked with Northwest Arkansas Community College. One program allows students to become certified nursing assistants; another offers training in heating and cooling systems.
The emphasis on career education came about when district officials realized 42 percent of their graduates weren't going to college, Chalk said.
The Gravette, Bentonville, Gentry and Decatur districts have discussed joining forces on a regional vocational center that would serve west Benton County. The success of that plan depends on whether the Legislature agrees to grant money for it.
NW News on 09/18/2016