"Man and bees go way back," says Ken Trimble.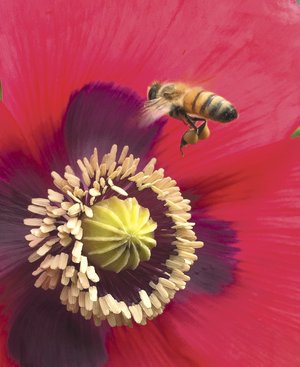 Photo by Courtesy Photo
Three-quarters of the world's plant species rely on pollinators for reproduction, says Phyllis Stiles of Asheville, N.C., founder of the Bee City USA program.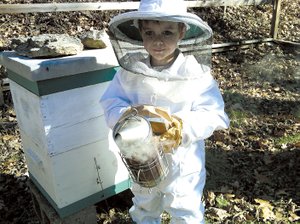 Photo by Courtesy Photo
Beekeepers come in all ages, says Ken Trimble, who recently helped Eureka Springs become a Bee City USA.
But even though he's a beekeeper, the Eureka Springs resident wasn't always a bee fan.
Web Watch
Bee City USA
beecityusa.org
Eureka Springs Pollinator Alliance
facebook.com/Eureka-Springs-Pollinator-Alliance
"I didn't really have an affinity for bees," he says. "I was kind of scared. I had sort of an innate fear of bees and their stings, and that buzzing sensation around your head initiates kind of a flight response."
It was noticing the loss of bees in his garden that made Trimble put his money where the honey would be. As he read about the importance of pollinators -- one in every three bites of food we eat is courtesy of insect pollination -- he thought "it might be time to think about getting some bees." And as Eurekans are wont to do, he wanted his friends to get involved. In April, Eureka Springs received the 17th Bee City USA designation in the nation and the first in Arkansas.
"I'm pretty proud of that," Trimble says. "I'm happy to be part of that movement."
THE BUZZ
The Bee City USA and Bee Campus USA programs were founded in 2012 by Phyllis Stiles of Asheville, N.C. She had no scientific background, she admits, and not only did she dislike bees, she was "terrified. I react in a big way when I get stung."
She was introduced to the idea of bees in companionable coexistence when her husband became a keeper, and "I just fell in love with these magical creatures," she says. "When you get to know them, it's hard not to fall in love with them."
"I became fascinated by the bees and increasingly fascinated by the other pollinators," she explains, "but all the news was bad. After going to conferences, reading books, meeting with a bee club monthly, I realized we were all wringing our hands but nobody was doing much to change the trajectory -- or at least that's how it felt to me as a new beekeeper.
"I looked around at what Tree City USA had done for decades with the urban tree canopy, and I thought, 'Maybe we can kind of follow that model.' Maybe once people became aware, we could turn this thing around. I asked our bee club if they would be willing to help me, and all these wonderful beekeepers said yes. And Ashville very courageously agreed to be the first Bee City USA in the country."
To seek the Bee City USA designation, a community -- through its governing body -- promises to:
• Promote a diverse and abundant habitat for bees and other pollinators.
• Encourage the choice of native species of plants in that habitat.
• Provide clean water for drinking, cooling and other needs of pollinators.
• Educate people in the community about the importance of pollinators.
• Reduce the use of pesticides deadly to pollinators.
• Designate public pollinator zones where possible, with signs to educate the public.
• Celebrate National Pollinator Week during the third full week of June with educational events, habitat plantings or restoration and "promotions that showcase the municipality's commitment to enhancing pollinator health and habitat."
Making that commitment was a no-brainer for Eureka Springs Mayor Butch Berry.
"I had been thinking more along the lines of trying to do butterflies, but I have always been a big proponent of bees," he says, explaining that he got interested back in the 1960s when a Eurekan, Joe Parkhill, wrote a book about "how much better it was to use honey as opposed to sugar."
"So when Ken came to me, I said, 'Let's go for it,'" Berry remembers. "Eureka Springs was one of the first Tree Cities, and we're kind of known for our environmental efforts. Bees fit right in with those responsibilities."
BEES MATTER
Stiles can rattle off a dozen good reasons to protect pollinators:
• Three-quarters of the world's plant species rely on pollinators for reproduction.
• Even meat and milk trace back to insects that pollinate the alfalfa and other feed for beef cattle and cows.
• U.S. honey bee populations are declining at an annual rate of 30 percent or more.
• The monetary value of honey bees as commercial pollinators in the United States is estimated at about $15 billion annually.
But it's clear Stiles now has a personal and passionate connection with bees.
"If I'm out and about and looking at flowers with all kinds of critters on them, I start to notice how [bees] carry the pollen from flower to flower or back to their babies. They are attracted to the smell and the color of the flowers because they know they're going to get a food reward. It's almost a sexual act when that flower is in close contact with its desired pollinator.
"So as a human, I can stand there for hours watching the way they approach the flowers, looking at the way they store the pollen, understanding how they are perfectly aligned with the plants they pollinate. It's this incredibly orchestrated, ingenious dance. And the more you learn, the more you realize you know absolutely nothing. It's so endless, you can never get bored."
However, Stiles and her husband are no longer beekeepers. Their colony perished last fall.
"We decided we were going to take a break and see if we're going to do it again. We were so worried about our bees all the time. What if there was a bear? Were they too cold? We took blankets out and covered up the hives! When it rained for a long spell, we worried that they were starving. We worried like they were our pets."
BEE COMMUNITY
Trimble, who is part of the Eureka Springs Pollinator Alliance, isn't quite that passionate -- but he does think anybody can learn to keep bees. After about a $400 initial outlay for boxes and tools and bees -- which come by the pound -- the biggest investments are time and commitment.
"You've got to be there with the bees a couple of times a week until they get acclimated," he says, suggesting would-be beekeepers start with a class such as the ones taught at many universities and by Cooperative Extension Services and perhaps find a mentor to answer questions. "But if you've got good -- I mean temperamentally good -- bees, they're easy to be around.
"A lot of people hum or sing to their bees, talk to their bees," he adds. "They can be conditioned really easily to smells and sounds and people's actions. Just don't wear a winter coat that's got dark fur -- they think 'bear'!"
Although Trimble isn't much interested in harvesting honey, he says he always tells people "everybody should open up a bee hive once in their life to be there and sense the sound of the hive, to see the bees moving around, to smell the honey -- it's full sensory overload. It's an experience you don't easily forget."
Now that the Bee City USA signs are ready to go up around Eureka Springs, Trimble hopes to interest others in providing habitat for pollinators like his bees. It's as simple as choosing native plants in the garden, letting the dandelions bloom a little longer in the spring, keeping flowers healthy in the summer and into the fall, providing clean water and cutting down on pesticides -- "or at least read the labels," he says. "And be aware of the fact that pollinators are usually out during the day, so if you do have to spray, spray toward the evening hours."
The deaths of more than 3 million bees -- killed by aerial spraying for Zika earlier this month in South Carolina -- "shows us how fragile these little insects are and that we need to do everything we can to protect, promote and encourage the growth of pollinators," Eureka Springs Mayor Berry says. "Being the first Bee City in Arkansas [and the only one so far] is quite an honor actually, but along with that honor comes responsibility."
NAN Our Town on 09/15/2016