BENTONVILLE -- Five years ago Joe Wilson established a cooking competition to expand the culinary horizon of squirrel cuisine.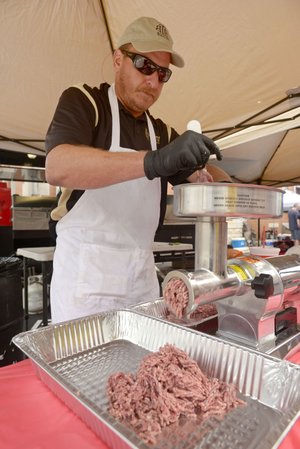 Photo by BEN GOFF • @NWABENGOFF / NWA Democrat-Gazette
Shane Gordon of Big Time Barbeque from Bentonville prepares squirrel meat Saturday for his competition entry during the annual World Championship Squirrel Cookoff in downtown Bentonville. Gordon was preparing squirrel tacos with squirrel queso and cherry salsa.
Now he not only enjoys exotic dishes such as squirrel etouffee, but his project has transformed from a local block party in a national fundraising event benefiting Northwest Arkansas service organizations.
Cookoff champions
The Okie Squirrel Busters from Norman, Okla., won first place in the 2016 World Championship Squirrel Cookoff. The team took home $1,000 after wowing judges with their fried squirrel ravioli.
Source: Staff Report
There were seven states and more than 30 teams represented Saturday at the 2016 World Championship Squirrel Cookoff. Amateur and professional chefs set up dozens of tents on the Bentonville square, as thousands lined up early to dine on various recipes for cooking the fluffy-tailed rodent.
"It's always a good time, even when you don't win," said Natalie Morrison of Hiwasse Girls Cooking Squirrel. Morrison's main dish was squirrel stroganoff. And she added a dessert this year: a fried pie filled with four-berry jam, cream cheese, sausage and minced squirrel that was dipped in a sugar glaze.
More than once, Morrison had to turn people away -- she had nothing left to serve.
Proceeds from this year's cook off went to Sheepdog Impact Assistance and the Wings for Our Troops Foundation, two service organizations based in Rogers serving veterans, military members and police and firefighters.
"(The money) is going to vets one way or another," Wilson said. "We support America buy supporting those who support us."
A total wasn't available Saturday, but Sheepdog officials said it will use the money to provide holiday meals to police and firefighters on duty during Thanksgiving and Christmas, according to member Rob Beidleman.
The Wings Foundation, founded by Tami and Terry Boyett, will use the money to help military members return home to see their family before deployment. The Boyetts' son, Cpl. Chad S. Wade, was killed in 2010 in Afghanistan. The last time they saw him was when he returned home before heading into a war zone.
"We're all going for the same cause, helping people in need," Terry Boyett said.
Wilson, who doesn't participate in the cook off, said he's happy to see the event has enhanced the perception of eating wild game.
"(Bentonville) is the art and culinary capital of the state -- and we're cooking squirrel," Wilson joked.
As the event has grown, so has it's reputation.
Curtis Osier heard about the event three years ago. Now his team -- Squirrely Daze -- is a mainstay. Osier said he'd like to see bowls sold next year as a way to raise more money and be brought to different stations, but said the cook off is "perfect as is."
Chris Garner brought his wife and grandson up from Subiaco. Garner had been wanting to make the trip for years, but said he never could time it right with work.
"I really liked it," said Garner, who sampled a squirrel egg roll. "I wish I'd gotten here earlier to try a little more."
NW News on 09/11/2016