SPRINGDALE -- When it came time to select treasures for collectors' sets marking the 20th anniversary of the publication of the novel Game of Thrones, it was likely coins by Shire Post Mint in Springdale would become part of the bounty.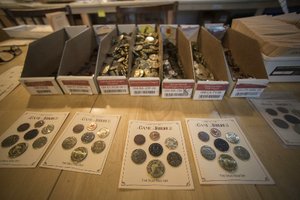 Photo by J.T. Wampler
Shire Post Mint's Dead Man Set consists of six coins representing key Game of Thrones characters, some of whom have now been killed off in the HBO series.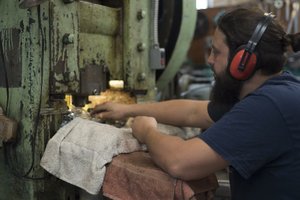 Photo by J.T. Wampler
Woody Maringer uses a press to imprint coins that will be used in collectible sets for Game of Thrones.
Random House and HBO Global Licensing teamed up on the collectors' boxes. They selected exclusive licensed products and collectibles, including a special anniversary edition of George R.R. Martin's first book, A Game of Thrones.
Random House is the publisher of Martin's best-selling series, A Song of Ice and Fire. HBO is the home of the hit television show based on Martin's work.
"Shire Post Mint is a long-standing partner of George's, and their coins fit perfectly into these collectible sets," David Moench, deputy director of publicity at Random House Publishing Group, wrote in an email. "We are especially excited that they were able to create a previously unreleased set (The Dead Man Set) for our Limited and Ultra Limited Edition boxes."
The Season 6 finale of HBO's Game of Thrones in June hit a series high with 8.9 million viewers, besting the Season 5 finale, which drew 8.1 million viewers.
According to Entertainment Weekly, with DVR recordings, streaming and repeat showings, Season 6 averaged more than 23 million viewers per episode, up 15 percent from the year earlier. In September, the show won Emmy Awards for best writing and directing, racking up 38 overall wins for a scripted series, beating Frasier's record of 37.
The Song of Fire and Ice series includes Game of Thrones, which was first published in 1996; and A Clash of Kings; A Storm of Swords; A Feast for Crows; and A Dance with Dragons. Random House said the series has sold more than 60 million copies to date.
Shire Post Mint's founder Tom Maringer struck a deal with Martin for the licensing of the coins in 2003. Even as Martin's books became more popular and the HBO series gained more and more fans, the deal stood. Maringer is quick to point out how Martin honored their relationship.
"He's a nice guy, and he insisted his personal licensees were involved," Maringer said of the collectors' sets.
Licensing is a business arrangement where a company gives another company permission to use its intellectual property -- trademarked or copyrighted material -- usually in exchange for payment of some kind.
According to the trade group International Licensing Industry Merchandisers' Association, in 2015 entertainment and character licensing accounted for $113.2 billion in retail sales worldwide, or about 45 percent of the $251.7 billion spent on licensed goods overall.
In the U.S., entertainment and character licensing sales were $43 billion for the period. The U.S. market is the largest segment, with total licensed good sales of $130 billion, or about 45 percent of all sales for 2015.
Marty Brochstein, senior vice president at the trade group, said HBO is creative in its Game of Thrones licensing. He noted that products under license with HBO for the series include clothing, jewelry, figurines and even beer.
He said a key to success is having consumers identify with the licensed product -- in this case the fantasy world Martin created. Some might identify closely with a specific character from the series, like Ned Stark, so that customer buys a product like Shire Post's coins or a replica sword; another might want to simply identify as a fan, so that person buys a T-shirt or a mug.
"Once identification gets involved, commerce gets involved," he said.
In addition to the Game of Thrones coins, Maringer makes coins under license from several other fantasy franchises, including Robert Jordan's The Wheel of Time, Robert E. Howard's Conan the Barbarian, Patrick Rothfuss' The King Killer Chronicles, and J.R.R. Tolkien's The Lord of the Rings.
Maringer has been making coins for decades but took over the mint full time in 2010. Today, with the help of his son Woody and the rest of the family, Maringer's mint makes about 150 different coins, sold individually or in sets, and produces about 100,000 coins annually.
The Special Edition box of the Martin set includes the mint's biggest seller -- The Iron Coin of the Faceless Man. In the Martin books, the coin is used as a calling card of sorts by a cult of assassins known as Faceless Men. The coin is made of iron and inscribed with the words "Valar morghulis'", a password that translates to "All men must die," and "Valar dohaeris", a countersign that translates to "All men must serve."
"This one is our big hit -- a classic," Maringer said.
The Limited Edition box set includes the Iron Coin along with a first-time release, Shire Post's Dead Man Set. The books and HBO series are known for sudden and often grizzly character deaths. The mint's Dead Man Set consists of six coins representing key characters who are now kaput in the HBO series.
Maringer notes that many of the coins were struck before the characters were rubbed out, and this is the first time they've all been packaged together.
"This set is full of spoilers," Maringer said with a chuckle. "They represent some spectacular deaths."
The Ultra Limited Edition box set includes the Iron Coin, the Dead Man Set and the Aegon Targaryen Silver Stag, about the size of a nickel, made of o.999 fine silver, all packaged together in an envelope closed with a wax seal.
The Special Edition box sells for $75, the Limited Edition box goes for $200 and the Ultra Limited Edition, which was fixed at only 200 boxes, costs $600 and is sold out. The products were first offered for pre-order earlier this month at New York Comic Con for delivery in early December. They are not available in stores and are sold exclusively at grrmbox.com.
Elio M. Garcia Jr., co-founder of Westeros.org, the oldest and largest website dedicated to Martin's Song of Ice and Fire series, said that in the past fans of the books and of the show have responded positively to "in world" collectibles, like those made by Shire Post Mint.
Collectibles represent items characters might have used, in this case coins, as opposed to T-shirts featuring a popular character.
When asked about pricing, Garcia replied via email, "I would have thought $600 was a lot to ask, but apparently 200 others didn't, so what do I know? Random House and HBO definitely know their business, and what demand would be like for something this exclusive and filled with awesome stuff."
Random House's Moench said sales for the sets remain strong, and the company is confident that the sets will be in great demand as Christmas gifts.
Helen Maringer, the head of sales for Shire Post Mint, did most of the negotiation regarding the box sets. She said the mint being included in the effort helps raise the mint's profile with customers. "It's cool for us," she said.
SundayMonday Business on 10/30/2016