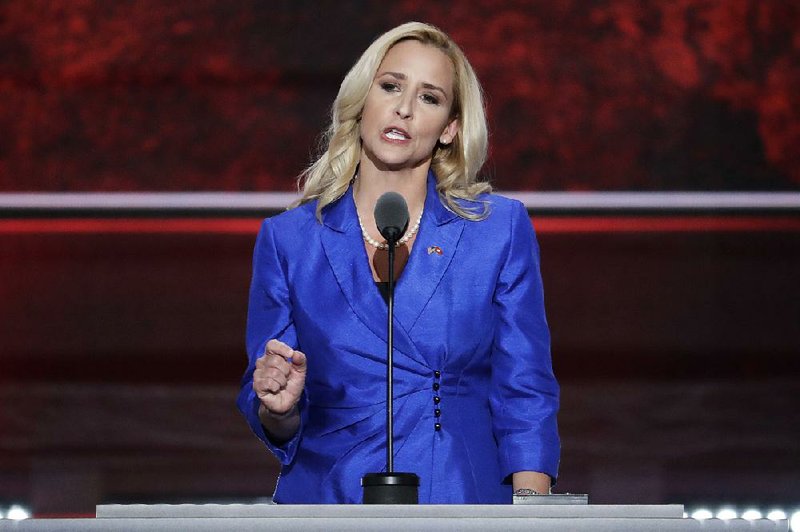 Arkansas Attorney General Leslie Rutledge, speaks during the second day of the Republican National Convention in Cleveland, Tuesday, July 19, 2016. - Photo by AP Photo / J. Scott Applewhite
LITTLE ROCK — A conservative group that accused Leslie Rutledge of being soft on gun rights during her successful bid for Arkansas attorney general two years ago praised the Republican on Tuesday and said it didn't expect to get involved in her just-started 2018 re-election campaign.
Carrie Severino, the chief counsel and policy director for the Judicial Crisis Network, said she didn't expect the group will need to get involved in Rutledge's bid for re-election. Rutledge on Monday said she was seeking another four-year term and filed her first fundraising report with the state.
"General Rutledge has proven to be a strong advocate for limited, constitutional government," Severino told The Associated Press in an email. "State attorneys general are more important than ever in the battle against federal overreach, and Arkansas is lucky to have General Rutledge in that role."
Rutledge won the GOP nomination two years ago in a race in which she fended off ads and mailers from JCN that compared her to President Barack Obama and House Democratic leader Nancy Pelosi. The ads criticized her for not advocating a "Stand Your Ground" law to allow a citizen to use deadly force in self-defense instead of retreating. Rutledge argued state law already allows citizens to defend themselves with deadly force.
A spokesman for Rutledge declined to comment. The attorney general last week said she hoped to avoid another divisive primary, and said she'd like more disclosure about outside groups' involvement in Arkansas political races.
The Judicial Crisis Network formed in 2004 to promote former President George W. Bush's U.S. Supreme Court picks and has also branched out into state judges' races in recent years. The group is classified as a tax-exempt "social welfare" organization and isn't required by law to disclose its donors. Earlier this year, it spent more than $600,000 on ads targeting Justice Courtney Goodson during her successful bid for Arkansas Supreme Court chief justice. Goodson was defeated in the March election by Judge Dan Kemp, who will be sworn in next year.
No Democrats or Republicans have announced they're challenging Rutledge, who has already raised nearly $72,000 for her campaign.
Sponsor Content
Comments