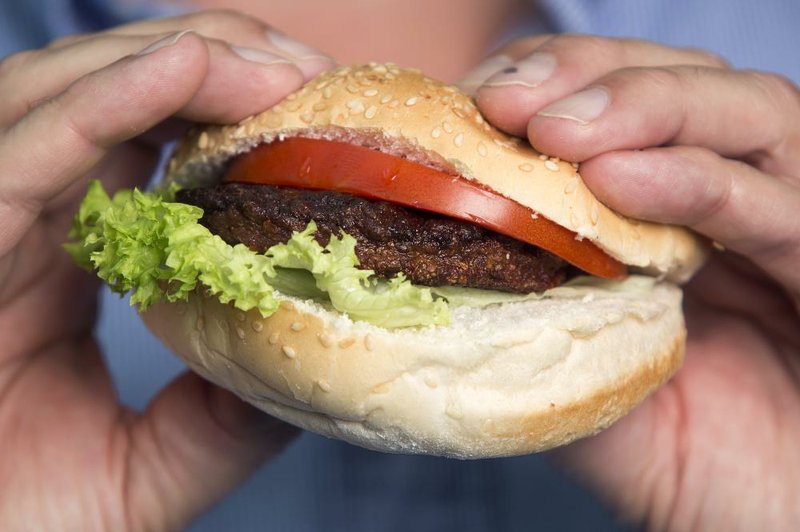 A beef burger created from stem cells harvested from a living cow is held by Dutch scientist Mark Post. - Photo by Bloomberg News / SIMON DAWSON
MAASTRICHT, Netherlands -- Near a cobbled old town dotted with Roman ruins and medieval church spires, the University of Maastricht houses Mark Post's laboratory. Post has been growing meat from stem cells for more than a decade, and the technology is just now emerging as a viable competitor for the traditional meat industry.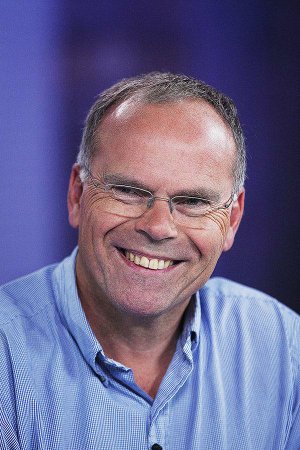 Photo by Bloomberg News file photo
Mark Post, a scientist at Maastricht University, is shown in this file photo.
It's a science-fiction future in an ancient city that could disrupt the $835 billion U.S. agriculture industry.
Post started researching cultured meat with financial help from Google billionaire Sergey Brin and government grants, and watched as it went from futuristic potential to a mass-produced product.
"I couldn't accept the idea that it wasn't fundable," Post said. "I said 'it's not going to be easy, it's very expensive, but it can be done.'"
Post's work in Maastricht, near the border of Germany and Belgium, has the potential to reach beyond Europe to the pastures and chicken houses of Arkansas. Almost 50,000 people in Arkansas work in animal agriculture, creating about $1.5 billion in wages, according to a report by the University of Arkansas Division of Agriculture Research and Extension.
"The traditional concept of meat is about to be changed," Post said. "There are all kinds of new possibilities. It's thousands and thousands of years of history and now, all of sudden, we can make it a different way."
Post first presented his lab-grown burger in 2013 to media fanfare. That burger had a price tag of about $330,000. Now, if produced on a mass scale, he can make the burger for about $10. He expects to sell the meat commercially within five years. He said in the last half year, the meat industry has become increasingly interested in the technology.
After all, this burger isn't plant-based. It's actual animal tissue.
To grow the burger, Post takes a specific kind of stem cell called a myosattellite cell from a cow biopsy and puts it in a nutrient broth. These cells reproduce quickly and tend to form muscle fibers. The fibers form tissues which are layered together -- about 20,000 of them -- to make a burger patty.
It's the same tissue that's grown inside a cow, just cultured in a lab.
Post thinks his burgers taste and feel like the real thing, but could still use improvement. They still taste bland, he said, and he's working on how to incorporate other elements, such as fat, to the burger to make it more flavorful. Post is also starting to look at new projects.
"It's more difficult to create an entire steak," he said. "That's the next step."
Ground beef for burgers isn't the only possibility. Chicken, pork and turkey could be coming next. Exotic meat could also be cultured. Post keeps a "bizarre cookbook from which you cannot cook" written by a Dutch technologist in his office that details hypothetical recipes, including meat ice cream.
Tyson Foods joins club
The traditional agriculture industry is slowly shifting toward alternative protein sources as a growing niche group of consumers look for sustainable products. This week, Tyson Foods announced an investment in Beyond Meat, a company that makes "beef" out of plant protein. Tyson now owns a 5 percent stake in Beyond Meat.
Investor activist group Green Century submitted a shareholder proposal to Tyson in August asking the company to address plant-based protein in 2017. The group withdrew its proposal on Thursday after the Beyond Meat investment was announced.
"More people than ever are looking to eat sustainable, plant-based foods that align with their values, and Tyson is right to capitalize on this demand," said Leslie Samuelrich, President of Green Century Capital Management.
Cultured meat is a step beyond veggie burgers, but it opens the door for meat-packer giants like Tyson to invest in alternative protein.
"It's showing they see this as a possibility," said Marissa LaFave, a shareholder advocate with Green Century. "If they were to take advantage of something like this, they could really grow. It's a financial positive."
Post isn't the only person trying to create cultured meat. Since his 2013 debut of the cultured meat burger, several companies have popped up creating everything from meatballs to pork.
Memphis Meats, a California startup trying to make cultured pork and beef, said in February that the company grew meat at $4,500 per quarter pound, and since then the price has continued to drop.
"Ultimately, we expect to be cost competitive with conventionally-produced meat, and eventually even more affordable," said David Kay, a business analyst with Memphis Meats.
These companies still have significant hurdles to selling cultured meat once it gets on grocery store shelves. The product has earned the moniker "frankenmeat," and companies have to fight the initial "yuck" response from consumers.
"We find that once people learn the facts about our meat, and the many benefits it offers to the body, the planet and the animals, they become overwhelmingly enthusiastic for the products," Kay said.
Only 20 percent of Americans would be willing to try cultured meat, according to a 2014 poll by Pew Research Center. More men would be willing to try than woman, with 27 percent of men and 14 percent of women saying they would try it. College graduates are about three times as likely as those who have not attended college, at 30 percent to 11 percent.
"It's not even about animal welfare for me," Post said. "Although I know to consumers that will be important.
Raoul Adamchak, a professor who studies sustainable farming at the University of California Davis, said reaction to genetically modified food, especially in Europe where GMOs are a central political discussion, are more a function of politics than science. Marketing will be central to overcoming initial hesitance about cultured meat. Cultured beef may not come from a cow, but the companies trying to sell it argue that it is more ethical and more sustainable.
"Agriculture isn't natural, but it can be based on ecological principles that support biological diversity," Adamchak said. "The agricultural community -- farmers, scientists, industry -- is constantly working on strategies and technologies to make agriculture more sustainable."
Post said his work with cultured meat is an attempt to make food production more sustainable. Traditional agriculture takes a lot of land, water and other resources. Cultured meat has a smaller carbon footprint than regular beef, chicken or pork. It also requires less land and water, according to a 2011 study by the University of Oxford.
The demand for meat worldwide is increasing, but production isn't. Between 2011 and 2020, the Organization for Economic Cooperation and Development estimates that the demand for meat in Asia will rise by 56 percent, followed by an increase of 8 percent in North American and 7 percent in Europe.
People in industrial countries, including the United States, each eat about 210 pounds of meat a year. In developing countries, people eat roughly 66 pounds per year, but that number is climbing fast. By 2030, the average person will eat about 100 pounds per year, according to a 2015 study by the Food and Agriculture Organization of the United Nations.
"We cannot continue doing what we have been doing," Post said.
SundayMonday Business on 10/16/2016
Print Headline: Meat created from stem cells
Sponsor Content
Comments