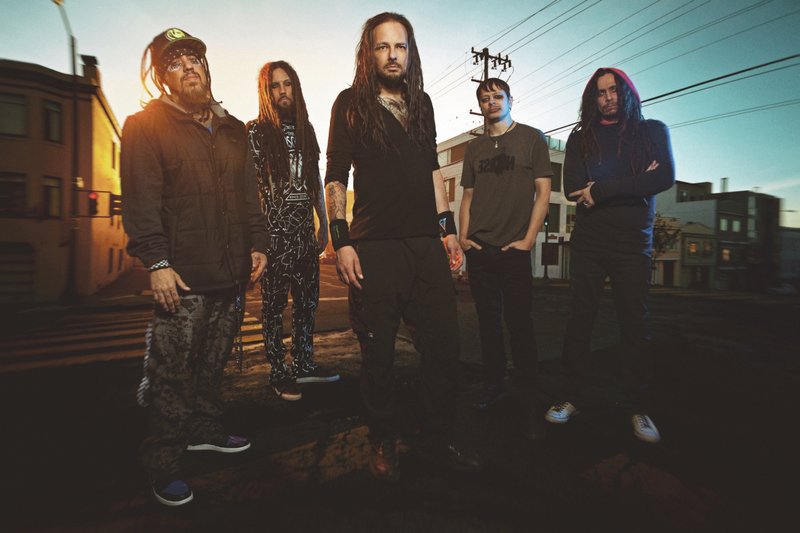 Korn is back with its signature sound on a new album, "Serenity of Suffering." The band visits the Walmart AMP on Saturday.
The band's previous album, "The Paradigm Shift," might have brought back Brian "Head" Welch to the fold after leaving for several years for substance abuse recovery, but with the newest album, "Serenity of Suffering," which is set for release Oct. 21, the boys are bringing back Korn's original guttural wrench. When you hear Jonathan Davis' gritty vocals and dark lyrics, James "Munky" Shaffer and Welch's battling guitar riffs, Reginald "Fieldy" Arvizu's driving bass and Ray Luzier's powerful performances on drums -- it's like coming home.
The musicians have dabbled in different genres, battled personal demons and addictions, but they have found their way through to the other side. They credit their producer, Nick Raskulinecz, and Roadrunner Records for reminding them what it was that they were missing, where they had come from, what the fans wanted to hear and giving them the opportunity to create the music. And now, highlighted by a return to a dual-guitar dynamic and some of Davis' most inspired moments of self-reflection and expression, the new album finds Korn harnessing all the anger, power and trademark balance of darkness and light that made their name all those years ago.
FAQ
Nocturnal Underground Tour:
WHAT — Korn, Breaking Benjamin, Motionless in White and Silversnakes
WHEN — Gates at 5 p.m. Saturday; music at 6 p.m.
WHERE — Walmart Arkansas Music Pavilion in Rogers
COST — $29.50-$52
INFO — 443-5600 or arkansasmusicpavilion.com
"The title sums up every song on the album. I'm always put in ... situations where I'm dying inside, and I just take it. Why do I hurt myself constantly? Why do I put myself through this hell? And I came up with the conclusion that suffering is the only way I feel safe and serene. I must like it," Davis says. "It must make me feel at home when I'm hurting. If you've been there, you understand. Being excruciatingly happy or any other emotion for me is kind of foreign and weird. When I explain it to people they think I'm crazy and they don't understand, but core fans understand."
The tone of the new album is definitely reminiscent of the Korn of old. Davis "really reached deep inside himself and laid out his soul again," Shaffer says in a recent interview. Along with the powerful lyrics, Davis has brought back a familiar vocal sound in the song "Rotting in Vain" that is a thrill for all Korn fans. Shaffer calls them the "boom-shakas," the frenetic, dark, wordless bark-raps that Davis made his signature long ago. "It's heavy. It's got energy. It's nostalgic in a sense that you want to hear it again, but it's not forced, like we are trying to rehash something. It just fits."
Korn has always put as much emphasis on its stage show as its recorded work. Band members recognize the importance of their dedicated fanbase, and that fanbase is becoming multigenerational. "I remember when the parents would come to the concerts because their kids were fans. Now those kids are bringing their kids to see us. It's always great to see the diversity in age of the people that come to see us live. There are fans that have been around for 20 years and for some, it will be their first concert," Shaffer says.
Korn will be visiting Northwest Arkansas for the first time in years, and the musicians are looking forward to it. "It's been a long time since we've been there, and I hope everyone who hasn't had the chance to see us recently, and fans that have never had the chance to see us at all, will come out for the show," offers Shaffer. "We love performing live, love the audience feedback and energy. The fans drive us and give us the fire and passion that we have. We feed off it."
NAN What's Up on 10/14/2016
Print Headline: Korn Still Growing
Sponsor Content
Comments