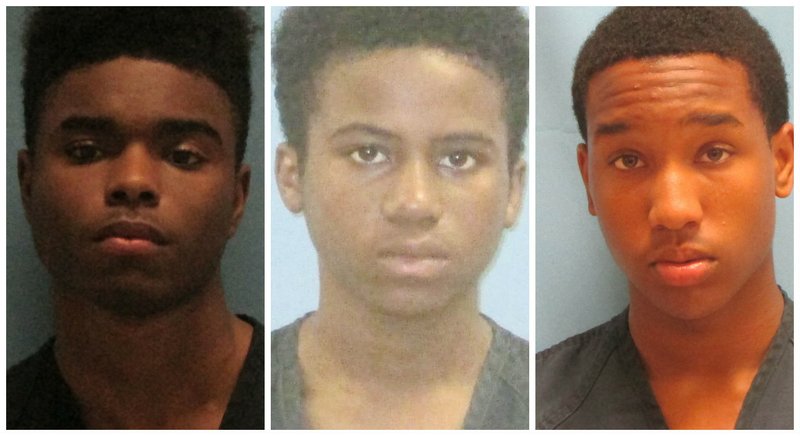 From left to right: Xavier Porter, Quincy Parks and Trevone Miller - Photo by Pulaski County sheriff's office
The youngest of three teenagers accused of fatally ambushing a fourth teen during a robbery in Sherwood promised on Monday to testify against his co-defendants in exchange for prosecutors dropping a capital-murder charge and transferring his case to juvenile court.
Trevone Hayse Miller, who's turned 15 since Bryan Allen Thompson was shot to death in the parking lot of the Sherwood recreation center, also swore under oath before Circuit Judge Herb Wright that he had told police the truth about the April slaying.
The arrangement -- negotiated by Miller's attorney, Jimmy Morris, and deputy prosecutor Scott Duncan -- also requires the Sherwood boy to plead guilty in juvenile court, where he will be prosecuted under the Extended Juvenile Jurisdiction Act. That law allows him to be sent to prison if he is not deemed to be rehabilitated by the time he turns 21.
Miller, and cousins Quincy Parks, 15, and Xavier Porter, 17, made separate court appearances Monday as authorities try to keep them all apart both in jail and during court proceedings.
The first trial in the case is scheduled for Parks in February. Police have named him as the killer, based on Miller's statement and surveillance video.
Porter is awaiting the results of a mental evaluation requested by his attorney, Ron Davis.
Arrested the day after Thompson's body was found in his car, the teens were charged with capital murder and aggravated robbery, charges that carry a potential life sentence. They have been jailed ever since, about 5 1/2 months.
Police found a bag of marijuana between Thompson's legs, but said the teen did not have a gun.
Miller, the first of the three to be arrested, told detectives that Parks took $15 from the car, but left behind the drugs after suddenly shooting Thompson, according to the statements he gave police that were submitted to the court Monday.
Miller, who said he had a broken BB pistol tucked into his pants during the robbery, said the trio's plan was to take Thompson's money and marijuana.
But Miller said he had wanted to back out. When Thompson arrived, Miller got into the back seat of the car while Parks got into the front.
Miller told detectives that he only knew Parks as Porter's cousin. He said he didn't know Parks' name but thought it might be Anthony.
Miller said he knew Parks had a gun because he'd seen Porter give it to him.
The teens did discuss the possibility that Thompson might be armed, Miller said, because Parks and Porter said they heard that someone had robbed Thompson that same day and that he was carrying a Glock pistol with an extended clip.
There was never any talk about shooting Thompson, Miller said.
Thompson was measuring out the marijuana, Miller told police, when Parks suddenly got out of the vehicle and fired a shot into the car.
"So I was just sitting back there and all of a sudden Anthony got out of the car and said hold up, and came back, POW! He shot the white boy in the neck," Miller told police, saying the sound was so loud it felt like his eardrum was ruptured.
"Anthony ran off ... He took the $15 and ran off with the gun and stuff."
Miller said Thompson called out, "bro," when he was shot, then began choking. Miller told detectives he tried to get Thompson to give him his cell phone so he could call for help. Miller said he could only use his phone if he had Wi-Fi Internet access.
"I was slurring my words and stuff 'cause I never seen anybody get shot like that. And after that, I was thinking about telling the police, calling y'all, and I just went home," he said, saying he had panicked.
Miller also told detectives that if they had surveillance video from the recreation center that showed him getting into the back of Thompson's car, they should be able to see for themselves that Parks was outside the car when he shot Thompson.
"If y'all seen me in the back seat, y'all should have seen him shoot him."
Leaving Thompson in the car, Miller said he caught up to Parks and the two of them went to Parks' home, where the older teen told him he was going to hide the gun in his back yard.
Parks seemed surprised that he'd hit Thompson, Miller said.
"[Parks said] 'I don't even know where I shot him at,' and I was like, 'You shot him in the neck.' And he was like, 'Man, for real?'" Miller told police.
"And then, I was like, 'Why did you do it?' And he was like, 'Man, it looked like he was reaching for a gun, so I just shot him. It was us or him.'
"And then, [Parks] was praying to God that he don't get caught. And I was like, 'You ain't nervous like me, bro?' And he was like, 'No, I'm Crip, I'm straight.'"
The teens went their separate ways at Parks' home, Miller said.
He told the detective he thought at one point that Parks might shoot him since he was a witness.
Porter supplied the gun, a .38-caliber revolver, Miller told detectives. Police have said they found a .38 revolver in the closet of a North Little Rock home where the cousins had lived.
Thompson was killed with a .38-caliber-class bullet, but police were not able to conclusively match it to the gun.
But Miller's statements show that he was not immediately forthcoming with police. He was questioned twice by detectives, who had to repeatedly press him to tell them the truth about what had happened, even after he had promised that he was being honest.
Questioned the day he was taken into custody, Miller initially denied knowing anything about the killing other than what was in the news until detective Frank Spence confronted him with a surveillance photo of him with Porter and another teen, Ketron Griffin, at the recreation center.
In that interview, Miller first told the detective that he was only there to buy "weed" and that he didn't know anything about plans to rob Thompson or that Parks had a gun.
Miller's father, 58-year-old Hayse Miller, was present during that interview, and grew so frustrated by the situation his son had put himself in and the teen's response to police questions that he struck the boy before the detective could intervene, according to the statement.
"Somebody is dead," the elder Miller, a well-known authority in central Arkansas on substance abuse, yelled twice at his son before Spence took him outside.
In the second interview, conducted at the jail, detective Jeremy Farquharson told the teen that police had more questions because investigators knew he had still not told them the complete truth.
"We're giving you a fresh start," the detective said. "We are letting you start over. You've got to tell me everything because when we contradict what you say, it makes you look like a liar and nobody is going to believe you. You are done. Lock you up and throw away the key. It's up to you. This is your last opportunity."
Miller provided more details in the second account. He told Farquharson he knew Parks and Porter had planned to rob Thompson.
When Thompson arrived, Miller said he told Parks that he couldn't go through with the robbery because he'd recognized Thompson as someone he'd played basketball with.
Farquharson had to push Miller to get the teen to admit he was carrying a BB gun during the encounter.
Miller said the gun was broken. He initially told the detective that he kept the BB pistol in his backpack and never pointed it at Thompson. He said he threw it into some woods after Thompson was shot.
But when the detective pressed Miller about why he felt he needed to get rid of the pistol, Miller said he had actually dropped it while trying to climb a fence.
"How are you going to drop it if it was in your backpack?," the detective said. "It's not making sense, my man."
Miller then admitted he had the pistol stuck in his waistband when he got into the car, but continued to deny ever pointing at Thompson.
"All right, erase that part," he said. "I had the BB gun in my waist, but it didn't come out."
Miller said he got into the car because he thought the other teens would think he was weak if he didn't go along with them. He started to cry after telling the detective that getting into the back seat of Thompson's car ruined his life.
"They were trying to rob him. I didn't really want to do it. I wanted to get out, but they would call me a p****," Miller said. "When I got into the back seat, that's the whole thing that messed me up. There goes my life right there. Getting in the back seat with him. I just wanted to get the weed and go."
A Section on 10/04/2016
Print Headline: Youngest of 3 youths in slaying makes deal
Sponsor Content
Comments