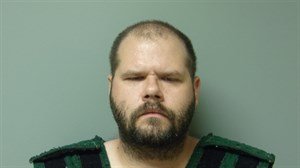 Richard Jordan Tarver
JONESBORO -- DNA taken from a washcloth inside a cloth bag at Lavinda Counce's home in Bay matched that from the man accused of killing her, a forensic examiner with the state Crime Laboratory testified Friday.
The DNA links Richard Jordan Tarver, 31, of Bay to the slaying of Counce, 90, prosecutors say.
Tarver is charged with capital murder in Craighead County Circuit Court. Prosecuting Attorney Scott Ellington is seeking the death penalty for Tarver if he is convicted.
Mary Simonson, a forensic DNA examiner, said she tested a white washcloth investigators found in a large black bag left on a chair in Counce's home July 3, 2015. When Simonson compared her results to DNA taken from Tarver after he was arrested July 12, 2015, she found the match.
She said there was a 99.1 trillion-to-1 probability the DNA on the washcloth was Tarver's.
Tarver's attorney, Randel Miller of Jonesboro, cross-examined Simonson and suggested the washcloth sample was contaminated in the crime lab by samples examiners already had from Tarver.
Prosecutors said Tarver, who lived near Counce during the summer of 2015, went to her home July 3, 2015, carrying his black bag. He knocked on her door, pushed her inside her home when she answered and then forced her into the trunk of her car.
Tarver is accused of then driving to a cornfield east of Bay and forcing her to walk into the rows of corn.
He shot her in the back of her head with a .38-caliber handgun, deputy prosecutor Grant DeProw said Thursday in his opening statement.
Searchers found Counce's body July 12. Tarver was arrested five days later.
Testimony Friday focused on forensic evidence Craighead County sheriff's deputies gathered during their investigation of Tarver.
Prosecutors said Tarver's black bag contained a hatchet, rope, duct tape, a knife, a hammer and a wooden club wrapped in plastic clear wrapping. DeProw called it Tarver's zombie "survival" bag.
Much of Friday's scientific testimony was tedious and drawn out. Jurors often fidgeted in their chairs and some in the courtroom audience appeared to nod off at times.
Even Tarver seemed to find the proceedings dull.
"This was rough," he told a Craighead County deputy during a recess. "This wasn't as bad as jury selection the other day, but it was tough."
Simonson said she tested an array of evidence presented by Craighead County deputies but found little DNA on most of the things.
She did find an "unknown female" sample on the club wrapped in clear plastic wrapping, she told Deputy Prosecuting Attorney Charles Finkenbinder. She said she excluded the source as being from Samantha Tarver, Tarver's wife.
But she found a positive match on a white washcloth inside Richard Tarver's bag. The sample was consistent with DNA on an oral swab taken from Tarver, she said.
Miller questioned Simonson, asking her about the possibility of occurrence of transference or contamination of the washcloth sample.
Simonson said Tarver's DNA sample was taken Aug. 4, 2015. The testing of the washcloth was done Feb. 1, she said.
"The Tarver sample was not present in the lab when the washcloth was tested," she said. "The washcloth was done six months later."
Testimony will resume at 9 a.m. Monday.
State Desk on 10/01/2016
Print Headline: DNA on washcloth tied to man on trial
Sponsor Content
Comments