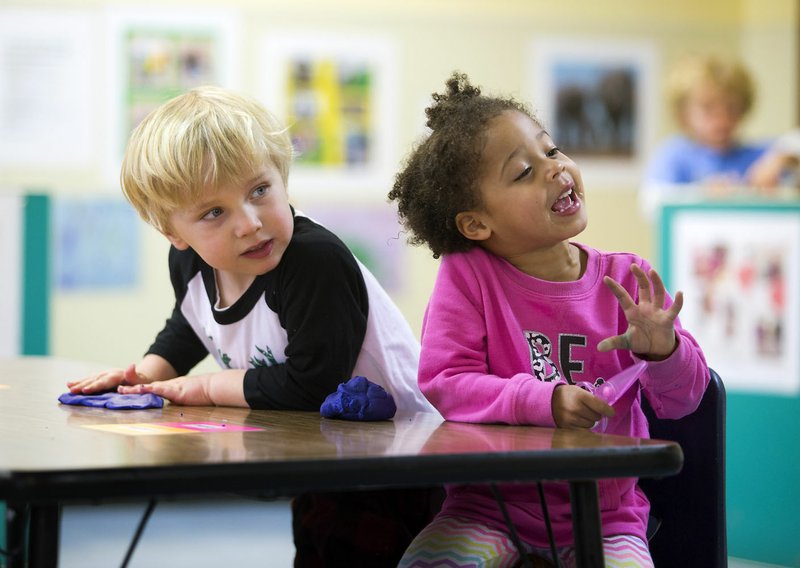 Holden Weishar and Kamryn Gardner, both 3, play with clay Tuesday at the Helen Walton Children's Enrichment Center. - Photo by Jason Ivester
BENTONVILLE -- Helen R. Walton Children's Enrichment Center and Early Childhood Initiatives Center officials are $1.5 million away from being able to break ground on the center's building in the spring, Michelle Barnes, executive director, said Tuesday.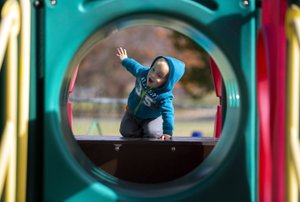 Photo by Jason Ivester
Conner Prenger, 2, plays on the playground Tuesday at the Helen Walton Children's Enrichment Center in Bentonville.
Shelley McMillon, former center board member and wife of Wal-Mart CEO Doug McMillon, and John Furner, executive vice president for merchandising at Sam's Club, and The Walmart Museum, hosted a Giving Tuesday event for the center in the Walmart World Room on the museum's third floor.
How to give
The Helen Walton Children's Enrichment Center and Early Childhood Initiatives Center has committed to raising its goal of nearly $14.4 million before it breaks ground on its new facility. It has raised $12.9 million so far and is hoping to raise the remaining $1.5 million by spring. For more information or to donate contact Sunny Lane, development manager, at (479) 273-3552 or [email protected]
Source: Staff Report
A model was on display for prospective donors and interested community members to see the building's design.
The $14.4 million project will be 43,700 square feet, 35,000 of which will be the Children's Enrichment Center and 8,700 square feet will be the Early Childhood Initiatives Center, according to Sunny Lane, center development manager.
The center's space at 1701 N.E. Wildcat Way is about 33,000 square feet.
The new building will be constructed on about 8 acres on Northeast J Street, east of Crystal Bridges Museum of American Art and south of The Scott Family Amazeum.
Its main entrance will face north. It has a central gathering space where three educational wings and one training/administrative wing will stem from.
It will have outdoor play areas incorporated between the wings.
"With this facility, there's blurred lines between indoor and outdoor learning," Barnes told the crowd of around 70.
There will be glass doors between each classroom and its respective porch, which will provide access to an outdoor environment. Each classroom will be designed as though it were a small house to be less intimidating to young children than a large, open space, Barnes said.
Clear panels will be placed over electrical outlets and clear doors in front of the electrical room to allow children to be inquisitive about the mechanics and wiring behind them.
"Everything in this facility is designed with an educational purpose," Barnes said.
The center will continue to serve 240 children, but the building will allow for expansion of the quality of service and outreach to other early childhood centers, officials have said.
The center serves a five-county area that has 32,000 children ages 5 and younger, Barnes said. Its goal is to help other programs gain high-quality accreditation through training, resources and support.
When the center started its outreach work in 2009, only 19 percent of early childhood centers were accredited, according to Barnes. Now, 61 percent are.
"We're making great strides, but we've got a long way to go," she said, adding the new building will serve as a "launching pad" to impact not only the region but also the state.
There's about one slot in early childhood education programs for every five children in Benton and Washington counties, said Kathy Deck, director of the Center for Business and Economic Research at the University of Arkansas.
Deck reported some numbers from a study looking at the estimated supply of and demand for early childhood education in Northwest Arkansas. The study was done by the Center for Business and Economic Research in partnership with Helen Walton Enrichment Center.
The study projected there would be an 8 percent growth in spots through 2021, but also a 12 percent population increase in the same time, Deck said.
This is important to employers such as Sam's Club because nationally more than two-thirds of mothers with children younger than 5 face challenges with getting high-quality early childhood programs, said Furner.
Also, children who go through an early educational development program are three times more likely to graduate high school and twice as likely to continue their education after high school, he continued.
"For Northwest Arkansas, it's important for us to have this social support system because if we can be a great place to live, we can also be a great place to employ people, recruit and retain people in the workforce," Furner said.
Shelley McMillon shared her experience of sending her sons through the center.
"They were always on top of their game and always very caring," she said of the center's employees. "It just makes sense that they would be the leaders in trying to help the rest of this community enrich the childcare force."
Furner, McMillon and Barnes encouraged attendees to consider investing in the legacy the center will have.
"This is bigger than you and me," Barnes said. "This facility will be around 50 years from now and impacting thousands of children."
NW News on 11/30/2016
Print Headline: Center seeks final campaign contributions
Sponsor Content
Comments