BENTON -- At 5, McKenzie Clay can spell her name with the best of them, capital K and all. She's also a little bit of a telemedicine pioneer.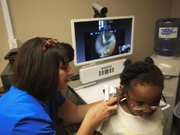 McKenzie was one of the first students to be diagnosed long-distance between her school, Angie Grant Elementary in Benton, and Arkansas Children's Hospital in Little Rock in a pilot program.
A similar effort to connect schools to medicine is in the works by the University of Arkansas for Medical Sciences and the state Department of Education.
Feeling poorly a couple of weeks ago, McKenzie visited the school nurse, Ronda Wagner.
Wagner dialed up Dr. Rob Steele, the hospital's chief strategy officer -- and now chief telemedicine doctor -- on a cart that includes a high-definition video link and a variety of medical devices.
Wagner used one of those devices, an otoscope, for a look inside McKenzie's ears. On the other end, Steele got a good look at McKenzie's ear canal and eardrum, and diagnosed an infection. Mom Jessica Clay was on hand, too.
"I like the technology," Clay said. "When I saw the nurse pull out that scope to check out her eyes, nose and ears, the clarity of it shocked me. They have really great equipment. It actually worked."
The cart is made by medical-devices company Avizia of Reston, Va., and doesn't come cheap -- about $30,000 -- but there will be about 40 around the state in 2017 as the hospital expands the program to rural parts of Arkansas.
Benton's not exactly rural but, regarding the pilot program, does have the advantage of proximity to the hospital in Little Rock.
Money to put the carts in schools and put the program into operation comes from two rural-development grants from the U.S. Department of Agriculture.
The grants, totaling $642,133, are for a three-year term, according to Shawn Harwell, Children's Hospital's director of telemedicine.
The hospital is recruiting schools in cities with fewer than 5,000 residents to participate starting next school year, Hilary DeMillo, a hospital spokesman, said. About 40 schools from more than 10 districts are expected to join, she said.
Anna Strong, the hospital's executive director of child advocacy and public health, said the rural-development grants are part of the reason for starting the program in rural schools. The other part is the need.
"What we know to start with is that rural schools are often in need of access to services," Strong said. "There may be few providers. Parents may be traveling 20-30 miles to work and having to take off a half day from work to go to a bigger town to see a doctor and go back home."
An after-care report will be provided to parents and to a child's primary-care physician.
"This is designed to support local care, to keep mom at work and kids at school," Strong said. "And to get children re-engaged with local providers. Those local provider conversations are important, too."
The telemedicine program can connect children and parents to local medical care, Strong said.
"What better way to do that than through the schools? We're happy to treat this ear infection today, and we encourage you to get back to your local provider. ... Here is his current phone number."
Technology allows for almost a full physical exam, Harwell said. In addition to the otoscope, the cart has a digital stethoscope so doctors can listen for heart, lung and bowel sounds. A dermatological camera gives a detailed picture of the skin. The video is encrypted, he said.
"We can't do everything, but we can certainly do a lot to keep kiddoes in school and parents at work," Harwell said. "The technology is so advanced and user-friendly that parents can dial in by phone and listen to what's going on. If they work at a place where they can use their computer, they can join by video and watch what's going on."
Strong said telemedicine in schools is a topic at conferences she attends around the country.
"Not many states do it, and no one is doing it statewide like us," she said. "We're excited to be part of those national conversations."
UAMS has teamed up with the state Department of Education to secure a $1.2 million grant from the federal Department of Health and Human Services' Health Resources and Services Administration.
The grant will provide telemedicine to existing school-based health centers in the Jasper School District, the Lee County School District, the Malvern School District and the Magazine School District. Services will be phased in beginning with psychiatric services in December, the hospital said.
UAMS has been in the telemedicine business since 2003, said Tina Benton, oversight director for the UAMS Center for Distance Health. That first effort, she said, was to get the hospital's experts in maternal fetal medicine connected with obstetricians and their patients around the state.
Telemedine carts used by UAMS are similar to those in use by Arkansas Children's Hospital, Benton said. Those carts are now in about 400 places around the state, she said.
UAMS is aware of the Children's Hospital project, Benton said.
"We're not in competition with what Children's is doing, and hopefully we'll find some collaborative ground to work together," she said.
Back at Angie Grant Elementary, Wagner connected with Steele for a demonstration. Steele was in his office in Little Rock but has linked up with Wagner from St. Louis and Phoenix. Steele said he uses an iPad for out-of-town consultations.
Wagner put the otoscope into McKenzie's ear for what Steele called a textbook picture. Ear infections are really easy, he said, but if strep throat were suspected, "you would want to get a test."
Another student fell on the playground, and Steele, via the video, suspected a broken bone. The student wound up in the Children's Hospital emergency room and, sure enough, had a broken bone.
There is no cost to the schools for the carts. Strong said school districts are asked to ensure that nurses and administrators are on board. Nurses must be RNs, she said.
"Nurses are wonderful partners," Strong said.
When 40 schools are hooked up, Steele said, he expects roughly 40 telemedicine conferences a day, or the average workload of a pediatrician.
"It's very rewarding. I love doing this, but I'm going to need a lot more help."
Another challenge, Steele said, will be insurance reimbursements, which "haven't quite caught up to the technology."
Parents must give consent for their children to participate. Of the 590 students at Angie Grant, Wagner said, 330 have such permission.
Jessica Clay, McKenzie's mom, would recommend to other parents they give their permission.
"She didn't have to leave school that day," Clay said. "The doctor called in the prescription. I picked it up and went from there. It was better than having to check her out of school and call the doctor to see if I could even get an appointment."
Metro on 11/25/2016