While growing up in rural Nigeria, Francis Umesiri read borrowed books by the light of kerosene lamps.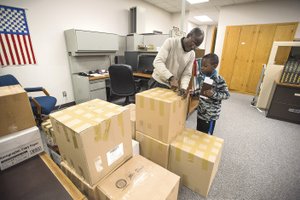 Photo by J.T. Wampler
Francis Umesiri and his son, Isaac, open a box of books Monday at John Brown University in Siloam Springs. Umesiri started Kharis Publishing, which provides free publishing services to select authors — particularly women, minorities and international authors who have no other way to publish.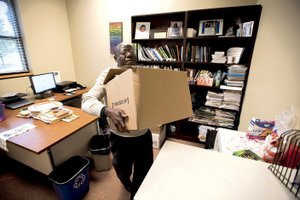 Photo by J.T. Wampler
Umesiri considered his own road to literacy as he started Kharis Publishing. He grew up in rural Nigeria, in a village with no electricity. He read borrowed books by the light of kerosene lamps. Now $1 from the sale of each Kharis book supports literacy programs at an orphanage in Ghana.
The village where he was raised had no electricity. It was a good 3-mile walk to drinkable water, which villagers walked barefoot and then carried the water back to their homes in buckets perched on their heads.
Kharis Publishing
kharispublishing.com
(479) 903-8160
"Over many years as a professor, I've thought back to what my journey was," Umesiri says. He's a professor of chemistry at John Brown University in Siloam Springs and founder of Kharis Publishing.
The company, which is celebrating its one year anniversary of operation, provides publishing services free of charge to select authors -- particularly women, minorities and international authors who have no other way to publish.
"[Reflecting] is how the idea of a publishing company as orphanage literacy support came about. They're coupled to each other, this idea of literacy empowerment," Umesiri says.
One dollar from each sale of a Kharis book supports a literacy resource center at an orphanage in Ghana.
Kharis Publishing received initial support from John Brown University, but is an independent operation. It seeks to serve people on both sides of the book -- the authors working to get their stories told, and the children who have no other way to get their hands on novels and educational texts.
"On one hand, publishing is hard for anybody," Umesiri says. Especially if "you don't have a big name or platform."
As for the other side, Umesiri has firsthand experience with literary drought. Having no community libraries aside from the ones available in school, he considers himself lucky that two different men took an interest in him and became his informal mentors.
One was studying to become a doctor, and the other was enroute to Russia for his higher education. They loaned him books and assigned him essays to write.
"They knew that [writing was] a major part of comprehension, learning that organization, mechanical accuracy and structure for every single thing," Umesiri says. "That's really the trope of my own life, books. I wouldn't be where I am today if I didn't have those individuals who emphasized the importance of literacy. It was a chance to express my creative ability."
Umesiri read crime thrillers, novels, series and filled notebook after notebook with essays on all manner of topics, including what he aspired to make of his life. And the men, in turn, would take red pens to the page, coating it in more editorial comment than Umesiri had written in the first place. Although he was still living in the village, having mentors and educators who sharpened him made Umesiri feel he could do anything he wanted.
By establishing Kharis Publishing, Umesiri is "giving a voice to minority groups," not unlike him, he says. "Women, international [authors] who feel they have something to say but no way to say it.
"It's a voice that is given to these people."
Many people took that voice and spoke loud and clear. Authors from Russia, India, the United States, Canada and all over the world have entered their submissions to Kharis publishing -- to the tune of 10 and 15 books submitted each month. It's far beyond what the new publisher has capacity to do -- which is about 10 books per year -- but still, each one is carefully considered.
Like any other publishing company, the process begins with a proposal form and submission of two chapters of the book for review. Umesiri and his editorial board of five professors take turns reviewing the material before making an initial decision to see more of the work.
They look for a book with a unique message and a tie to the author's personal history.
The first book published by Kharis was the first in a three-part series titled The Kennedy Chronicles, a story written by a woman about a teenager whose sister died. The loss rendered their mother immobile during a time when the surviving daughter needed her mother's support the most.
"In it, there's a sense of struggles, of grief and anger, of losing her sister and her mom at the same time," Umesiri says. "It reflected what we're trying to talk about and was a huge opportunity for [the author.]" Knowing she was working with teenagers and youth in her own life drew Umesiri to the story even more because "telling the story to them says, 'You can come out of [bad situations] if you believe and keep going.'"
Another Kharis pick tells a different struggle of a young woman who overcame an eating disorder. What sets it apart from other books on dieting and weight loss is the personal connection -- knowing the author's struggle with the issue and her tenacity in finding help over a few years' time, Umesiri says.
Other selections are made knowing there's a good market for the genre. Although truly it's more important to get the titles published than it is to worry about how much money they'll return, Umesiri says. Getting those unique perspectives out into the world is priority.
Only two books were accepted and published during 2015, but Umesiri has eight planned for publishing by the end of this year, with half of those being released during the holiday season. Some selections are printed -- with something like 500 copies -- while others are pegged for digital publication through Kindle, Nook and other e-readers because each one is a "money-intensive project."
"If the support demands it and the story is compelling, we print," he says. "We have to be prudent with each project, how we print it or just do a digital or print on demand."
Even Umesiri's latest book, Intuitive Listening was published primarily in digital form.
No matter the cost of each title, that $1 donation per book goes to orphanages, rain or shine. And the company sometimes hosts book drives to supplement the libraries and resource centers they want to build abroad.
"In one form or another, those kids in that orphanage will find a way to think and dream of a life bigger than [theirs]," Umesiri says. "Of a future better than where they are -- and I don't care which book that is, what story it is that does that, because I'll never know.
"We'll [stomach] the very expensive shipping to give them books they really want rather than a bunch of books we don't want. We'll send reference books to Hunger Games and novels, to children's books, whatever it is, it's things they wouldn't be getting otherwise."
NAN Our Town on 05/19/2016