WEHCO Media, Inc. President Nat Lea has been named chief executive officer of the company, assuming the role previously held by board Chairman Walter E. Hussman Jr.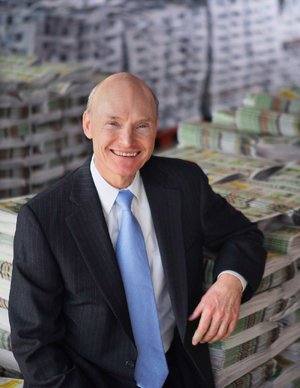 Photo by Democrat-Gazette file photo
Walter Hussman, publisher of the Arkansas Democrat-Gazette, is shown in this file photo.
Hussman has been the head of WEHCO Media, parent company of the Arkansas Democrat-Gazette, since 1981. He will remain as publisher for the newspaper and continue to serve as chairman of the 10-member board.
Lea, who was selected as CEO during the company's annual meeting Friday, has been serving as president of WEHCO Media and its approximately 2,000 employees since January 2014. Lea, 49, joined the company in February 2002.
WEHCO Media owns the Arkansas Democrat-Gazette and operates other newspapers in Arkansas, Tennessee, Texas and Missouri.
"Nat really knows our company inside and out," Hussman, 69, said. "He's worked for a lot of our newspapers and cable operations. He's had a really good career. He's really earned this position. It's not something we're giving him. He's really earned it."
Readers of the Arkansas Democrat-Gazette and other newspapers owned by WEHCO Media should not notice a difference, said Lea, who began working for WEHCO Video as general manager in 2002. Hussman and his family remain owners of the privately held media company, Lea said.
Lea's tenure with WEHCO Media includes stints as general manager of both the El Dorado News-Times and The Sentinel Record in Hot Springs. Hussman has credited Lea for an emphasis on circulation revenue that helped offset a loss of advertising revenue seen industrywide.
"I feel really grateful for the opportunity that Walter and his family gave me to move to Arkansas and move to WEHCO Media," Lea said. "I feel gratitude to them. I feel very grateful and proud of the work that all of our people do in all of our communities that we serve. I'm real proud of all the hard work and dedication that goes into everybody's work for the company."
There are no plans currently to name a new chief operating officer of WEHCO Media, a position that Lea holds. Lea said his goals for the future of WEHCO Media include continuing to find the right mix of digital and print journalism.
Outside of the newspapers that it owns, WEHCO Media continues to grow its Cable Lynx broadband services, Lea said.
The company also views its 121 Digital Marketing company as an avenue for growth.
"I'm excited about the possibilities for our whole company," Lea said. "Everybody that works for our company should be proud of the way that we are making it through the transitions in the newspaper industry. During that period our company has created alternate revenue sources and strategies that I think will pay off in the long-term. There are really good things happening across the company."
Hussman, who was named Publisher of the Year by Editor & Publisher in April 2008, said the leadership change does not signal his pending retirement. He plans to "be at the office every day, being more involved in trying to make sure we produce a quality, relevant product."
When Hussman entered the newspaper business at age 27, his father had recently purchased the Arkansas Democrat. He credits the newspaper's success in the 42 years since to advice that his father gave him: to always consider the interest of readers before any other stakeholders in the newspaper.
"He told me newspapers face a lot of difficult decisions. There are competing interests, and it's important to remember that your readers come first, followed by your advertisers, employees, creditors, and your shareholders are fifth. ... Most companies put the shareholders first. Ironically in the news business if you do that you don't get good long-term results," Hussman said. "I think that was great advice, and I've tried to follow that. We've been successful. Our shareholders have done just fine."
Hussman guided the newspaper through a 17-year newspaper war with the Arkansas Gazette until 1991, when the Gazette closed and the Democrat purchased its assets.
He also engaged in a battle with Stephens Media in Northwest Arkansas that resulted in a joint operating agreement between the two media entities from 2009 until this month. WEHCO Media announced May 5 that it was buying Stephens out of the remaining 50 percent of Northwest Arkansas Newspapers.
"We have worked to address every challenge as it comes up," Hussman said. "We have a huge challenge with Internet disrupting advertisers. We're not the only ones. We've seen 12 newspaper companies go bankrupt. We've avoided that. We've stayed solvent and profitable. Now the challenge is to become more innovative and creative. We want to be more efficient."
In recent years the organization has worked to expand its online presence. Pay walls for the company's newspapers have become slightly more relaxed, and WEHCO Media properties have been more active on social media, a directive overseen by Eliza Gaines, vice president of Audience Development for WEHCO Media.
Board members named Gaines, 29, as secretary of the 10-member body Friday. Gaines, formerly the executive editor of The Sentinel Record, assumed the newly created role of leading audience engagement in 2015.
"It's great to be involved in the business side of things a little bit more and have some more responsibilities," said Gaines, who is Hussman's daughter. "I think it says a lot about Nat and my dad that they've adapted with the changing news industry. They've been great mentors. I think the future is bright."
A Section on 05/15/2016