As far as Samantha Extance is concerned, if it ain't broke, there's no point in fixing it.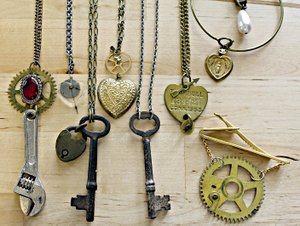 Photo by Courtesy Photo
Samantha Extance takes abandoned keys, clock gears, tags and other baubles and turns them into jewelry. She'll be one of 120 artisans showing at Saturday's Little Craft Show in downtown Springdale.
But if it is, she's determined to give it new life.
FYI
Best of the Rest
Ozark Regional Arts & Crafts Festival
WHAT — This 200 booth show offers a mix venue of arts, crafts, home/garden/yard décor, vintage, food booths, collectibles & more
WHEN — 9 a.m.-7 p.m. today & Saturday
WHERE — Northwest Arkansas Convention Center in Springdale
COST — Free
INFO — 756-6954
__
Spanker Creek Farm
Arts & Crafts Festival
WHAT — Returning exhibitors that have been coming to the area for years & many new exhibitors from all over the US
WHEN — 8 a.m.-5 p.m. today & Saturday; 9 a.m.-4 p.m. Sunday
WHERE — 8464 W. McNelly Road in Bentonville
COST — Free
INFO — 685-5655
__
Frisco Station Mall
Arts & Crafts Fair
WHAT — Handmade pottery, stained glass, baskets, jewelry, artwork & more
WHEN — 10 a.m.-9 p.m. today & Saturday; 11 a.m.-6 p.m. Sunday
WHERE — 100 N Dixieland Road in Rogers
COST — Free
INFO — 631-0006
__
Sharp's Show at War Eagle
WHAT — Stained glass, leather, basketmakers, woodworkers, oil and acrylic painting, sculpture & lots of other handmade arts & crafts
WHEN — 8 a.m.-5 p.m. today & Saturday; 8 a.m.-4 p.m. Sunday
WHERE — Adjacent to War Eagle Mill at 11045 War Eagle Road in Rogers,
COST — Free
INFO — 789-5683
FAQ
Little Craft Show
WHEN — 10 a.m.-6 p.m. Saturday
WHERE — Shiloh Square in downtown Springdale
COST — Admission is free
INFO — thelittlecraftshow.com
Extance will show off her Bohemian Romance jewelry on Saturday at the second spring edition of the Little Craft Show. But she's been fascinated with repurposing junk since she was a child. Sundays meant flea marketing with the family, "so it was fun being able to incorporate that into jewelry and make things out of broken necklaces, broken clockworks, keys and things."
"I'm a self-taught jewelry maker like my mom," the 31-year-old Tulsa, Okla., artisan says. It was her mother, in fact, that gave Extance's jewelry its direction.
"You like using all this found-object stuff in your jewelry," she remembers her mother telling her. "And it kind of looks like this stuff."
"She gave me a book on steampunk, and there was no looking back from there," Extance says. "I immersed myself in the literature, the music and the fashion. I don't ever consciously say this is steampunk or not. It's just in the things I like to work with."
Extance says she sources her materials from estate sales and flea markets -- "one of my rules is I never source something unless it's broken and can't be fixed -- and people will give me things, which is really cool."
Her best gifts so far are a keyring filled with old metal tokens from the Tulsa State Fair, given to her by one of the fairgrounds maintenance men -- "I horde them because they're so cool and old" -- and a package of old typewriter ribbons. She has no idea yet what those will become, but "they're really neat."
"Some of my favorite things to work with are old sewing notions -- hooks and eyes and snaps -- clock gears, keys," she enumerates. "But I try to make things look dainty still -- it doesn't have to be masculine looking. I try to think about wearability. I do have a couple of pieces that are more art pieces, but 99.9 percent is very wearable."
Extance is one of about 120 artisans who will be at the spring Little Craft Show, the Springdale version of an event that started in Fayetteville in 2011. Amber Perrodin, one of its founders, remembers that the first show had 24 vendors.
"The response from the community has really encouraged us to keep going," she says. "We had done our winter show for four years, and in the midst of that [her husband and she] had started Team Springdale -- because we live and work in downtown Springdale. We thought maybe we should put our money where our mouth is, and show that it's worth doing something in downtown Springdale -- and that you can do it."
This year, Perrodin says, the show will fill the Shiloh Square pavilion and spill out on to Emma Avenue, where a portion of the street will be closed.
"We had about 5,000 people last year and about 60 vendors," she adds. "We packed out the pavilion and had food vendors out behind. And it was crowded -- which is what the Little Craft Show is known for! Now we've just got to keep it going."
NAN What's Up on 05/06/2016