On family vacations growing up, John Van Brahana collected rocks in the back of the car. It annoyed his kid sister, who couldn't see the value that the budding geologist found.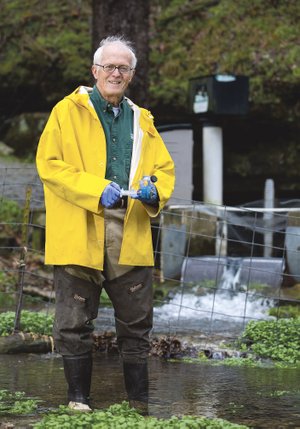 Photo by Jason Ivester
"Walter Manger said the best geologist is the one who has seen the most. So I try to see the most." -John Van Brahana
"It seemed silly to me, looked like trash to me," says Mary Ann Graham, Brahana's sister. "But it was an interest of his even as a young boy."
John Van Brahana
Date and place of birth: September 11, 1943, Champaign, Illinois
Family: wife Rosemary, sons Todd and Matthew
Books I read recently: A Fighting Chance by Elizabeth Warren, Five People You Meet in Heaven by Mitch Albom, 7 Habits of Highly Effective People by Stephen Covey
People who most influenced my life: my 4th grade teacher Mrs. Barbara Hake, who shared her love of geology; Dr. Fred Attebury, my high school teacher and tennis coach; my grandparents Mrs. Lois Thompson, who taught me the importance of education to community improvement and Dr. Roy Brahana, who showed me that sharing wisdom can make a better life for our students; my wife Rosemary, who has taught me more than I will ever be able to repay.
Fantasy dinner guests: Abraham Lincoln, Mary, mother of Jesus, Anwar Sadat and George Orwell.
Concepts I aspire to: Collect your data. Pay it forward. To be enthusiastic, introspective, respectful, employ common sense and be extremely grateful and dependable.
Something you may not know about me: I'm working on a coffee table book about the springs of Arkansas, from Hot Springs to Eureka Springs, to tell how they exist, why and a little history of them.
A phrase to sum me up: caring scientist. I try to see the diverse human heritage, apply the Golden Rule, make use of true wisdom and act on courage to better future generations.
Whenever young Brahana wasn't running his paper route, working at the grocery store or stopping by his grandmother's house for an extra snack, he spent his time -- like many young boys -- soaking up the outdoors through camping, fishing and collecting rocks.
Mrs. Hake, his elementary teacher, introduced him to geology in fourth grade, and it's been rocks, land and water ever since.
"As a kid, you start looking at rocks and fossils and minerals and from that time, I knew what I wanted to do," Brahana says. "Some people you barely cross in a very small interactive path with them, but they can significantly alter your life one way or another if we're open and receptive to it."
Brahana was. In the 60 some odd years since, he spent 30 years as a research hydrologist for the U.S. Geological Survey and 27 years teaching geology. The dual role required a rich experience of fieldwork and a knack for making it interesting enough to engage students and laymen -- something he seemed to do with relative ease.
"His enthusiasm is contagious," says Evan Thaler, who took two classes (Geology of National Parks and Karst Geology) with Brahana and is now a professional collaborating with him on a project. "Even though I had those classes when he was [on the verge of] retiring, he was still enthusiastic about everything. We were entertained by him and learning. That sets him apart, because the enthusiasm never stops."
"He put his entire heart and soul into his students," says Rosemary Brahana, his wife. "I don't think he could have done a career of 40 years doing that ... it would have him burned out, taken too much of a toll on him" because of the amount of energy and care he put into each one.
From igniting that initial passion for geology to guiding graduate students through theses, dissertations and answering calls for personal help in the middle of the night, Brahana was "a father figure to his students," Rosemary says. "He really was. Students were such a high priority for him that he really did serve as a father figure to a lot of students here in Arkansas who needed that."
Brahana was honored for that over the years when named Outstanding Teacher, Geology Department by Sigma Gamma Epsilon at the University of Arkansas in 1992 and '94; UA Honors Thesis Mentor Award in 2009; and Geology Faculty of the Year in 2009 and 2011. It culminated in the establishment of a Hydrogeology Scholarship in Brahana's name in 2014.
"He's done very well and is well respected," Graham says. "He's a really good person and gives a lot to his family and to people who need his expertise and does a lot of volunteer work now that he's retired."
That affinity for making geology relevant to people's lives has earned him a place in the spotlight as a leader of a water quality study for the Buffalo River, as the political struggle continues over local farms and the effect of their resulting waste on the environment.
"Those are to me the things that have great impact," Brahana says. "If we can get individuals around the table -- all the stakeholders, all the politicians and the special interest groups -- and start our discussion, we need to deal with each other factually."
If they can show up, Brahana says, he'll bring the scientific information.
SEEING THE MOST
Brahana grew up in Champaign, not far from the University of Illinois campus. His grandfather was a math professor there, and though his parents weren't academics, he knew that a higher education was in his future. It was expected.
Loving geology meant deciding on a major at the University of Illinois was easy; his first college class was geology and his first job was lab tech for the Illinois State Geological Survey.
"I was lucky enough to get a job," he says. "It was mostly washing glassware and dishes in the lab, but then I got to do fieldwork that [first] summer and got into groundwater," his lifelong work of studying the resource that is essential to life. Brahana doesn't take for granted that clarity in a career picking him.
"It's my feeling that you need to spend so much time doing the extra things that if what you're doing is not enjoyable -- if you don't love it, if it's not a passion, pretty soon you let things slip away."
Though Brahana is very reputable now -- walk into a geology lab several states over and if you're from Arkansas, they'll ask you about Van -- he'll tell you it's not because of any talent or brilliance in the subject. His knowledge base is rooted in trying to observe as much as possible.
Rather than collecting water samples and quickly running back to the lab, Brahana takes his time in the field to observe the circumstances surrounding water problems, gathering as much evidence to pinpoint the source and uncover a tremendous amount of information.
"Walter Manger, one of the men in our [geology] department, said the best geologist is the one who has seen the most," Brahana says. "So I try to see the most."
The explorer in him led to a lifelong habit of caving, opening up some of the few mysterious places left on earth. Diving into the underground crevices and passing spectacularly shaped speleothems, odd colors and distinct features, "you've got to crawl through mud and water," Brahana says. It's addicting because "some of those caves, you are one of the earliest people to see them. They're full of archaeological information ... so that part I dearly love."
He earned a bachelor of arts and sciences in geology from the University of Illinois in 1965, transferred to the University of Missouri for his master's degree, and somewhere along the way, fell in love with water. His Ph.D., which he earned also at the University of Missouri in 1973, was in hydrogeology. That makes it exciting for him to see more and more microbiologists and other scientists focusing on water--it connects us to the outside world.
Brahana began to see more when the U.S. Geological Survey hired him as a hydrologist in 1971 and sent him on a three week trip to Guilin, China, to study the giant tower karsts of the region.
He memorized 36 phrases in Chinese, connected with a Chinese man he'd been corresponding with, and together they took a train across the country.
"That was an eye opening experience," Brahana says. What he didn't expect was to be not just an observer but a part of the observed, in the pre-Nixon China that wasn't yet open to many American travelers. "We went back into the hinterlands, and [people] came up and would touch me. Supposedly we were the first group of Caucasian people they'd seen."
Meanwhile, he traversed the Mongolian steppes and soaked in the geological features with political and environmental concerns at the forefront of his mind, even then. Coal use was causing real damage. Air pollution, even before cars were the main transportation, was high. People wore masks to breathe more safely.
Later travel for the U.S. Geological Survey took him to the karstified regions in the Bahamas and Caribbean, and each time the experiences he brought back home informed his view on the importance of geological work for quality of life all over the world.
To impart a similar worldview on his sons Matthew and Todd, Brahana brought them along on a number of trips to national parks. He's visited all the formally designated ones in the 48 states, but the most memorable one of all? A 10,000 mile, five week road trip to 12 national parks that took them from Tennessee to Montana and Canada to Arizona and back.
"When his children were young, he took them camping for a month to spend time with them and be outdoors, that was good of him," Graham says. "Every time he came [home to Illinois] if it was snowing, he'd take them sledding and things."
"He was a good dad to them ... good about coming to activities and things the boys participated in on the weekends," Rosemary Brahana says. "On our western trip, Van and the boys took a six week vacation, went north to Wisconsin, across the Dakotas and down the West Coast, visiting national parks, family friends and relatives.
"They had a wonderful time with their father."
Between snacks of Jolly Ranchers and soda pop, Van's boys got to fly a plane in Montana, see theater in the Black Hills, attend concerts and get a front row seat to some of the country's best geology with an expert narrator in tow.
A STREAM OF A CAREER
Brahana has always done a bit of teaching on the side in conjunction with each of his research hydrologist gigs, teaching first at the University of Southern Mississippi, then Vanderbilt University and finally the University of Arkansas. But the common thread of his career is "water and how it moves underground," he says.
It was a part of his very first project with the Geological Survey, which assessed whether the work on the Tenn-Tom Waterway would cause groundwater to implode from the pressure. And it was a huge piece of his time at the University of Arkansas through the Savoy Experimental Watershed, a long-term research site that he helped establish. The Savoy site sits on 5.5 square miles off the Illinois River, and its center is full of various water measuring sensors.
Since his retirement from UA in 2013, Brahana continues to use the Savoy site to guide graduate students through theses and teach high school students during a summer program for geology and engineering.
"When we started the program in 2010 ... I asked him to teach the geology portion, and he immediately said 'Of course,'" says Jo Ann Kvamme, program coordinator for Environmental Dynamics at UA. "He's not paid for it, he just ... takes kids out [to Savoy], teaches them how to collect water samples and what you're looking for and gets them so passionate about it.
"It's contagious, and wonderful to see."
The Savoy center's importance is not just to the students who use it to jumpstart their careers and the high school students who attend a summer program Brahana helps facilitate, but to Van, who found a greater purpose in it.
At the Savoy site, "we were essentially trying to ask some practical questions since I've been here in a region where the land has these open voids, karsts, and [what happens] if you run too many animals on it?" he asks. "If you raise too many animals, the waste products can get in the groundwater."
With some 6,500 pigs raised along the Buffalo River, Brahana began to take notice of the discussions in the agriculture community and the scientific studies conducted by the state to monitor the relationship between the two. From what he could tell, no regulations were being broken, but there was nothing that took into account karst, or what happens to water once it goes below ground -- and how far it can carry.
Brahana believes the impact of area farms on the Buffalo River water quality extends far beyond whether it's drinkable, but whether it's even safe for the average person who flips out of a canoe on a float trip.
He started giving public presentations on the matter and was invited to give a presentation to a group of Arkansas legislators focused on the topic, then was disinvited.
"The things that got me crossways with some of the other groups was that there was not a scientific examination of groundwater quality and the karst especially," Brahana says. "There are some places where the water flows underground very quickly, and it doesn't get cleaned up or filtered in any fashion that is very effective."
While Gov. Mike Beebe was in office, the state presented money for scientific studies, but they didn't extend past the surface of the land, the soil.
"I found that they didn't encompass the things I had experienced, the things I had a lot of experience working with," he says. "I went to the Arkansas Department of Environmental Quality and said, 'I'll help with this and do it on my own time.'"
Since, Brahana's assembled a standout volunteer team for an academic level quality project that will produce the scientific information he believes Arkansas legislators should know before moving forward with regulations on the Buffalo River -- the things he thinks they should take into account for public safety and good water quality.
With him is Joe Nix, professor emeritus of natural sciences at Ouachita Baptist University, geologist Ray Quick, John Murdoch of the Division of Agriculture and Carol Bidding, whose husband is a karst geologist.
"A lot of people want to help [the Buffalo], but he's the one who knows [how]," says Lisa Milligan, UA Geosciences administrative assistant. "He's generous, he's qualified. Any time we find problems, he'll act on it, and things will get fixed.
"I believe it will make a difference."
And for now that hope, those public talks and the experiment is what they hold on to.
"I've had people say 'Why are you spending years on this question with the Buffalo?'" Brahana says. "I'm trying to put science into [perspective] that hasn't had a chance to be addressed.
"By far that's the most important thing we can do ... to preserve our planet."
NAN Profiles on 03/13/2016