Row after row, shelf after shelf, box after box, smaller box after smaller box ...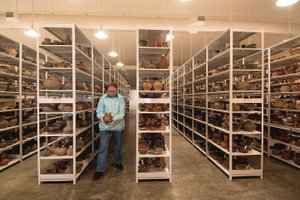 Photo by Spencer Tirey
Mary Suter, curator of collections for the University of Arkansas Museum, holds a vessel in the museum's collection. The museum preserves a 7,000-piece archeological collection of intact American Indian pottery — most of them from Arkansas.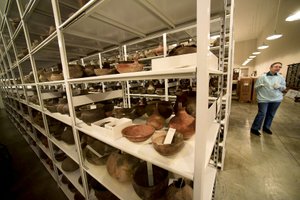 Photo by Spencer Tirey
In addition to prehistoric pottery from Arkansas, the Museum Collections include pieces from Central America, South America, southern New Mexico, the Middle East and more. A few hundred pieces of Greco-Roman pottery came to the museum in the 1950s, acquired by the museum's first permanent curator, Sam Dellinger, explained Mary Suter, current curator of collections.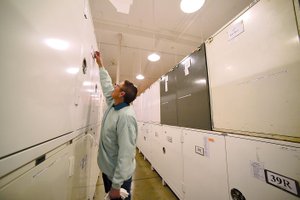 Photo by Spencer Tirey
Suter works with one of the lockers used for preservation of the specimens in the museum's zoology collections. "It's part of our natural heritage. It's a little time machine," said Nancy McCarthy, curator of the zoology collections.
The 13,500-square-foot collections room at the University of Arkansas Museum holds more than 7 million pieces of history -- from masks to mice to milk glass, from feathers to fossils to fine art. Collections include archaeology, ethnography, geology, history, zoology and even works stored for the university's fine arts department.
UA Museum open house
What: Tours of a few collections
When: 7 to 8:30 p.m. March 17
Where: Arkansas Archeological Survey building, 2475 N. Hatch Ave., Fayetteville
Admission: Free
Ages: Tours not appropriate for young children. For preservation, collection items can not be touched.
Information: 575-3557
Arkansas Archeology Month
Local Events
Information: arkansasarcheology.org
Archeological sites in Central America
Presenter: Wesley Stoner
Sponsor: Ko-ko-ci chapter of the Arkansas Archeological Society
When: 6 to 7:30 p.m. Tuesday
Where: Fayetteville Public Library
Information: 283-5720
Archeology of Van Winkle's Mill
Presenter: Jamie Brandon
Sponsor: Ark-Homa chapter of hte Arkansas Archeological Society
When: 7 p.m. March 17
Where: Math-Science Building, University of Arkansas-Fort Smith
Information: 788-7812
Third annual Archeology Day
What: Archeologists demonstrate use of tools, weapons, musical instruments, basketry, weaving, flintknapping and artifact identification.
When: 11:30 a.m. to 2 p.m.
Where: Arkansas Archeological Survey building, 2475 Hatch Ave., Fayetteville.
Information: 575-3556.
Fast Facts
• The museum collections are open for research by professors, students and even outside researchers.
• Environmental controls keep the collections room at a steady temperature of 70 degrees and humidity no higher than 50 percent. Bugs thrive at higher humidity.
• The museum staff currently are working to move collection pieces to better preservation housing.
• Staff also works to organize and build a data base of the items in the collection.
• Small parts of the Museum Collections are on display in the building of the Arkansas Archeology Survey and Old Main. The museum's dinosaur skeletons are featured at the Arkansas Museum of Discovery in Little Rock.
Source: Mary Suter, curator of collections
But these treasures aren't always hidden. The staff of the museum hosts an open house and tours of the collections room March 17 as a part of Archaeology Month, sponsored by the Arkansas Archeological Survey and Arkansas Archeological Society. Special pieces from the collections will be highlighted by staff members and students.
However, the tours are not recommended for small children. Objects in the collection remain "hands off" to all but trained museum staff.
ARKANSAS HERITAGE
"We have the only dinosaur fossils found in Arkansas," began Mary Suter, curator of collections for the museum, as she introduced the collection. "Yet, people say there were no dinosaurs in Arkansas."
One dinosaur leg was found in southwest Arkansas near Lockesburg in 1972, Suter related. She showed a cast, but she noted the actual bones are preserved elsewhere in this room. Informally named Arkansaurus fridayi, the fossil is believed to have come from a bird- or ostrich-like dinosaur, reads information on the Museum Collections website.
Nancy McCartney, curator of zoology, named another favorite: a very detailed fossil of an extinct reptile preserved in a slab of slate. It was found in Germany during a mining operation, she said.
"It's the best thing in the museum," McCartney said. "Before the dinosaurs, this guy was doing his thing."
The 185-million-year-old crocodile, called a Teleosaurus, probably ended up on an island when the land of northern Germany was covered by a sea, McCartney explained. The basic body plan of a backbone and four appendages is easily recognized, but this piece also includes the fossilized cartilage of the creature's trachea, she pointed out.
"The facility also houses 10,500 North American and European invertebrate fossil specimens, plus 4,800 North American vertebrate fossil specimens," reads the Museum Collections website. "The premiere vertebrate fossils are a Pleistocene mammoth found northeast of Hazen, Arkansas, in 1965, and a 180-million-year-old fossil crocodile from Germany. In addition, the facility holds 540 Cretaceous and Tertiary fossil plant specimens from Arkansas and the Gulf Coast."
Another boast of the museum is the 7,000-piece archeological collection of complete American Indian pottery -- most found in Arkansas. "The archeological collections are the largest and most significant collection of Arkansas archeological material anywhere," reads the website. "Particularly noteworthy are materials from Ozark bluff shelters and Mississippian Period whole vessels. The special dry micro-climates of shelters located along the river bluff lines preserved many objects from the material culture of the mountains' native inhabitants."
Many American Indian sites now lie at the bottom of the great reservoirs built around the state, including Beaver Lake, Suter noted. "This is the only evidence the site existed."
"And people are always surprised we have Greco-Roman pots in our collection," Suter added. "They don't expect us to have ancient Greek ceramics here." Although most pieces are small, the collection includes a couple hundred pieces, she said. They came to the museum in the 1950s.
The pottery collection is completed with pieces from Central and South America, southern New Mexico and even the Middle East.
RESEARCH SHARED
Many of the pottery vessels were acquired by the museum's first permanent curator, Sam Dellinger, who took the position in 1927, Suter said. "He had an interest in Arkansas mounds," she said. "It upset a lot of eastern museums. He thought the pieces should stay in Arkansas. But when pieces did leave, he'd just go pull more from the field."
The University of Arkansas maintains the best-documented collection held by any college, Suter continued.
"(Dellinger) had lots of contacts around the world," she said. "He would donate, sell or trade Arkansas pottery for other pieces -- such as the Greco-Roman pots. These are all standard methods still used by museums today to add to their collections."
"The University Collections facility grew out of geology department collections documented to 1873," reads the museum website. And UA faculty researchers provided many of the specimens in the zoology collections, McCartney said.
For example, the late J.A. Sealander, professor emeritus of zoology, gave approximately 1,500 study skins to the museum. McCartney opened a locker and pulled open a drawer with mice arranged from smallest to largest in size. Also in the drawer, a collection of skulls related to the skins. Sealander used these skins and skulls in the research for his books about the mammals of Arkansas: Arkansas Mammals: Their Natural History, Classification and Distribution (1990) and A Guide to Arkansas Mammals (1979), both now considered to be the definitive guides. McCartney keeps copies of these books nearby.
"(Sealander) would have his graduate students set up traps in the fields to collect specimens," McCartney said. "They don't do that anymore."
New storage lockers, designed to repel bugs and maintain premium conditions for preservation, hold not only Sealander's collection but also 350 coyote skulls from Phil Gipson, 250 bobcat skulls from Steve Fritz and a series of black bear skeletons from the Arkansas Game and Fish Commission, lists the website.
McCartney opened another drawer in another locker nearly completely filled by a brown pelican specimen from 1951, donated by Douglas A. James from his research for Arkansas Birds, Their Distribution and Abundance (2002).
She explained the importance of this and all her holdings. "It's part of our natural heritage. It's a little time machine," she said. "You can't go back to 1951, but you have a collection of species from that time."
Using the example of the pelican, "here, 50 years later, it might be bigger. Its range might be smaller or larger," she posed.
In the 1960s, the popular pesticide DDT was banned thanks in part to researchers at the University of Wisconsin -- McCartney's alma mater -- who considered the effects of the pesticide on bird eggs, McCartney explained. The scientists and their students measured the thickness of the bird eggs in a museum's collection and compared these to eggs found in nests at that point in time. They found the modern bird egg shells exposed to DDT were thinner.
"You don't know what someone will discover in 50 years, 10 years, five years down the road," McCartney continued.
Outside one drawer stands a copy of Horton Hatches an Egg by Dr. Seuss. No, the drawer doesn't contain the elephant Horton, the Sneetches or even the Lorax, McCartney said. Rather, she revealed an egg, a giant laid by an elephant bird -- generally considered to be 200 times bigger than a chicken egg. The UA egg measures roughly 8 by 12 inches, McCartney said.
"This is the largest egg every laid by anything -- even a dinosaur," she said. Elephant birds became extinct in the 17th or 18th centuries.
Dellenger purchased the egg for the collection, and he believed it originated in Madagascar, where the birds lived, McCartney said.
Other specimens in the zoology collections include examples of every fish found in Arkansas lakes, ponds and streams; snails and clams and other invertebrate shells found in land-locked Arkansas and in the world's oceans; and skulls of red wolves and gray wolves, studied to determine if the red wolf was a hybrid of the gray wolf or a separate species. Researchers in Arkansas determined it was a separate species, McCartney said.
UA HISTORY
"Every drawer has a story," McCartney said.
The museum's history collection includes approximately 25,000 objects with an emphasis on those from Arkansas. "The University of Arkansas stuff -- we love to collect that, if we can," Suter said.
Tucked away, not on display, is the first computer at the University of Arkansas -- and probably the first one in the state. Bookcase size, the unit was used by the UA agriculture department faculty to develop charts for cross-breeding cattle, Suter said.
A prototype of an electron diffraction unit, built by UA engineering professors in 1973, looks like a shade-tree mechanic had a hand in construction. It seems put together with pieces on hand -- simple glass jars, probably recycled from a university lab, serve as collection containers. But this humble piece stands as the forerunner of today's study of gravitational waves, Suter said. "It's probably the precursor of a Nobel Prize."
The museum collection even includes the original timer used to ring the carillon bells in Old Main.
"And every early museum had curiosities," Suter said, showing a limb which seemed to reach out and grab small rocks as it grew. "I guess some guy thought rocks growing in a tree was interesting."
NAN Our Town on 03/03/2016