The late J.D. Fletcher left behind a world of memories for hundreds of floaters during his 40-plus years as a fishing guide on the Kings River and Table Rock Lake.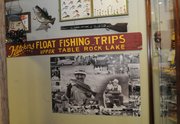 He also left thousands of fishing lures, an armada of john boats, albums bursting with pictures and other mementos from a life of showing guests the joy of fishing.
Visit Lew's Ozarks Fishing Museum
Lew's Ozarks Fishing Museum is located at the headquarters of Lew's fishing company, 3031 N. Martin Ave., Springfield, Mo.
Directions: From U.S. 65, drive east on Kearny Street 1.5 miles. Turn left on Mustard Way, then immediately turn right on North Martin Avenue. Go about one-eighth mile to Lew's headquarters.
— Staff report
Fletcher's float-fishing legacy is on display for all to see at the new Lew's Ozark Fishing Museum at the headquarters of Lew's fishing company in Springfield, Mo. Exhibits and displays highlight the unique fishing culture of the Ozarks region. Fletcher's memorabilia is a big part of the free museum. It's set up in a wing of the Lew's building near U.S. 65 and Interstate 44.
Plans were to hold an auction and sell most of Fletcher's gear, said his son, Jeff Fletcher, who carries on his dad's vocation as a Kings River fishing guide. Then Jeff started talking Lynn Reeves, co-owner of Lew's. Reeves wanted to buy J.D.'s gear to make it a part of the new fishing museum. J.D. Fletcher died in 2014 at age 84.
Jeff is proud his dad's life of fishing is on prominent display.
"I know dad's just tickled that it's in there," he said.
Over decades, anglers called Fletcher an Ozarks legend after catching smallmouth and largemouth bass on river float trips. Fletcher called the john boat he paddled "my office." The river was his territory.
Two of his aluminum john boats are on display. So are hundreds of lures, rods, reels and other gear Fletcher used. There are photographs large and small of Fletcher and his smiling guests showing big bass they caught.
The museum is the creation of Barb Matthews, a taxidermist and wildlife artist by trade, who transformed an empty space into a museum that has the look and feel of Ozarks fishing. Displays highlight Fletcher's life and reveal the history of the Lew's company, founded by Lew Childre, an innovator and fisherman.
There's a 1975 Ranger boat in the museum that has been restored to new condition. Another marvel is a long, narrow wooden john boat that Matthews found at an antique store in Eureka Springs. Heavy wood boats are what float fishermen used before aluminum. There is fishing art work, old fishing catalogs and fishing licenses.
Combing through Fletcher's memorabilia was a labor of love for Matthews. There were 75 tackle boxes, many of them that guests left with Fletcher until they returned to fish with him each year. She examined each lure and looked through thousands of photographs in albums Fletcher kept.
Each tackle box was like a time capsule, "and every one of them smelled like a time capsule," Matthews said. "It was fun every day. It wasn't a job."
An occupational hazard was inspecting all of Fletcher's lures to determine which would go into the museum.
"I handled every one of them. You wouldn't believe how many times I got stuck" with a hook, she said.
Matthews has seen to the details that make Ozarks fishing unique. Fletcher's two john boats are filled with gear anglers may have taken along on a Fletcher river trip. There are metal coolers and tackle boxes, minnow buckets and stringers. One john boat has a trolling motor Fletcher once used that's now an antique.
As a wildlife artist, Matthews looked at the empty room as a blank canvas to fill with brush strokes of fishing memorabilia. It opened in May, but Matthews says it's not finished. There's room for more items and displays.
"I don't think it ever will be finished. It's a work in progress and always will be," she said.
Sports on 06/28/2016