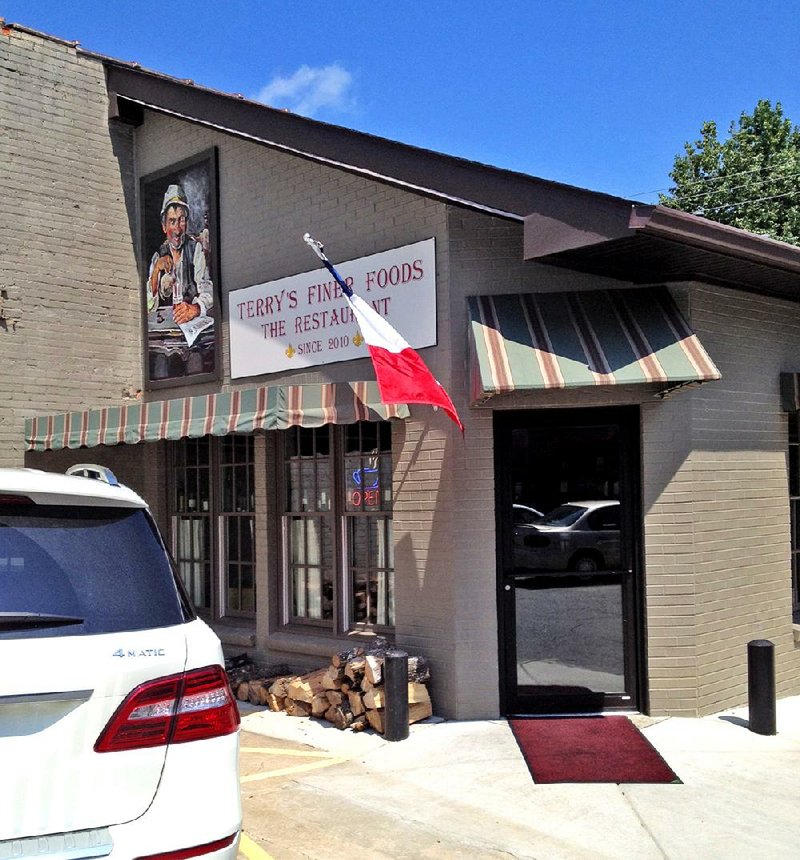 The original restaurant space for Terry's Finer Foods in the Heights now houses the Pizzeria @ Terry's, which is moving south on Kavanaugh Boulevard this summer. Meanwhile, Terry's Finer Foods the Restaurant is closed for the summer for reorganization, which will include incorporating the contents of a family-owned antique store into the combination restaurant-deli-upscale grocery and re-occupying the soon-to-be-vacant pizzeria space.
Terry's Finer Foods, the Restaurant, 5018 Kavanaugh Blvd., Little Rock, which closed a month or so ago during a transition of chefs, is closing -- temporarily -- again. "Yes, we decided to take a summer break and reopen in the fall," says co-owner Lex Golden, explaining that "Many of our regular clients leave town this time of year and we just decided to focus on expanding our deli and carry-out products as well as settling Ellen's Antiques into the building. It will give us a break and the opportunity to reinvent ourselves this fall." The grocery/deli that was there before the restaurant will remain open and, Golden says, "we will incorporate the pizzeria space (the original restaurant/bistro) into the reopening" once the Pizzeria @ Terry's Finer Foods (which has been occupying the original Terry's restaurant space) finishes its southward move to 4910 Kavanaugh, into the former Revolution Gym. The restaurant phone number, (501) 663-4154, will presumably survive.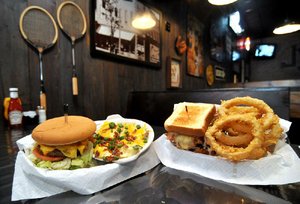 Photo by Democrat-Gazette file photo
On the JJ's Grill menu: JJ's World-Famous Cheeseburger (with Roadhouse Spuds, left) and the Ranch Chicken Clubhouse sandwich, fried chicken breast, ranch dressing, crispy bacon and pepper jack cheese served on Texas toast (with onion rings). This summer the Northwest Arkansas-based minichain is opening its first Little Rock location and a second Fayetteville outlet.
The Northwest Arkansas-based JJ's Grill minichain is expanding farther into central Arkansas, announcing on its website, jjsgrill.com, that it will open sometime this summer -- there's a mid-July target -- in the former Another Round/Villa space in the Rock Creek Shopping Center, 12111 W. Markham St., Little Rock. Kitchen hours will be 11 a.m.-midnight Monday-Saturday; the bar will remain open, depending on traffic, as late as 2 (which explains the phrase "dranks 'til we're closed" on the website). Meanwhile, there's an August target opening date for the new JJ's in the former Jose's Mexican Restaurant, 324 W. Dickson St., Fayetteville, which will be the chain's eighth outlet (the one in Little Rock, plus two in Rogers, one other in Fayetteville, one each in Fort Smith, Conway and Bella Vista). Menu for all locations is the same and available on the website. The phone number for the Little Rock outlet will be (501) 891-6769.
Nashville Rockin' Grill, 10840 Maumelle Blvd., North Little Rock, has made its intentions a little plainer, ditching the big "Restaurant" sign that had replaced the original sign with the establishment's name, and replacing it with a sign that says "Steak Catfish Tex-Mex." It coincides with a new offer -- all-you-can-eat catfish, $14.95, every day after 5 p.m. That, in turn, may be connected to, or coincidental with, the pending opening up the road a piece -- 11608 Maumelle Blvd., just on the North Little Rock side of the Maumelle border -- of Grampa's Catfish. The phone number for details: (501) 812-0095.
One of our sharp-eyed Spa City correspondents has spotted a sign, "New restaurant opening soon," in front of KJ's Grill, 1834 Airport Road, Hot Springs, suggesting that the restaurant has once again changed hands. We reported at the time about the January 2014 sale by Brick House Grill founders and owners Mike and Kelly Loy to Dick and Cindy Kellogg. A voicemail message greets callers to the listed phone number, (501) 767-0063, a recording made by a woman also noting that a new restaurant is pending and thanking callers for their patronage over the last two years.
The Oxford American is sponsoring -- as part of its July 30-31 Charles Portis Weekend -- A Southern Supper with Southern humorists Roy Blount Jr. and Harrison Scott Key, 6:30 p.m. July 30 at the Capital Hotel, 111 W. Markham St., Little Rock. The weekend marks the 50th anniversary of the publication of Portis' first novel, Norwood; the menu for the dinner "will feature special Norwood-theme food created by the Capital chefs." Tickets are $150; proceeds benefit the nonprofit magazine. Visit tinyurl.com/southernsupper1. On July 31 at South on Main, 1304 Main St., Little Rock, adjoining the magazine's offices, a lineup of special guests, including Blount, Key, Prairie Home Companion sound effects artist Fred Newman and singer/guitarist Tift Merritt "will pay tribute to the book's brilliance."
The Associated Press reported last week that Waitr Inc., based in Lake Charles, La., which links more than 500 Louisiana and Texas restaurants with drivers for home-delivery, is planning a technology operations center in south-central Lafayette, La., that will allow the company to expand farther into Texas and into Arkansas, Mississippi, Alabama and other Southern states, while also expanding its scope to include grocery delivery and restaurant reservations. The app currently lets diners pay from restaurant tables. Visit experience.waitrapp.com.
Has a restaurant opened -- or closed -- near you in the last week or so? Does your favorite eatery have a new menu? Is there a new chef in charge? Drop us a line. Call (501) 399-3667 or (501) 378-3513, or send a note to Restaurants, Weekend Section, Arkansas Democrat-Gazette, P.O. Box 2221, Little Rock, Ark. 72203. Send email to:
Weekend on 06/23/2016
Print Headline: Restaurant Transitions
Sponsor Content
Comments