BOSTON -- Danny Ainge became a marvel among his fellow league executives in 2007 when he pulled together the megadeal that became Boston's Big Three and led to an NBA title.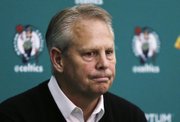 Nine years later, the Celtics president of basketball operations is again primed to pull off some offseason magic, and he's hoping a cache of draft picks he's collected can serve as both his four-leaf clover and magic wand.
The Celtics have a total of eight picks to play with entering Thursday night's draft, including the No. 3 overall selection, as well as two more in the first round. It's again placed the Celtics president of basketball operations in a unique spotlight -- and bargaining position -- as the Boston looks to use the draft as a springboard back into the Eastern Conference's top tier.
The draft once had as many as 21 rounds in 1968. It reduced from three to its current incarnation of two rounds in 1989. Since then, the highest number of picks by one team was 14 by the 76ers in 2014.
Ainge said even with so many bites at this year's draft crop, his approach remains unchanged. He is, however, allowing for the likelihood that there other teams will offer to trade up.
"It's figuring out who's in the draft and who is the best fit for us," he said. "We'll also probably get some calls for [the No. 3 pick], that's what my guess is. So there'll probably be some discussion on that, too."
The premium on picks is even higher considering that beyond Ben Simmons and Brandon Ingram, who are expected to go to the 76ers and Lakers in the first two picks, opinions on the next top prospect vary greatly.
Additionally, some teams could be a little more shy this year.
The injection of the league's new television contract this summer and increase in the salary cap will give every team in the league more money to spend on free agents. So teams ordinarily looking to deal for young talent in June might want to instead hold off a month to throw money at available veterans.
"There's a lot of uncertainty about the future, and everybody's future in the NBA, and with players that we draft," Ainge said. "There are not guarantees. But we like this draft. We're excited about this No. 3 pick. We believe that a good player will come out of this draft."
The Celtics brought in more than 50 players for group and individual workouts. They included highly rated college early entries like Kentucky's Jamal Murray and Domantas Sabonis, as well international prospects like Chinese seven-footer Zhou Qi.
A player like one-and-done Murray, or Providence's Kris Dunn both would seem to have a lot of upside, but Boston already has an All-Star at point guard in Isaiah Thomas.
Former Oklahoma guard Buddy Hield certainly would bring more scoring to the Celtics lineup, but needs more time to develop defensively.
While initial impressions might have signaled a drop off after Simmons and Ingram, Ainge anticipates that the evaluation process -- much like last year -- likely will alter early assessments.
"I wouldn't say anything is in stone," Ainge said.
It's also why any deal that involves parting with the No. 3 pick would have to be a good one.
"Trading the No. 3 pick will be difficult, sure, because there's some very good players No. 3," Ainge said. "But there are some players that it wouldn't be difficult for. We'll be listening to that and we'll have a lot of communication internally to try to figure that out."
Sports on 06/22/2016