SPRINGDALE -- Justine Roper, a teacher in the Mountain Home School District, saw an immediate impact when she introduced her fifth-graders to her Google Classroom.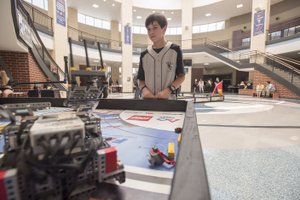 Photo by J.T. Wampler
Johndavid English, 12, has his Lego robot carry out missions Wednesday during the 2016 Innovation Institute at Har-Ber High School. Educators attending the institute examined how to transform technology practices to support teaching and learning. English is a student at Hellstern Middle School.
A student who struggled in literacy gained confidence as she quickly became an expert in working with the new online platform, the literacy teacher said. As the student's peers had questions, she gained experience by writing and editing informational posts.
Technology study
Arkansas school districts chosen for federal study on program for integrating technology in classrooms:
• Alpena
• Bauxite
• Berryville
• Cedarville
• Decatur
• Pea Ridge
• Farmington
• Huntsville
• Mammoth Spring
• Mountain Home
• Prairie Grove
• Parkers Chapel
• Sheridan
• Siloam Springs
• West Fork
Source: Staff report
The first Friday Roper posted a video and an assignment on her Google Classroom, she told all 75 students they could go home and play with the features of the online classroom. Her students posted more than 600 comments to her online classroom that weekend.
Knowing how to use technology for instruction is not as simple as outfitting classrooms with laptops or tablets for every student.
Roper is among a growing number of teachers across Arkansas working to implement effective uses of technology at school. Roper went to a session on tips for using Google Classroom during a two-day Innovation Institute that started Wednesday at Har-Ber High School.
The institute drew more than 320 attendees the first day and 250 the second day, said Brooke Higgins, an instructional specialist for the eMints National Center, which organized the institute with the Springdale School District. The participants represented 17 school districts and two private schools from Arkansas, six school districts in Missouri and the University of Arkansas Office of Innovation. Presenters from came from Arkansas, Colorado, Illinois, Missouri, Oklahoma and Ireland.
The national center is a nonprofit provider of comprehensive, research-based training within the University of Missouri's College of Education. The center developed a model for teachers to use technology for learning, officials have said.
Springdale educators have been working with the Missouri center for more than six years, an effort that expanded with a federal Race to the Top grant worth $25.88 million over four years that was awarded to the school district in December 2013. About 70 percent of the money is budgeted for technology, including the purchase of Chromebooks for all third- through 12th-graders, iPad minis for all kindergarten through second-graders, eight staff positions, travel to conferences and intensive training from the national center.
The center's reach will expand in Arkansas through a federal Investing in Innovation grant from the U.S. Department of Education worth $12.3 million, according to information released by the center in May. The center is studying the effectiveness of its program on teacher instructional practices and student achievement in math, literacy and science, as well as strategies for making the program more cost-effective for schools across the country.
The study will involve more than 24,000 students, nearly 450 teachers and 56 schools over five years in Arkansas, Alabama and Utah, according to the center. The grant will build on more than a decade of research on the eMints program. Springdale School District will serve as a mentor district to the districts involved in the new study.
Starting with instruction
The eMints model for using technology in classrooms encourages teachers to think first about how to teach a lesson well, how to build a community of learners, how to engage students and how to write lessons that relate to what people do in real life, said Higgins, the center's implementation lead for Arkansas.
"All of those things are powered by technology," she said. "It gives teachers a chance to really think about when does it make sense to bring technology in."
The two-day institute, organized for a second year with Springdale's Race to the Top grant, provided a comfortable place for teachers to learn from others about web-based tools and classroom strategies they can use to help students connect, communicate, be creative and to think through problems, Higgins said.
A student showcase at Har-Ber provided teachers a glimpse of the types of technology that have sparked a passion in students, Higgins said. She hoped the examples would inspire teachers to think about what they are doing to prepare students for those opportunities.
A focal point of the student showcase was a robot a nine-member team from Har-Ber High School built and programmed to toss balls into a net. The robotics team met during an eighth hour period, after school and on weekends. Santiago Saucedo, 16, said the project motivated him to get to the end of the school day. The team traveled to Kentucky with the robot in April for a world competition.
"It's really amusing and a great feeling when you see your product work and do what you want it to do," Saucedo said.
Changing instruction
When school officials want to purchase a laptop or tablet for students, Eric Patnoudes, an educational strategist for the CDW technology solutions company based in Chicago, asks lots of questions about their goals for the technology and whether they have considered other factors. A key part of implementing a technology program is training teachers not only on how the devices work, but on how the devices will fit with instruction and provide learning experiences that aren't otherwise possible.
"If all we do is add technology to the classes, but do nothing else, the technology is not going to have an impact on educational outcomes," he said. "It's not just about technology. It's everything else."
Springdale's connection with eMints began in 2009 before receiving the Race to the Top grant, but the number of teachers receiving training expanded with the additional funding, said Ty Davis, one of four teachers who are the district's specialists in integrating technology in classrooms. The district has 150 teachers who have received eMints training.
The training is more than a single workshop, Davis said. Teachers receive ongoing support as they test out web-based tools in their classrooms, Davis said.
Melissa Waits already uses Google Classroom for teaching her math classes at Har-Ber High School. She doesn't use a textbook but provides online resources for her students. When students finish assignments, they take a photo of their work, send it to Waits and she grades it online.
Waits attended a session Wednesday on using Google Slides. The program is an online presentations app that allows users to show off work in a visual way. Waits said she wanted to learn how to use the program in her teaching, and it will allow her students to record their results in a way that could be projected on a screen or shared.
"I'm learning a lot I can implement now and make my classroom more interactive," she said.
NW News on 06/13/2016