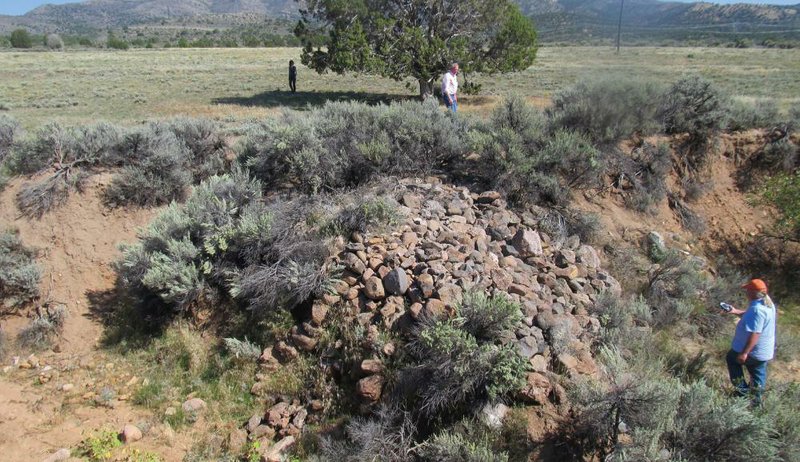 A rock sepulcher containing the bones of men and boys who died in the Mountain Meadows Massacre was found in southern Utah in 2015. Another sepulcher of women and girls was found about 1,000 feet away. The massacre site, 33 miles north of St. George, Utah, was declared a national historical landmark in 2011.
WASHINGTON -- For 150 years, a young murder victim's remains have been kept in a federal museum, the bullet-pierced cranium carefully cataloged and stored.
But Arkansas activists believe the human remains deserve a proper burial, even if it takes an act of Congress to make it happen. U.S. Sen. John Boozman agrees and has drafted language that would force the National Museum of Health and Medicine to surrender the skull.
"This is literally sitting in a drawer in the museum," the Republican from Rogers said in an interview Friday, calling it "just common decency" to lay it to rest.
No one knows the name of the victim, but the date and place of the crime are recorded in the annals of history.
On Sept. 11, 1857, American Indians and Mormon settlers attacked a group trekking from Arkansas to California.
Members of the Church of Jesus Christ of Latter-day Saints, after going west to escape persecution, were defying the federal government and bracing for an Army invasion. They were also unhappy with Arkansas -- one of the church's apostles had been murdered in Crawford County earlier in the year, and the killer had escaped justice.
Roughly 120 Americans were slaughtered during the Mountain Meadows Massacre: men, women and all but the youngest of the children.
In 1859, after tensions eased, U.S. soldiers journeyed to the site, roughly 30 miles north of St. George, Utah, to collect and bury the bleached bones that still littered the site.
But a child's skull was taken from the site and eventually carried to Washington, D.C., where it was deposited in the newly created Army Medical Museum.
An 1866 museum catalog described the Mountain Meadows skull, Item No. 2032, as "a cranium perforated by a small hunting rifle ball, which entered just below the left parietal protuberance and emerged half an inch in front of the anterior inferior angle of the right parietal."
The victim, the guide said, had been "a child, twelve years old ... murdered by the Mormons and Indians, in Southern Utah." The sex of the child is unknown.
The skull has remained in the Washington area ever since. The museum has moved repeatedly over the years. For a time, it was located at Ford's Theatre, site of President Abraham Lincoln's assassination. Later, it was housed at the Walter Reed Army Medical Center. Since 2011, it has been located in Silver Spring, Md.
It's now known as the National Museum of Health and Medicine, and its collection contains roughly 25 million objects, including the bullet that ended Lincoln's life as well as thousands of human brain specimens.
Founded in 1862, the collection swelled thanks to the savagery of the Civil War.
There's the left femur of "Private M.C.," an "Arkansas rebel" who was mortally wounded at the Battle of Arkansas Post on Jan. 10, 1863. And a bone, "honeycombed by necrosis," that belonged to Private W.M., fatally injured during the Battle of Helena on July 4, 1863.
More than 4,000 Indian remains were added to the collection, though they were eventually transferred to the Smithsonian Institution. Later, officials added body parts belonging to veterans of the Spanish-American War and World War I.
From a serviceman at Camp Pike, Ark., there's a section of "infected lung with bronchopneumonia as a result of effects from the influenza virus" dating to 1918.
There's also an entire skeleton that once belonged to Peter Cluckey (1882-1925), who was treated at the Army and Navy General Hospital in Hot Springs and later donated his body to the museum.
The young massacre victim's cranium isn't on display and attracted little attention throughout the 20th century. That changed, however, after the mass killing began to receive renewed attention; books were written, monuments were built; and the Utah site was designated a National Historic Landmark.
An Arkansas-based group, Mountain Meadows Massacre Descendants, was founded in 2004. Its members, who trace their roots to the families of the original trekkers, found out about the child's skull a few years later and have been working ever since to claim it.
But the item is now U.S. government property and the museum won't unilaterally give it away.
"All we've ever wanted to do is see that that child had a proper Christian burial at Mountain Meadows. That's all we've ever wanted to do and hopefully we'll get that done," said Patty Norris, the group's president.
In 2009 or thereabouts, she traveled with treasurer Cheri Baker Walker to the museum to find out more about the skull.
"We actually got to see it and hold it in our hands, actually. It was extremely emotional," she said.
Museum officials were unwilling to permanently part with it, so the Carroll County nonprofit group eventually hired "a very good attorney," Norris said, adding, "He didn't get anywhere either."
The lawyer, she said, eventually suggested that they try "the political route," so Norris reached out to Boozman's office.
"They have just been wonderful from day one," she said.
Museum spokesman Tim Clarke Jr. said the skull is well-protected.
"The handling and educational and research use of human remains and related specimens is carried out with care and respect in accordance with museum policy. Anatomical specimens, including those of the child from the Mountain Meadows site, are kept in secure, climate-controlled areas within dedicated storage spaces, within locked cabinets. Activity regarding their movements and storage location is tracked by a museum database. Access is restricted to qualified personnel," he said in a written statement Monday.
In an interview, Boozman said the child should be "with her family, rather than being stuck in a museum."
Shortly before the Memorial Day break, Boozman s̶u̶c̶c̶e̶s̶s̶f̶u̶l̶l̶y̶ ̶a̶d̶d̶e̶d̶ introduced* language to the National Defense Authorization Act for Fiscal 2017.
It states that "The National Museum of Health and Medicine shall facilitate the relocation of the human cranium that is in the possession of the National Museum of Health and Medicine and that is associated with the Mountain Meadows Massacre of 1857 for interment at the Mountain Meadows grave site."
The amendment w̶a̶s̶ ̶a̶d̶d̶e̶d̶ ̶w̶i̶t̶h̶o̶u̶t̶ ̶o̶b̶j̶e̶c̶t̶i̶o̶n̶ is awaiting action by the full U.S. Senate*.
The senator understands the museum's concerns; they don't believe they have authority, under current law, to hand over the skull, he said.
Boozman is confident that the measure will be approved when the Senate votes on the overall legislation later this month. He's hopeful that it will end up in the final version that is sent to President Barack Obama and signed into law.
"I think it's likely to happen because it's the right thing to do. It's the common-sense thing to do. I think we've got a very very good chance of having this young child laid to rest with the rest of her family," he said.
This isn't the first time that human remains have been a subject of congressional discussion.
The federal government passed legislation in 1989 requiring the Smithsonian Institution to inventory all of its Indian and native Hawaiian remains and to return them, if requested, to tribes or native Hawaiian organizations for repatriation.
In 1990, the Native American Graves Protection and Repatriation Act extended those requirements to any museum receiving federal funding.
But the law doesn't affect non-Indian remains, according to Tanya Marsh, a professor at Wake Forest University School of Law and the author of The Law of Human Remains.
She sees "fundamental inconsistencies in the law" as it exists today. In all 50 states, the newly deceased must be treated with dignity, but older remains can be displayed in museums and are bought or sold on eBay, she said.
Boozman's legislation raises "uncomfortable questions that, as a society and as a legal system, we have declined to think about too deeply," she said. "If this is something that the senator thinks is important, then maybe he should propose a law that applies to more than just this skull."
A Section on 06/07/2016
*CORRECTION: An amendment to the National Defense Authorization Act for Fiscal Year 2017 has been introduced and is awaiting action by the full U.S. Senate. The amendment would require a federal museum to relinquish the skull of a Mountain Meadows Massacre victim so it can be buried with the remains of other victims at the Utah site. This article incorrectly stated the measure's status.
Print Headline: In Senate, new life for a child's burial
Sponsor Content
Comments