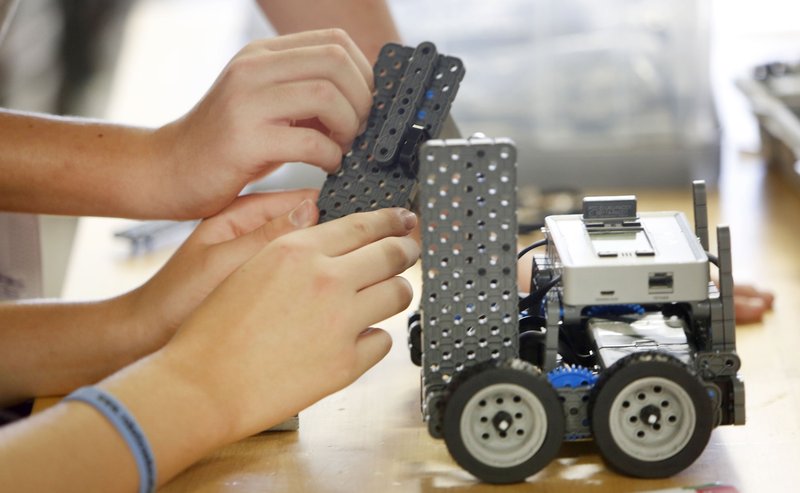 The hands of Ian Malloy, 13, and Judd Pleimann,12, are visible Wednesday, June 1, 2016, as they assemble parts in the Fayetteville Robotics Summer Camp at Fayetteville High School. The four day class uses the Vex IQ Robot platform. - Photo by David Gottschalk
SPRINGDALE -- Students representing four "companies" sat around wooden tables Friday anxiously watching their Lego robots. It was the moment of truth: Would their robot solve the Rubik's Cube?
Parents and community members, including Mayor Doug Sprouse, cheered as each team successfully completed its weeklong challenge as part of Northwest Technical Institute's Young Manufacturers Academy.
Other Academy Sites
Other locations for planned Young Manufacturers Academies include:
• Arkansas Northeastern College-Blytheville
• ASU-Mountain Home
• ASU-Newport
• Black River Technical College — Pocahontas
• College of the Ouachitas — Malvern
• East Arkansas Community College — Forrest City
• National Park College – Hot Springs
• NorthArk Community College – Harrison
• Phillips Community College – Stuttgart
• SAU Tech – Camden
• SouthArk Community College – El Dorado
For more information, visit www.arkansasstatechamberfoundation.com or contact Andrew Parker at [email protected]
The Gene Haas Foundation pays for the academy, allowing the Arkansas State Chamber of Commerce, in partnership with several Arkansas two-year colleges, to host free sessions around the state. This was the academy's second year.
Fifth- to 10th-graders from around Northwest Arkansas formed companies, established a management and production team, made budgets and ultimately designed and built a robot.
The 20 students who participated accepted certificates for their completion of the academy, which also qualifies them for a scholarship to take a computer numerical control class offered at Northwest Technical Institute. Two of the children who attended the academy already have signed up for night classes, said Tom Freking, the school's executive director.
"My son saw a posting for this class and took the initiative on his own to sign up," one of the parent's wrote in an anonymous review Friday. "I felt it was very important to follow through and make sure he was here. We were on vacation and came home early because he does not get excited about learning, so it was a huge deal for him."
The children also traveled around the region to various manufacturing businesses, Freking said.
Brian Wheeler, a welding instructor and participant's parent, showed the students the machine shop.
"These are really smart kids and a lot of them already know what they want to do. This was something that they will be able to take with them for years to come really," he said.
The academy is designed to reach students who are interested in careers in manufacturing. Some 600 young people are expected to attend an academy session in late July and early August, according to the Gene Haas Foundation website.
"There has been an increasing need in Arkansas to attract young people into the manufacturing industry," said Michael Garner, general manager of the Haas Factory Outlet in Little Rock. "Arkansas is lagging behind other Southern states when it comes to investing in opportunities to encourage and train young people in manufacturing careers."
Gene Haas is an American company trying to bring jobs back to America, Freking said.
NW News on 07/23/2016
Print Headline: Academy aims to foster manufacturers of tomorrow
Sponsor Content
Comments