Wallpaper can conjure up some unpleasant associations. Riots of flowers turning a room into a garish indoor garden. Armies of cowboys moseying over the walls of an old nursery.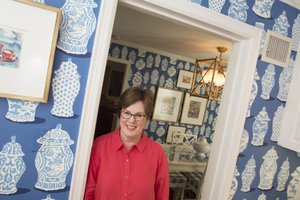 Photo by John Sykes Jr.
Becky Wells of Little Rock says she was concerned about her choice of wallpaper for the kitchen and breakfast room, afraid the blue "might make it dark." But she's been very happy with the striking results.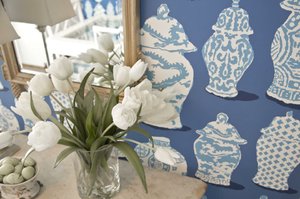 Photo by John Sykes Jr.
Bold blues and big jar patterns dominate in the kitchen and breakfast room after a recent remodel.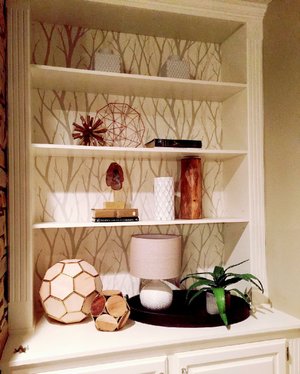 Wallpaper can be expensive, but putting paper on a bookcase can keep costs down while also adding a bit of color or interest to a room.
That was times past, though. "Wallpaper has come a long way," Little Rock designer Mona Thompson says.
No longer primarily consisting of jewel tones, busy mini-prints and overbearing borders, wallpaper comes in styles and color palettes for every taste.
There are classier, more subtle tone-on-tone prints for an understated look. For more modern tastes, there are bold colors and geometric patterns. There are even papers that look like brick, wood or tile -- a sort of trompe l'oeil piece for the wall -- offering texture and character without resorting to bricks and mortar.
"The glossy style like a chinoiserie with birds and flowers that's more like a mural is really popular right now, too," says Krista Lewis, a designer in Little Rock.
IT'S BACK, BABY
Another big favorite is an old classic that's had something of a makeover: grass cloth.
The very tactile paper, usually made from hemp, reed, jute or similar products, was a big hit in the 1970s.
Lewis admits that grass cloth is a hard sell for some clients, who react with, "Ugh! No, that makes me think of the '70s!"
"But I love it," she says. "It adds texture."
And, Little Rock designer Lindsey Binz adds, "Back in the '70s, it was popular in just the brown. People are doing more of a color."
There's a character in the textures, colors and patterns of wallpaper that can't be created with a basic paint job and that's something that, after years of neutrals, many American homeowners are finding appealing.
"Across the country it has definitely had a huge comeback," Thompson says.
The renewed popularity of wallpaper is slowly making its way to Arkansas. While Thompson says older clients still have memories of papers of the past, younger people, primed by
hours spent scouring Houzz and Pinterest for design ideas, are quicker to jump on the prospect of paper.
"The more people do that and see all across the country its popularity, I think we'll see more requests for it," Thompson says.
Binz and Lewis say they've seen a definite uptick in wallpaper interest among their clients.
For Lewis' clients Becky and George Wells of Little Rock, wallpaper wasn't a hard sell at all when Lewis suggested it for their kitchen and breakfast room during a recent makeover.
"That wasn't an issue for us," Becky Wells says. "We had it before."
FINDING THE RIGHT FIT
With so many options, homeowners should keep in mind the other pieces in the room, the style they want and the fact that whatever they put up may be something they'll have to live with for quite a few years.
Binz says she generally steers clients away from designs that are too trendy or too bold.
"It is pretty permanent. It's something that you want to last for a while."
"I think you need to think about what are you doing on the other pieces in the room," Lewis says. "You've got to keep scale in mind."
For a living room with patterned drapes and patterned furniture upholstery, a stimulating wallpaper pattern may be overload. Conversely, if the rest of the room is neutral, the wallpaper can be the pop of pattern and color in the room.
Also, Binz says, "If you've got really nice art, you don't want to be too wild with the paper either. You don't want to take away from that."
Still, Lewis says, "I never say never!"
For the Wellses kitchen, the new wallpaper is a strong blue with a big pattern that's a perfect fit for their tastes.
"We love it," Becky Wells says. "We love lots of color."
And there are some places and situations where people should give serious thought to function.
Lewis recommends caution in wallpapering a daily use bathroom, for instance. The steam and damp will cause the paper to peel back. A guest powder room would be much safer. And a durable, scrubbable wallpaper would be best for a high-traffic staircase or room frequently used by small children.
CHA-CHA-CHANGES
These days wallpaper doesn't have to be limited to a permanent residence. There are now brands of removable wallpaper with a simpler glue formula or a peel-and-stick application that can be put up in rental homes or apartments. Just like regular wallpaper, they come in a variety of designs and styles.
Temporary paper can be a good option for renters, or for those wanting to do something for a child's room that might be "babyish" after a couple of years.
Binz says she wouldn't recommend wallpaper for people who plan to sell their house in the next couple of years, or for people whose budget wouldn't extend to frequent re-papering, "just because it is pretty personal," she says. "Paint, you can just paint over. Wallpaper is a little bit harder."
Taking wallpaper down is an entire undertaking of its own that can be costly, time-consuming and, if not done properly, dangerous to the walls. But the biggest stumbling block people generally find on the road to a papered residence is the price.
The cost of the paper, installation and removal can be prohibitive for some people's budgets. Wallpaper costs vary widely. While some sell for less than $20 per roll, there are others that are hundreds of dollars. And that's without the tools and supplies for a do-it-yourself project, or labor costs for hiring a professional.
"We tend to use [wallpaper] sparingly," Thompson says. "Some of the really wonderful wallpapers are expensive. Somebody has to really want wallpaper to go to the expense."
Binz says that many clients are enthusiastic about wallpaper, "Until I tell them how much it's going to cost."
But there are still ways to use wallpaper without breaking the design budget.
Binz has found success using paper as an accent, such as papering the back of a bookcase or putting the paper on the ceiling. There's also the option of doing just an accent wall for some contrast, texture and character.
"It gives you a focal point without having to do the whole space," she says.
Lewis recommends papering a dining room only above the chair rail as another way to add pop to a room without having to paper the entire wall.
"There are many ways you can mix it up," she says.
With many design options, prices and types of paper out there, even on a budget or in a small space, there's no reason to stay inside the box.
"I think it could have its place anywhere," Thompson says.
HomeStyle on 07/02/2016