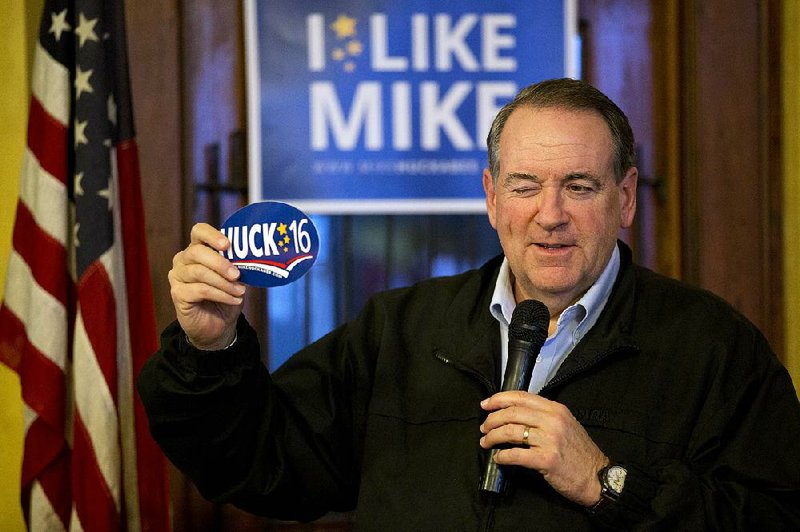 Former Arkansas Gov. Mike Huckabee jokes with voters in Cherokee, Iowa, earlier this month. He is banking on social conservatives' support in Monday's Iowa caucus. - Photo by AP / MARY ALTAFFER
AMES, Iowa -- The last time Mike Huckabee ran for president, he polled poorly among non-evangelicals, but he won the Iowa Republican caucuses anyway, propelled by solid support from born-again Christians.
This time, there's stiffer competition for so-called values voters, the social conservatives seen as crucial to winning in the state.
As a result, the ex-Arkansas governor is fighting to win over the people who were once his base.
Saturday morning, while the front-runners raced from one event to another, Huckabee spent time at his campaign headquarters in Urbandale, encouraging volunteers who were preparing to wave his signs near intersections or to telephone potential caucus attendees.
He held out hope that he'll pull off a come-from-behind win.
"People never pick exactly what's going to happen. They get it wrong every four years. And folks, we are not just hanging on. We are fighting to the end, and I want you to believe that there is a real possibility for a stunning upset," Huckabee said.
Iowa Gov. Terry Branstad has predicted the Hope native might do better than expected, Huckabee said, adding, "We're going to prove that he's not only a great politician, but he is a prophet of biblical proportions."
Every poll in recent months -- and there have been dozens of them in Iowa -- show the former Southern Baptist pastor trailing. He has been mired in the single digits -- overwhelmed by a Pres­byterian billionaire and a host of churchgoing candidates sharing their theological as well as political views.
A national survey this month of Republican Protestant pastors, conducted by a Southern Baptist Convention-affiliated research firm, had Huckabee tied for fifth, backed by only 2 percent of his fellow preachers.
Pollster Frank Luntz said Saturday that Huckabee has struggled to be heard during this campaign.
"The candidate field is so big and so extensive ... it becomes so much more difficult to break through," he said.
Saturday in Ames, U.S. Rep. Steve King of Iowa said he believes the polls are correct and urged Christian conservative voters to unite behind the one candidate he believes can stop New York businessman and GOP front-runner Donald Trump.
"This will be a very, very close race," King said. "If you like people like [retired neurosurgeon] Ben Carson and Mike Huckabee and [former U.S. Sen.] Rick Santorum, which I do ... send them a thank-you card for entering into this race, but don't waste your vote. If you want a constitutional conservative, come to caucus for [U.S. Sen.] Ted Cruz."
When he ran eight years ago, Huckabee polled extremely well among weekly churchgoers, far better than any of the other candidates.
The election night entrance polls showed him winning 46 percent of the evangelical vote and 56 percent of the vote from caucus attendees who said candidates' religious beliefs matter "a great deal."
This time, many of those voters have switched their allegiances to Cruz.
Tony Perkins, president of the conservative Family Research Council in Washington, said demand for Christian conservative candidates is high, but so is the supply of Bible-quoting candidates.
Spiritual content also has taken a more prominent role in the 2016 race than it did in 2008, he said.
"We've seen increasingly, in each cycle, more of this. And this is actually where, I would say, we have been successful in bringing religion and God and Christianity back into the process," Perkins said.
Religious themes have popped up repeatedly over the past week, in campaign commercials, prime-time debates and political speeches.
Saturday, Cruz and another high-polling Republican candidate -- U.S. Sen. Marco Rubio of Florida -- both stopped in Ames, 35 miles north of Des Moines, for rallies that highlighted the Bible as well as the ballot box.
At the Cruz event, a warm-up speaker criticized quoted Scripture, called for "a spiritual revival" and condemned Trump for questioning whether it was necessary to seek God's forgiveness.
Taking the stage late Saturday morning, Cruz touched on several issues championed by Christian conservatives.
On his first day as president, Cruz said, he would order the U.S. Justice Department to open an investigation into Planned Parenthood and "prosecute any and all criminal violations."
Next, he said, he would end "the persecution of liberty" and would ensure that service members can "worship God almighty with all of their hearts, minds and souls" -- without interference. In addition, he said, he would move the U.S. Embassy in Tel Aviv to Jerusalem, calling it "the once and eternal capital of Israel."
Earlier in the week, Cruz, the son of a pastor, spoke of the need to "awaken the body of Christ" and to bring the country "back from the abyss."
Rubio, meanwhile, also has been emphasizing his faith.
At Iowa State University Saturday afternoon, Rubio started his speech by declaring that Americans' rights "come from God."
He also bemoaned the state of American values, saying it posed a challenge for him and his wife.
"Jeanette and I are raising four children in the 21st century," he said, "and we know how hard it is, perhaps harder than ever, to raise your children with the values that you try to teach in your home and in your church instead of the values they keep trying to ram down your throat in the popular culture."
Like Cruz, Rubio also promised to defend religious liberty and to increase abortion restrictions, drawing strong applause from the crowd.
Earlier in the week, Rubio told a Des Moines audience that Jesus had died for their sins and that his faith would "not just influence the way I'll govern as president, it will influence the way I live my life. Because in the end, my goal is not simply to live on this earth for 80 years, but to live an eternity with my creator."
Huckabee also has been stressing faith on the stump and in his campaign materials, even posting his supporters' prayers on his website, MikeHuckabee.com. (Lea Wilson-Reynolds of Virginia, for example, asked that God give Huckabee "wisdom to answer his naysayers and take him safely to all of his campaign locations.")
Huckabee spent much of Saturday giving media interviews, but took time in the afternoon to travel to a gun range for target practice. The candidate and several of his supporters showed off their marksmanship during a visit to Crossroads Shooting Sports in Johnston, outside Des Moines.
Huckabee planned to worship this morning at Walnut Creek Church, which has four locations in the Des Moines area. Its pastor, Terry Amann, endorsed Huckabee in August. He also was scheduled to appear this evening at a screening of God's Not Dead 2, a faith-friendly movie that was shot, in part, in Little Rock.
David Yepsen, director of the Paul Simon Public Policy Institute at Southern Illinois University and a former Des Moines Register political reporter, said the election year mix of prayer and politics makes sense politically in Iowa.
"Evangelicals make up over half the likely Republican caucusgoers, and it was true four years ago and eight years ago when Huckabee won," he said. That voting bloc is "just a huge part of the Republican base right now, and it's true nationally as well."
A Section on 01/31/2016
Print Headline: Hopefuls wooing faithful
Sponsor Content
Comments