FAYETTEVILLE — A jampacked, standing room only crowd at Bulldog Arena got the show they came to see Friday as Bentonville and Fayetteville delivered a 7A-West Conference boys' basketball battle down to near the wire.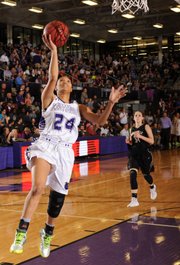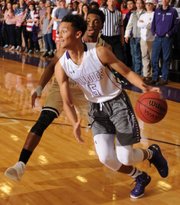 For the Purple Bulldogs, a strong defensive stand to open the second half and just enough plays on both ends of the floor in the closing minute were the difference as Fayetteville outlasted Bentonville, 60-55, to remain unbeaten in conference play.
"What we kind of talked about at halftime was (Bentonville) was the more aggressive and physical team in the first half," Fayetteville coach Kyle Adams said. "Usually when that happens you get back on your heels and allow people to get to the rim and I thought we allowed Malik (Monk) to get wherever he wanted to go in the first half. And you can't let a caliber player like him do whatever he wants and we did a better job of forcing him to pass in the second half."
Monk, a Kentucky signee, and Fayetteville senior guard Payton Willis — a Vanderbilt signee — defended one another most of the night. Monk finished with 30 points on 13 of 31 shooting from the floor, including a 13-point fourth quarter. But in the third quarter alone, Fayetteville held Monk to just three points in building a 48-36 lead.
FAYETTEVILLE 60, BENTONVILLE 55
"I felt like (Fayetteville) outexecuted us," Tigers coach Jason McMahan said. "We both knew this game would come down to points in the paint and we tried to shoot threes and they attacked the paint and got to the line and that's how they outscore us 24 to 11 in the third quarter.
"They outexecuted us. We did not play good, smart ball today and they did."
Bentonville rallied to within one point of Fayetteville late in the fourth quarter. But a pair of Willis free throws and back-toback missed 3-pointers by Monk in the closing minute helped secure the win for the Bulldogs.
Willis finished with 18 points for the Purple'Dogs, who now have a two-game lead over Bentonville at the midway point of the 7A-West race. Josh Breathitt added 11 for Fayetteville and Tyler Robinson contributed 10 for Bentonville.
"We always just talk about the next game," Adams said. "Next up is Northside and we're glad to have a few days off so our guys can get some rest. This was a big win, but it's just one at a time."
GIRLS
FAYETTEVILLE 80,
BENTONVILLE 51
The Lady Bulldogs started hot and almost never slowed down in posting a sportsmanship rule win against Bentonville on Friday in 7A-West Conference play.
Fayetteville (14-6, 5-2) won its fourth consecutive conference game and did so by way of the hot shooting, hitting 12 of 21 3-point attempts in the 29-point win. Maya Mayberry led the way with 18 points — including 4 of 4 on 3-pointers — and Lauren Holmes added 14 more points on 4 of 8 from 3-point range.
Maren Johnston led the Lady Tigers with 11 points and six rebounds.
Sports on 01/30/2016