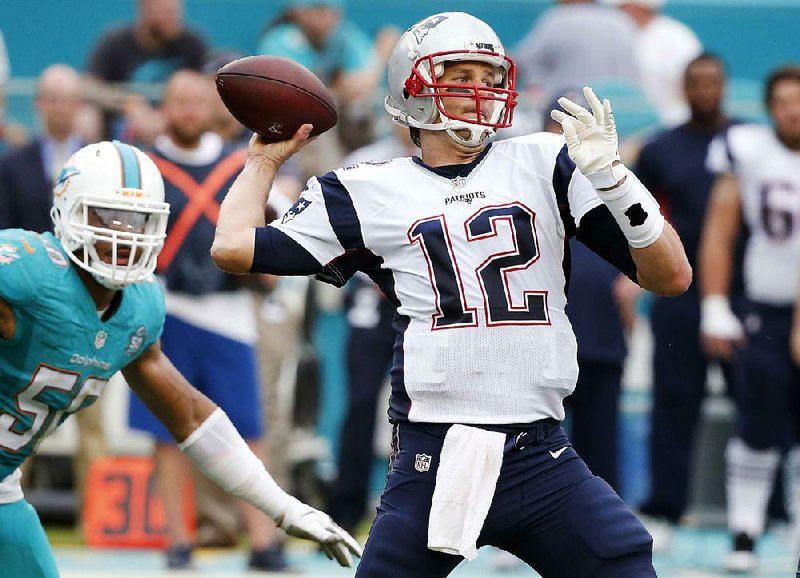 New England quarterback Tom Brady and the Patriots have lost four of their past six games. They will try to get back on track today against a Kansas City team that has won 11 games in a row. - Photo by AP / WILFREDO LEE
One team that will be participating in today's AFC semifinal at New England is playing as well as any team in the NFL right now, leaning on a trustworthy quarterback and an extremely capable defense.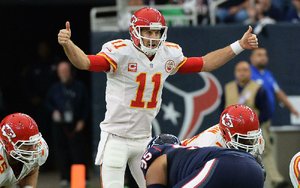 Photo by GEORGE BRIDGES / AP
Kansas City quarterback Alex Smith has thrown for 3,486 yards and 20 touchdowns with just 7 interceptions this season for the Chiefs, who will advance to next week's AFC Championship game for the first time since 1993 with a victory today over New England.
The other team is the Patriots.
The first of the four NFL playoff games this weekend will be a case study of whether momentum matters in the postseason.
The Kansas City Chiefs are sizzling, with 10 consecutive victories to close the regular season and a lopsided victory at Houston last weekend in the opening round of the playoffs.
The Patriots are at home and they're the AFC's No. 2 seed. They're seeking a fifth Super Bowl victory with Bill Belichick as their coach and Tom Brady as their quarterback. But their dominant beginning to the regular season gave way to a weekly ritual of sorting through an ever-growing list of injuries and patching together a lineup around Brady on offense, and they limped into the postseason with four losses in six games after a 10-0 start.
"Obviously we're facing a team this week that's as hot as any team in the league -- playing really well in all three phases of the game, well coached, great organization, have a lot of great players, and they're playing extremely well," Belichick said during a news conference this week. "It's a big challenge for us here."
The Patriots lost their final two games of the regular season with a chance to clinch the AFC's top seed by winning either one. Brady emerged from a defeat at Miami to close the regular season with an ankle injury. But there's no question he will play today, and the Patriots also hope to have back recently injured starters on offense such as wide receiver Julian Edelman and tackle Sebastian Vollmer.
The game is a rematch of the Chiefs' victory in a Monday night game in September 2014 that dropped the Patriots' record to 2-2 and led to questions of whether Brady's best days as a quarterback were behind him. Such talk was premature as Brady and the Patriots rebounded to win another Super Bowl.
"I know we've all studied it," Brady said this week. "They played really well that night. We didn't play very well. Hopefully we can flip the script. That'll be the opportunity we have."
The Chiefs ranked seventh in the league in total defense and third in scoring defense during the regular season, then shut out the Texans 30-0 last weekend in a game in which Houston quarterback Brian Hoyer threw four interceptions and lost a fumble.
It was the Chiefs' first postseason victory in 22 years, but they have become accustomed to winning in recent months. They haven't lost since an Oct. 18 defeat at Minnesota dropped their record to 1-5.
"There's no excuse, first of all, to start 1-5," Chiefs Coach Andy Reid said during a conference call with reporters this week. "I've never had that experience. But looking back now, we had a lot of younger players playing, more than anybody in the league at that time. And we had some guys coming off injury and sickness and a suspension in one case [cornerback Sean Smith]. They all got back in and kind of got in the swing of things. The young guys grew up a little bit, and we put together a couple wins."
Sports on 01/16/2016
Print Headline: Flagging Patriots face rolling Chiefs
Sponsor Content
Comments