Early voting for the Tuesday primary election is setting records daily, Benton County election officials said Friday.
Complete coverage of the 2016 election, including candidate profiles, voter information and editorial endorsements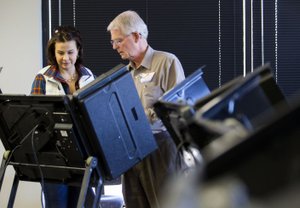 Photo by Jason Ivester
John McDaniel, election worker, helps set up the voting machine Friday for Kim Minor of Bentonville at the Rogers-Lowell Area Chamber of Commerce in Lowell.
Through Friday, 15,395 voters have cast their ballots in the early voting period, according to an initial count.
Benton County Early Voting
Early voting for Tuesday's preferential primaries and nonpartisan general election continues today and Monday. Early voting sites are:
• County Clerk's Offices at 215 E. Central Ave., Suite 217, in Bentonville, 1428 W. Walnut St. in Rogers and 707 S. Lincoln St. in Siloam Springs: 10 a.m. to 4 p.m. today and 8 a.m. to 5 p.m. Monday.
Source: Benton County Clerk's Office
According to records at the County Clerk's Office, 7,526 voters cast ballots during the early voting period for the 2012 primary election, the most recent presidential election year. The records show 6,422 people cast ballots during the early voting period for the 2014 election.
The turnout was high Friday in Washington County boosting voting numbers overall, said Jennifer Price, election coordinator.
At least 8,000 people total cast ballots by Friday afternoon, Price said. In both 2012 and 2014, Washington County barely got to 3,000 early votes, she said previously.
People came into the courthouse steadily Friday and waited in line to vote. Nearly 700 people alone cast ballots in the Quorum Courtroom, Price said. The rodeo in Springdale had 407 votes cast.
In this year's early voting period election workers have seen a steady stream of voters.
"It's been non-stop today," County Clerk Tena O'Brien said Friday afternoon. "This is our busiest day yet. All of us are just pitching in to keep the lines moving."
According to initial tallies, the early voting started out with 1,016 people casting ballots on Feb. 16 and the number of votes being cast has increased daily, with 2,350 people voting Thursday. The preliminary count at the end of the day Friday showed 3,837 voters cast ballots that day.
Kristen Caldwell of Bentonville voted Friday afternoon, bringing her 8-year-old daughter Lily Cate with her. Caldwell said she has voted on election day in the past, but in recent years has taken advantage of early voting opportunities.
"It's the convenience," Caldwell said. "It's quick. It was very fast today."
The county expanded early voting this year with seven off-site early voting locations being open in addition to the three offices of the County Clerk. Kim Dennison, county election coordinator, said those early voting locations were also busy and working well.
"I haven't had any issues," Dennison said. "Everything on my end is running smoothly. Gravette has had 346 people vote and NEBCO up in Garfield has done 268 people. They're my two slow sites, but they're rural areas so it's to be expected. Riordan Hall in Bella Vista has done 2,319 through Thursday."
NW News on 02/27/2016