BENTONVILLE -- One of the state's newest charter schools highlights growing demand for online education in Arkansas and nationwide.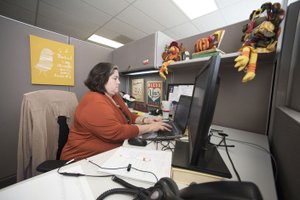 Photo by J.T. Wampler
Teacher Melissa Curiel works at the Bentonville-based Arkansas Connections Academy, which opened in August.
Arkansas Connections Academy opened in August as an online, or virtual, charter school. It has 371 students in grades kindergarten through nine, including about 60 from Benton and Washington counties, according to academy officials. Principal Darla Gardner said she expects enrollment to rise at the start of the next semester. It likely will continue to rise as a grade level is added each year until the school offers kindergarten through 12th grade, she said.
NWADG video
For an inside look at Arkansas Connections Academy, see our video at https://youtu.be/hoxZnLGXJCE
Online enrollment surges
Arkansas students enrolled in online charter schools:
Oct. 1, 2011: 500
Oct. 1, 2016: 2,435
Source: Arkansas Department of Education
The school is in a Bentonville office park. Teachers give lessons while seated in front of computers in cubicles. The students on the other end of their digital connection may be anywhere in Arkansas.
Susan Bailey, a secondary math teacher at the school, is in her seventh year as an educator and her first year as an online teacher. She previously worked for another charter school and for the Rogers School District.
Bailey said she talks by phone to each of her 184 students individually at least once per week. She also communicates regularly with parents.
"I feel like I meet more of my students one-on-one than I did in the brick-and-mortar schools," she said.
The online movement
The school is part of a network of Connections Academy schools operated in 25 states by Pearson Education. Together the schools enroll more than 65,000 students, according to the organization. Connections Academy started in 2002.
Dennis Beck, a professor of education technology at the University of Arkansas, is president of the Arkansas Connections Academy's board of directors.
The state's Charter Authorizing Panel rejected Beck's charter application in 2014 by a 4-0 vote. Panel members expressed concern about the teacher-to-student ratio, student retention and technology support.
Beck returned to the panel one year later. This time the panel approved his application by a 5-2 vote; the state Board of Education followed up in January with a 5-2 vote of its own in favor of the school.
Arkansas Connections Academy is an open-enrollment charter school. Open-enrollment charter schools are open to any student living in the state. There are 24 such schools in Arkansas. They are free like other public schools.
Charter schools receive the same amount of per-student funding from the state -- $6,646 this school year -- but may not collect money from millages like traditional public school districts do.
Arkansas Connections Academy is the second online charter school in the state. The other is Arkansas Virtual Academy, which opened in 2007 and serves about 2,100 students in grades kindergarten through 12. Its enrollment has quadrupled over the past five years.
Nationally, more than 315,000 students attended fully online schools during the 2013-14 school year, an increase of about 58 percent from four years earlier, according to annual reports on online learning by the Evergreen Education Group.
Some local school districts either have adopted or are considering adopting an online education model as well.
The Fayetteville School District launched Virtual Academy this year. It started in August with 65 students in grades four through eight. Plans are for the school to enroll about 500 children in kindergarten through 12th grade by the 2019-20 school year.
The Rogers School District announced in February it would apply for a charter school license with the intent of opening a virtual school for grades six through 12. The district has not followed through with that plan yet.
Debbie Jones, superintendent of the Bentonville School District, recently said she would like to develop more online learning opportunities for students.
"I don't want to take away from the face-to-face interaction we have with teachers at all," Jones said. "But I think there are many students who don't come to school on a regular basis, and for those kids, this is one thing I think could serve them if created well."
Jones added she would not settle for what she called a "typical" online education. A study of online charter schools, released last year by the Center for Research on Education Outcomes, found students of those schools performed significantly weaker than their counterparts in traditional schools.
Jones was assistant commissioner for learning services at the Arkansas Department of Education and a member of the state's Charter Authorizing Panel in October 2015 when Beck brought forward the Connections Academy application for the second time.
Jones was one of two panel members who voted against the proposal, saying the applicant had "not provided evidence that they will create a system where students will achieve even at state levels," according to her statement.
She pointed out students in Connections-affiliated schools nationally had a 53.9 percent pass rate on state math exams, which was lower than the overall 67.1 percent pass rates in their states. In reading language arts, the Connections-affiliated schools had a 72.6 percent pass rate, slightly higher than the 71.3 percent pass rate overall.
The Bentonville School District hired Jones as deputy superintendent in January. The School Board promoted her to superintendent in July following the departure of Michael Poore.
The online appeal
Luke Garcia, 14, of Bentonville is a ninth-grader at Arkansas Connections Academy. He plans to be part of the academy's first graduating class.
"I really like the teachers. The school flows very well. It's not too complicated, yet it's not too simple," Luke said.
Teresa Garcia, Luke's mother, said her family likes to travel, which is one reason the online model appeals to them. Students may sit in on live lessons with teachers or view recorded versions of them at a more convenient time.
"A couple of years ago, we went to the Dominican Republic for three months," Teresa Garcia said. "Last year, we were in Italy for six weeks. So a traditional brick-and-mortar school doesn't allow that. And I feel like on top of education that you're going to find in books, I like that my child has the opportunity to see how other people live."
Luke has two cousins in a different part of the state who also are enrolled in the academy as ninth-graders.
"Even though they're from different parts of the state, they're all going to be part of the same graduating class," Garcia said.
Gardner, the principal, once taught in a traditional public school in Bartlesville, Okla. She was an online teacher for three years, then became an assistant principal at an online school before taking the principal's job with Arkansas Connections Academy.
Families choose online schools for a variety of reasons, she said. It may have to do with the parents' work schedule. Other children are heavily involved in things like sports or acting, so they have chosen the online school for the flexibility. Some children have medical issues, "so our environment provides them with the opportunity to work when they're feeling their best," Gardner said.
Bullying is another factor in some families' decisions to seek alternatives to the traditional public school, Gardner said.
During live lessons at Arkansas Connections Academy, students can raise their hands and feel confident in their answers "without the fear of being made fun of or harassed, or just the fear of being bullied in general," she said.
Students are not required to attend live lessons, but those who do tend to perform better, according to Bailey, the secondary math teacher.
The school makes efforts to bring its students together with about three or four field trips per month, Gardner said. Earlier this month, for example, Bailey organized a trip to the Arkansas Post National Memorial in the southeast part of the state.
Gardner oversees 13 staff members, including 11 teachers. All are licensed teachers and four have master's degrees. Most came from traditional public schools, though some were most recently at other charter schools, Gardner said.
NW News on 12/04/2016