FAYETTEVILLE -- The Washington County Election Commission has agreed to pay for six billboards along Interstate 49 to encourage voters to cast ballots early for the November general election, said Jennifer Price, executive director.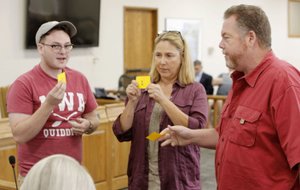 Photo by David Gottschalk
All three candidates for Fayetteville's Ward 2 alderman position — Benjamin Garner Harrison (from left), Sarah Bunch and Tracy K. Hoskins — draw for a position Monday on the ballot of the Nov. 8 general election in front of the Election Committee at the Washington County Courthouse in Fayetteville. Ballot positions were chosen for 28 races for the election.
The move to use billboards is a first for the commission, said Price, whose title recently was changed to executive director by the commission. Advertising had been done solely through the newspaper, she said.
The digital billboards will cost $500 for the next two months and be shown 100 times a day starting Thursday, Price said.
Commissioners unanimously approved the signs during a meeting Monday. The billboards will display a blue background and feature a ballot box with the words: "Vote early for the general election," Price said. Other information on the sign includes contact information and dates, she said.
The county's Republican chairman and his Democratic counterpart approved of the idea Monday.
"I want everybody to vote," said Lance Johnson of Springdale, the GOP county chairman. "No problem for me."
Tyler Clark, the Democratic chairman, said he approved of early voting in principle and in practice, and he hopes voters will take advantage of the opportunity to go to the polls early.
The commission has enough money put aside to cover the cost, Price said.
Price said she hoped to avoid long lines on Election Day, Nov. 8. Voting early will mean a smoother election process, commissioners have said.
The commission released results in the last presidential election in 2012 around 3 a.m. Machines ran nonstop, but couldn't keep up, Price has said. Price expects roughly 80,000 voters to cast ballots on Election Day this year, which she has said would be a record turnout.
Election commissioners have said the early voting time period, which is the two weeks leading up to Election Day, and voting centers are meant to make voting more efficient. Voting centers allow residents to cast ballots at any center, no matter which precinct they live in, commissioners said.
The commission also received new equipment this year that is expected to make the voting process easier for voters, poll workers and officials have said.
NW News on 08/30/2016