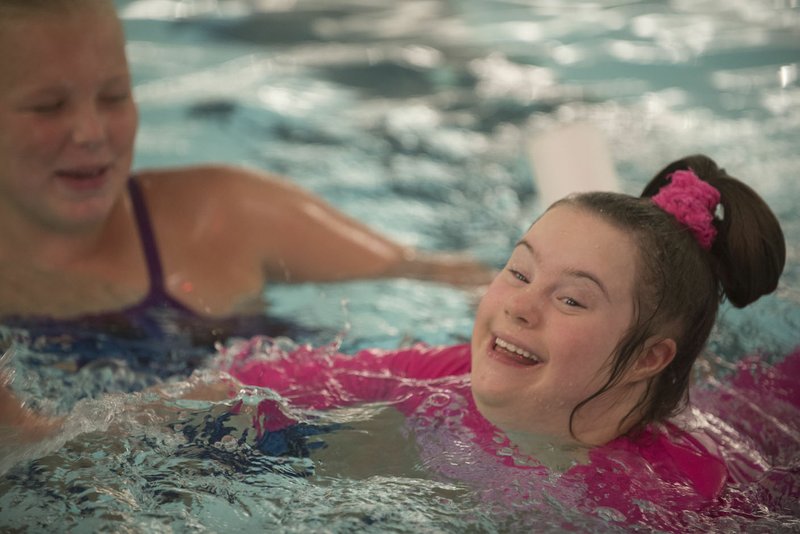 NWA Democrat-Gazette/J.T. WAMPLER Cassidy Bartels of Bella Vista, (right) and Izzy Gifford, both 12, swim Wednesday at the Walton Life Fitness Center in Bentonville. Bartels is training for the fifth annual Trifest for MS in Bentonville, a triathlon put on by the Rampy MS Research Foundation. The Bentonville School District is sponsoring the Trifest entries of 50 students with special needs, as well as a six-week training course for them.
BENTONVILLE -- The School District is paying the entry fees for up to 50 of its special-needs children to participate in a triathlon this weekend.
Students who signed up in advance also received six training sessions, the last of which was Aug. 19.
Trifest for MS
Visit www.researchMS.org to register for the Trifest for MS. Registration closes Wednesday.
To register a special-needs child:
• Visit www.researchMS.org and click on the "register" button at top of the page.
• Click on the orange "register" button.
• Select the age-appropriate para-tri category for your child.
• Use coupon code BPSPARATRI at checkout to have registration completely sponsored by the Bentonville School District.
Source: Staff report
"We're trying to support them beyond just the classroom, getting them out into the community, seeing how far they can go," said Sheila Munn, an adaptive physical education teacher who works with special-needs children across the district.
The fifth annual Trifest for MS takes place Saturday and Sunday at Bentonville's Memorial Park. It will include three triathlons of different distances, a 5K race and three triathlons for kids broken down by age groups.
Proceeds from the event go to the multiple sclerosis research department at the University of Arkansas for Medical Sciences. The Rampy MS Research Foundation puts on the Trifest for MS.
The district sponsored 20 special-needs students last year. It pledged to support up to 50 student entries this year. That includes students with autism, Down syndrome and cerebral palsy.
"It's truly open to anyone and everyone," Munn said.
Money for the sponsorships comes from the budget of the district's special education department, said Jaye Kay Brown, the department's director.
About 10 percent of the district's students qualify for special-education services. Fifteen students had signed up to compete this year through the district's sponsorship program as of Friday, according to Michelle Malashock, a volunteer handling media relations for the foundation.
Kassidy Brannon, a Bella Vista resident and student at Old High Middle School, is one of them.
Kassidy, 12, has Down syndrome. She was born three months premature, according to her parents, Melissa Brannon-Bartels and Jon Bartels.
A recent training session involved participants doing a practice triathlon. Kassidy completed a 15-yard swim, a 1-mile bike ride and a half-mile run.
As she approached the finish line, family and friends shouted their encouragement.
"She did awesome," said Deana Horn, Kassidy's volunteer trainer. "Swimming is definitely her favorite part."
Kassidy's parents didn't know what to expect from her when they signed her up for the training program.
"It's been a great opportunity for her," said Jon Bartels. "It's pushed her limits. She's constantly improving. She's exceeded our expectations."
"It's a confidence builder," Melissa Brannon-Bartels said. "It's incredible for her self-esteem."
The idea for the Trifest for MS was born in 2011 after Jo Rampy completed her first triathlon despite having been diagnosed with multiple sclerosis 10 years earlier.
She and her husband, Scott Rampy, established the foundation and partnered with the university to help fund research on the disease that affects the central nervous system.
The foundation has raised more than $210,000, not including money raised this year. That money has enabled the university to hire an additional researcher dedicated to multiple sclerosis, said Alex Bornkessel, daughter of the Rampys.
A total of 647 people had registered for Trifest events as of noon Friday, according to Malashock. Registration closes Wednesday.
NW News on 08/29/2016
Print Headline: Bentonville triathlon welcomes kids with special needs
Sponsor Content
Comments