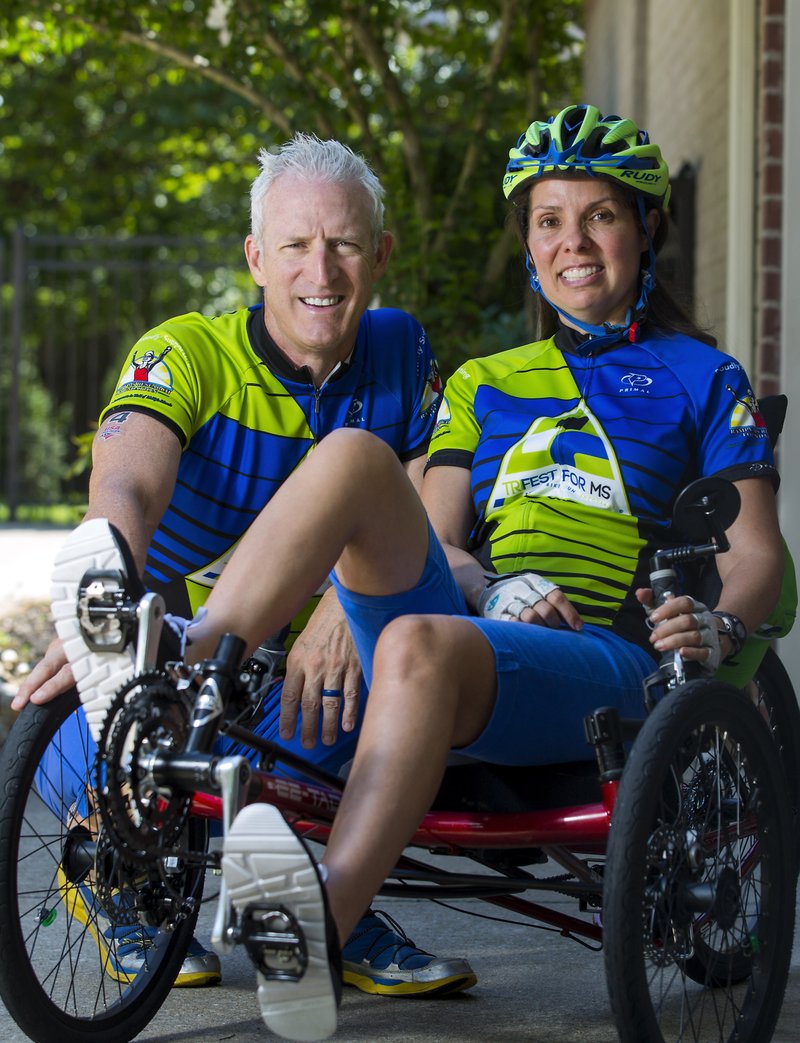 "Addressing this illness I do not have a ceiling of determination … whether it be swim, bike, run or encouraging one another. I wake up each day with the opportunity to savor the fight!" — Jo Rampy, with her husband Scott at their home in Bentonville - Photo by Jason Ivester
Sitting in the backyard of their Bentonville home, Jo and Scott Rampy look like a perfectly average married couple. Fit and attractive, they finish each other's sentences, filling in story details for each other.
SELF-PORTRAIT
SCOTT RAMPY
• A word or two to sum me up: Joyful, energetic and driven.
• My favorite place on earth is: At home, on our back patio.
• If I could do it all over again, I would: Are you kidding? I'm a Grandpa in less than 10 days!
• Best advice I ever received: Attempt to pursue a life after Christ — emphasis on attempt, we are prone to fail: we're humans.
• When no one is looking I: Sneak a quick nap.
JO RAMPY
• One of my favorite phrases is: Never doubt that a small group of thoughtful, committed citizens can change the world: indeed, it's the only thing that ever has. (Margaret Mead)
• I'm at my best when I: Have the opportunity to serve and encourage one another.
• The turning point of my life was: 2011 and a personal triathlon that turned into a community event. Today, we call it the Trifest!
• The modern convenience I could do without is: Television.
• Take anything, but don't take my: Recumbent bike.
It's only when they start talking about their work in multiple sclerosis fundraising that you realize how fantastically un-average the couple is.
They started the Rampy MS Research Foundation in November 2011 — almost by accident, to hear them tell the story. Earlier that year, Jo, who was diagnosed with MS in 2002, decided to run a triathlon.
"I was in remission with MS, and I knew I needed to be more active," Jo remembers. "Scott was doing an Iron Man [race], and I said, 'Could I, would I, should I do a triathlon?' Scott says, 'No doubt about it. Let's do this.'"
At first, Jo had reservations about the swimming portion of the race. "I love to bike and run, but I wasn't a swimmer. [Scott] said, 'I have friends, and you'll meet us at the pool.'"
"She's a little scared of the water, too," Scott interjects, smiling. "She probably wouldn't mention that, but she was a little fearful of the water."
Typically, Jo did not let that fear stop her. "In three weeks, they had me swimming," she says.
On the morning of the race, the couple arrived at the pool facility. "I wanted him to turn the truck away when we pulled up, because I thought we had the wrong day," Jo recalls. "It was 5 a.m., and the place was lit up like Christmas."
When they entered the building, she found out why: Friends and family of the couple had organized in secret for weeks to provide moral support for her during the race.
"Addressing this illness I do not have a ceiling of determination … whether it be swim, bike, run or encouraging one another. I wake up each day with the opportunity to savor the fight!"
— Jo Rampy, with her husband Scott at their home in Bentonville
"It wasn't really me that arranged it all," says Scott, clearly still moved by the planning of their friends. "Some of my buddies started doing things behind the scenes, and I heard bits and pieces of it. They would say, 'Scott, are you OK if some people show up to watch her?' and I would say, 'Sure,' and every week they would be like, 'OK, Scott, there are a few more people coming,' but we had no idea there were going to be so many people there, or how involved the community was going to be."
A longtime teacher, Jo had supporters of all ages. Many of them started the race with her, swimming in the nearby lanes. She was overwhelmed by the outpouring of encouragement.
"I had kids there and adults, people I knew, neighbors, colleagues … it was a festival. So I swam, and they swam with me. I biked, [and] I had double lines of people biking with me. It was just amazing. I couldn't have asked for anything better. And I ran the last mile — or kind of ran, kind of shuffled-ran — and finished. And at the finish line, there were more people meeting us there. I don't think I would have gotten across the finish line without them.
"At the end, a very big check came out — money to help us start our foundation. I didn't see that coming."
The "very big check" was the work of Scott and the couple's daughter, Alexandra.
"We've always been a little of what we call 'free agent fundraisers,' and we always talked about how we were going to start our own foundation," Scott says.
Scott remembers that Alexandra thought her mother's triathlon was the perfect launching pad.
"I called our daughter — who at the time lived in D.C. — and I said, 'Hey, if there's any way you guys could get back for Mom's triathlon, you might want to be here, because this is kind of going to be a bigger deal than we thought.'
"She said, 'Dad, you guys have to start your foundation! This is a springboard.'"
Scott pointed out that funds were needed up front in order to launch a foundation, and Alexandra, a digital social media marketer, told him she would handle that part.
"She said, 'Oh, Dad, it's a whole new world with social media — how much do you want to raise?' I gave her a number, and she said, 'Let me worry about that.'"
Within eight days, Alexandra had raised around $1,000.
'IT'S ABOUT
ENCOURAGEMENT'
Part of the Rampy MS Research Foundation mission statement was born the day of the triathlon. "It's about encouragement," Jo says, clearly moved by the memory of her supporters and that initial gift for the foundation. "Start at the start line, finish at the finish line. It's all about encouragement, and, for our foundation, our mission is to encourage the world of MS.
"It still amazes me. It still makes me emotional."
Most of that core group of family and friends who were there at the beginning are still working with the Rampys. But the number of the foundation's supporters has also grown considerably, as has the foundation.
This year marks the fifth annual Trifest for MS which, in addition to featuring three triathlon distances, also offers a sixweek training period, 5K race and a kids' triathlon. The event had approximately 350 participants in 2012. Estimates for this year's event are around 900, making it one of the largest triathlon events in the state. A side event was added last year: the Corporate Sprint Relay, which "sprinted" from seven teams in 2015 to 27 in 2016.
Trifest boasts 50 corporate sponsors, both local and national — including the Bentonville School District, Shave the Planet, the Grey Barn, P&G, Walmart, Hershey and Kimberly- Clark.
Separate from Trifest, the Rampys have also started a traveling endurance "fundracing" team called "Team Endurance," as well as a Bentonville-to-Fayetteville bike ride — designed to be a little more casual and accessible for the occasional athlete.
As the events have expanded, the workload has increased exponentially.
"When we started it, we thought it could kind of be a part-time endeavor, and we would do it when we had the time and ability to manage it," Scott says. "Now, five years later, I mean — it's a full time operation."
"Oh, yeah, sponsorships alone are a full-time job," Jo agrees. "Cultivating those relationships."
The couple operates the foundation from their home, where Scott also works.
"In his office," Jo says, "one side of his office is 'work,' and one side is Trifest, so as he works —"
"I'm like a split personality," Scott finishes, laughing. "Most days, I'm doing my paid job and then something will come up, and, when I have time, I'll flip around and say, 'Oh, I need to send this off.' It's definitely a blended job."
'I WANT TO WORK'
For the first time, the Rampys have hired paid staff to help with the workload. A manager organizes Team Endurance, whose numbers have risen from 15 people in the first year to 75 this year. The foundation has also hired Erin Dolan to serve as their foundation curator.
"I came to Bentonville for the first time threeand-a-half years ago to race the Trifest," Dolan recalls. "The Rampys welcomed me with open arms, and when I drove back to Springfield, I knew I wanted to be involved in a bigger way. So I called Scott and basically just told him I wanted to work for the foundation. I came back down, sat down to do an interview with them and became the [Rampy MS Foundation's] very first employee."
Before starting their own foundation, the couple had been frustrated by how administrative costs ate up much of the donations raised by the National Multiple Sclerosis Society. "We always said, 'Someday we're going to start a foundation, and our money is going straight to research doctors," Scott says.
"When we first started, it was basically Jo and me and our family and some friends, and we said every dollar we raise is going to research. And as we've grown, we've had to add staff, just because it's a full-time endeavor. So administration costs have gone up, but we give about 87 cents of every dollar to research."
In addition to the help of their two-person staff, the couple is quick to point out that the foundation is where it is today because of the help they get from friends and family. "We don't operate like a lot of foundations because we don't have a formal board," Scott explains, "which, a few years in, some people would say we should. You're talking to two of us here, but we could have the whole backyard filled with how many people are involved with this. We really don't need a board, because we have so many of our friends who are —"
"Extraordinary," Jo interjects.
"— not just involved, but invested," Scott finishes. "I mean, they act like this is their foundation, too, and you can't replace that. The people that are involved in this thing … I think the story itself is what really draws them. Endurance sports can be a little selfish, it can be 'all about me,' you know, 'my training, my race, how fast I am, what place I got' — the list goes on. I think we kind of turn it over on its head to say, 'It's not about you. It's about what you're doing for someone else's life.'"
The pair is humble about what they've accomplished, but their stories make it obvious that the people who have gotten involved with the foundation have had life-changing experiences, a fact that Jo acknowledges.
"Our mission is to bring encouragement to the world of MS, but also, we want to change lives to save lives," says Jo.
"The whole thing about 'changing lives to save lives' — at first I thought, "Man, that's a little lofty for what we do,'" adds Scott. "But then I started talking to the people that we really know well who have gone through the training series … they've said to us, 'Scott, this changed my life. I was going down the path of obesity, diabetes, things were a mess, and it re-calibrated my lifestyle. I'm a better person, better husband, better worker.' You start hearing these stories and you say, "OK, there really is something to this.'"
These stories help give the couple strength at times when running the foundation gets particularly stressful.
"I think when we started it, I was a little naive about how much attention it would bring to Jo," admits Scott. "She's a pretty humble, quiet, private person, and, sometimes, it's probably too much. We'll have these debates, you know, 'This is too much, we can't handle it,' and then we'll have this amazing experience where we'll meet somebody and they'll tell us how their lives have changed because of it. We'll look at each other and say, 'We're so stupid —'"
"It's not about us,'" finishes Jo. "I think that comes back to why we try to really be focused on investing in someone else's life. That's kind of the theme of what we do."
EXPANDING THEIR REACH
The duo is constantly on the lookout to ferret out additional ways they can serve the community through the foundation. Kathy Breed, founder of Play with Passion, a fitness-based program for athletes with special needs, met the Rampys last year. "Scott and Jo were looking to expand their reach to athletes with special needs," she says. "They typically had two to three athletes with special needs participate in Trifest in years past."
With Breed's help, the Foundation approached Bentonville Public Schools to suggest a sponsorship possibility for the district's students with special needs.
"We were met with a resounding 'yes,' and, last year, we had 20 athletes who participated. This year, we will have up to 50 athletes with special needs sponsored by BPS. This partnership … continues to grow and change lives."
So far, the Rampys have raised $170,000 for their third year of a five-year pledge to raise $250,000 for the MS Research department at the University of Arkansas for Medical Sciences.
"The relationship that we have with the research doctors [at UAMS], that's a big deal for people and a big reason, I think, why the Trifest continues to grow," Scott says. "When people come to our event, and the research doctors are there the whole weekend — they hand out the awards, they're visible, they talk [about] what they're doing on the research front — that's a big deal to the people who register and come to the event, because they can say, 'My dollar is going to them.'"
Scott says that, because their sponsors fund the cost of the event — around $48,000 — 100 percent of the registration fees go straight into the hands of the researchers.
"The funds that are generated by the Rampy Foundation are used to support MS research in a couple of laboratories at UAMS," says Dr. Patricia Wight, a professor and researcher in the department of physiology and biophysics at UAMS. "They help to defray the costs of research supplies and technical help."
Recently, the Rampys witnessed firsthand how much their fundraising means to the men and women who search for a cure.
"They've hired another researcher," says Scott, "and the last time Jo went down for her appointment, they brought [the researcher] down to the room and introduced her [to Jo] and said, 'Hey, you guys are helping us grow our staff.' Dr. Archer — who's the leading neurologist in the state of Arkansas — told [the researcher] right in front of us, 'Because of these guys' efforts, we're going to supplement your research with a $50,000 start-up grant.' This young girl, with tears in her eyes, she said, 'Oh my gosh, this is amazing.'"
"It is truly amazing what the Rampy family has been able to accomplish in such a short period of time," says Wight.
In May, the couple presented the research team with the foundation's largest check yet in the amount of $90,000.
"We had our planning group in a circle, and [Scott] handed that check around," says Jo. "We wanted to have their fingerprints on it, 'You guys are doing this.' That meant so much to us."
Jo shares a quote, one that she says perfectly describes their experience: "'The meaning of life is to find your gift. The purpose of life is to give it away.'
"Scott and I know that this foundation is not about ourselves. Our passion met our purpose, and [that] invigorates us to continue fundraising for research to cure this illness.
"We are mighty grateful for those who join us."
Print Headline: Jo and Scott Rampy
Sponsor Content
Comments