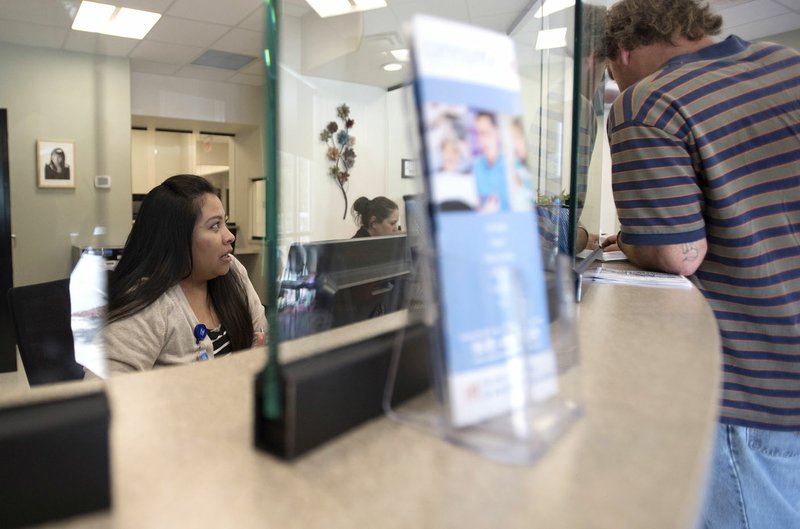 Patient coordinator Lizeth Guadalupe of Fayetteville speaks Monday with a client at the Community Clinic in Fayetteville. The Community Clinic served more than 35,200 people at its 14 locations last year. - Photo by J.T. Wampler
SPRINGDALE -- The Community Clinic, one of Northwest Arkansas' largest providers of low-cost health care, turns 20 years old this year, but Joyce Brown still remembers its humble beginnings.
Known as St. Francis House in the mid-1990s, the Episcopal organization provided a health clinic on Thursdays in a Springdale strip mall "completely from scratch," said Brown, 66, the health clinic's first director. The clinic's one volunteer doctor sometimes couldn't come. A donated table missing a leg was held up with a stack of lima bean cans, said Brown's husband, Richard. The couple drew the clinic's layout on a napkin and got an architect to volunteer to formally draw it up.
Community Clinic locations
The clinics are open to anyone by appointment, regardless of ability to pay. Same-day appointments are available.
Fayetteville
• Medical Clinic, 3162 W. Martin Luther King Blvd. Suites 13 & 14, 855-438-2280
• Owl Creek Elementary School, 375 N. Rupple Road, 479-718-0200
Lincoln
• Lincoln Middle School, 573 County Ave., 479-824-3000
Prairie Grove
• Prairie Grove Intermediate School, 801 Viney Grove Road, 479-846-8100
Rogers
• Dental Clinic, 3710 W. Southern Hills Blvd., 479-936-8600
• Medical Clinic, 1233 W. Poplar St., 479-636-9235
Siloam Springs
• Siloam Springs Intermediate School, 1500 S. Mt. Olive St., 479-524-8152
• Siloam Springs Medical Clinic, 500 S. Mt. Olive St. No. 200, 855-438-2280
Springdale
• Dental and Family Practice clinics, 610 E. Emma Ave., 855-438-2280
• Elmdale Elementary School, 420 N. West End Suite B, 479-872-3050
• George Elementary School, 2878 S. Powell St., 479-872-3045
• Jones Elementary School, 900 S. Powell St., 479-872-3041
• Women's Health and Pediatrics, 614 E. Emma Ave., 855-438-2280
Source: Staff report
In 1996, Bernice Jones and the Jones Trust gave the clinic the space and support to become the Community Clinic. Today it includes 14 locations in Northwest Arkansas where 250 caregivers served more than 35,000 patients last year, president Joe Bussell said at a celebration of the clinic's 20th year Monday morning.
"It's not about me, it's about going forward, and they've gone forward with such thundering success," Joyce Brown said after the event, calling the clinic's growth 20 years later overwhelming. "Thousands of people who didn't have access to health care now have a wonderful place to go."
Around 200 clinic officials and employees, charity representatives and elected officials turned out, including Gov. Asa Hutchinson and U.S. Sen. John Boozman, R-Rogers, an optometrist who volunteered in the organization's eye clinic early on.
The clinic provides care for pediatric, prenatal, dental and other medical needs, and seven of its locations are on public school campuses. It accepts Medicaid, Medicare, cash and insurance, with about one-fourth of its revenue coming from government programs in 2014, according to the latest Internal Revenue Service filings available.
For those who must pay for their services themselves, the clinic sets its fees using a sliding scale based on income and family size, spreading the cost into payments of a few dollars at a time if needed, for example.
The area has low unemployment and increasing wages, but one in six people are in poverty and tens of thousands don't have reliable access to healthful food, according to the University of Arkansas' Center for Business and Economic Research and other groups tracking the region's well-being.
"There is an undercurrent of need that exists even in a growing economy like Northwest Arkansas," Hutchinson said, praising the clinic for meeting needs with programs emphasizing preventative health care and staff members who can speak Spanish and Marshallese. "It's a community clinic that is owned by the community, is supported by the community and ministers to the community."
Changes have come through the years, including the newest location on Martin Luther King Jr. Boulevard in Fayetteville. The Affordable Care Act and its Arkansas counterparts have decreased the number of uninsured people and brought in more people who had been delaying the health care they needed, said Tyler Clark, community development director for the clinic.
The first school location started four years ago at Springdale's Jones Elementary School, he said. Those school-based health centers have since spread to Fayetteville, Siloam Springs, Lincoln and Prairie Grove and are meant to save time and money for parents, teachers and anyone else who needs to set up an appointment, Clark said.
Mary Ann Spears, superintendent for the Lincoln Consolidated School District, said several students and district employees have used the clinic in the year since it opened -- Spears herself went in once for sinus troubles. The school clinics are typically staffed by a certified nurse practitioner or a physician's assistant who can take care of routine health issues, Clark said.
"I just walked in one morning feeling awful, and within 30 minutes I walked down to the local pharmacy with a prescription," Spears said, adding students can go to the stand-alone clinic building -- with parental permission -- without needing the parents to come by or pick them up for an appointment in Fayetteville or elsewhere.
Traffic to the clinic is still fairly low, which Spears suspects is because people don't know it's open to the public.
"We try to get the word out to folks," she said. "We're just trying to catch those folks that need a doctor, need primary care, and try to get them hooked in."
Joyce Brown toured the Emma Avenue location after Monday's celebration and gave a simple directive to its staff as she was leaving.
"Carry on," she said with a smile.
NW News on 08/09/2016
Print Headline: Community Clinic turns 20
Sponsor Content
Comments