ROGERS -- Northwest Arkansas residents don't need a fortune to help build the new Arkansas Children's Hospital's Northwest Arkansas, facility leaders announced Friday.
Anyone who's interested can donate online, by mail or in person to the $167 million effort, said Marcy Doderer, hospital president and CEO. Even a few dollars from a child's lemonade stand would be helpful and appreciated, she said.
Arkansas Children's Hospital Northwest donation
Anyone interested in donating to the new children's hospital can do so in several ways:
Online:
• www.archildrens.org/northwest
• www.giving.archildrens.org
By phone or in person:
• Arkansas Children's Hospital Foundation office, 4093 W. Sunset Ave., Suite 102, in Springdale; 479-725-0404.
Source: Staff report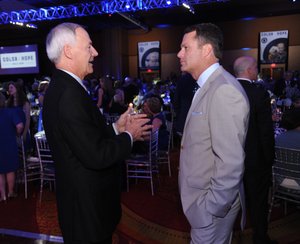 Photo by Andy Shupe
Gov. Asa Hutchinson speaks Friday with Doug McMillon, CEO of Wal-Mart, during the Arkansas Children's Hospital 2016 Color of Hope Gala at the John Q. Hammons Center in Rogers.
"Every gift -- every person who wants to invest in health care for children is welcome to take part," she said. "It really is about galvanizing support throughout the entire community."
Construction recently began on the 230,000-square-foot hospital, which will stand near Springdale's Arvest Ballpark and is set to open the first month of 2018. The facility will hold clinics and labs, 24 inpatient beds, an emergency department and several operating rooms to serve the region's roughly 200,000 children and complement Arkansas Children's Little Rock location.
Hospital leaders announced plans for a Northwest Arkansas campus almost a year ago at the 2015 Color of Hope fundraising gala. Several large gifts have rolled in to help make it happen, including 37 acres for the hospital from Cathy and David Evans and Robin and Gary George of George's Chicken.
J.B. Hunt Transport Services contributed $5 million, Wal-Mart and the Walmart Foundation gave $8 million and this week Tyson Foods and the Tyson family chipped in $15 million, the hospital's biggest gift.
The announced gifts by Friday totalled $53 million -- millions more than the hospital hoped to have by now, Doderer said. The total fundraising goal is about $70 million.
"There's a spirit about this place and a culture about this place, and people step up to take care of each other," Doug McMillon, CEO of Wal-Mart, told around 1,600 attendees at this year's Color of Hope gala Friday evening, which raised tens of thousands of dollars more as the evening wore on.
With a Northwest Arkansas population of more than 500,000 that's still growing, "we need this care," McMillon said.
Now the public fundraising campaign comes in, Doderer said.
Donations are accepted online at the Arkansas Children's Hospital Foundation website, which spokeswoman Ashley Leopoulos said will given an option for the Northwest Arkansas hospital. Issues of the hospital's ACHiever Magazine will include envelopes for interested readers, and would-be donors can also call the foundation's office in Springdale or hear more about the project in person, Doderer said.
The hospital will kick in $85 million from a bond issue as well as cash on hand to round out the construction cost, Doderer said.
"The important thing is the money stays here," she said.
For its money, Northwest Arkansas will get a facility Doderer described as a "wellness destination" custom-made for children of every age. It will hold beds, blood-pressure cuffs, needles and other supplies in the right size for patients of all ages, from infants to adult-sized teens, for whatever mix of those ages comes in on a given day.
A mile-long walking path will wind around the facility, along with healing gardens and other outdoor features landscaped with indigenous trees and plants to give family and staff members a break, Doderer said.
The most critical care will still be given in Little Rock at first, she added, but that might not stay the case. The main facility is specially designed to accommodate new technology or treatment techniques and allow new wings and additions to be built without disrupting other operations, she said. The designers at Polk Stanley Wilcox Architects and FKP Architects even took into account how any additions would affect parking.
"At some point, we're going to offer research here," Doderer said.
NW News on 08/06/2016