Steuart and Tom Walton started small with their Innovation Competition by design.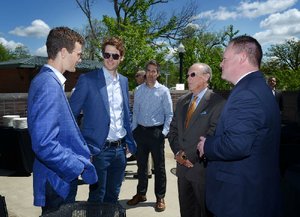 Photo by Ben Goff
Steuart Walton (from left) and his brother Tom Walton talk to Bentonville Mayor Bob McCaslin and Rogers Mayor Greg Hines during a reception for the winners of the Walton Family Foundation's Innovation Competition grants.
The brothers, grandsons of Wal-Mart founder Sam Walton, said it was the first time the Walton Family Foundation had opened itself to unsolicited grant requests. So testing it at an appropriate scale with an initial fund of $50,000 was important as they sought innovative ideas.
Of course, sticking to that amount wasn't as easy, according to Steuart Walton.
"We actually went over budget on our grant making, but we're really excited about it," Walton said last week. "I think it's reflective of the quality of the grants we've received."
The brothers recognized the first recipients of grants through the Innovation Competition fund, which is part of the Tom and Steuart Walton Community Fund, during a luncheon held at Bentonville's 21c Museum Hotel last week. Any individual or nonprofit organization was welcome to apply and recipients were selected from among more than 40 applicants who were evaluated based on innovation, the number of people involved, long-term sustainability, need and creative partnerships.
The brothers -- along with the Walton Family Foundation -- are advocates for healthful living and downtown development and their selections fit those goals. Main Street Rogers and the Rogers Farmers Market, the Samaritan Community Center, the Arkansas chapter of the International Mountain Bicycling Association/Camp War Eagle and the Bicycle Coalition of the Ozarks were awarded grants.
"I think when you look at what makes us competitive over the next 50 years it's that each one of these downtowns has a real vibrant sense of place," Tom Walton said. "A lot of these awards hit on that. We've kind of planted a flag in the ground around here for cycling and food. It's just great to see these folks stepping up to that."
The Rogers Farmers Market and Main Street Rogers, which runs the market through a contract with the city, received the largest amount of funding, with a $24,950 grant. The money will go toward a certified commissary kitchen that will be available to farmers and local community members. The kitchen will include a walk-in cooler to extend the shelf life of locally grown produce, allowing surplus to be sold to restaurants.
Market manager Ryan Neal said those plans weren't "even on the radar at this point" for the new market. But the grant money from the Innovation Competition will make it possible right away.
"This allows it to happen in the near term, which is huge for us," Neal said. "You really want to start something new off with a bang and really take advantage of all the excitement."
The Samaritan Community Center will receive $20,000 to expand its on-site garden to include 200 feet of blackberry plants and 100 feet of blueberry plants, a hydroponic lighting system that will provide year-round harvest of romaine lettuce and beehives for pollination and honey.
The items will be offered in the center's snack pack program, community cafe and market, providing fresh fruit and nutritious foods for those who don't typically have the means to get them. Jonathan McArthur, the head gardener, said the center grew 6,400 pounds of produce last year and is hoping to increase that to 10,000 this year.
"It literally more than doubles my budget yearly," McArthur said. "It's a really big deal."
The Arkansas chapter of the International Mountain Bicycling Association, teamed with Camp War Eagle, will get $7,500 to pilot a three-day mountain bike camp for about 40 kids in Benton County.
The goal of the project is to introduce cycling to underserved youth with the concept potentially spreading to other areas of the region, according to Steve Schneider, the bicycling association's South Central Regional Director.
The Waltons also awarded another bicycle-specific idea from the Bicycle Coalition of the Ozarks, although the exact amount of the grant has not been finalized.
Paxton Roberts, the coalition's executive director, said money will go toward bicycle racks in each of Northwest Arkansas' downtown areas, Bentonville, Fayetteville, Rogers and Springdale. Benton County will be first, but Roberts is hopeful each downtown area will add places for bike riders in each town to park about 100 bicycles.
"It takes money to do a lot of these things," Roberts said. "It would've happened eventually, but it would've happened a long time from now. So this is like an injection, a shot in the arm."
That was the goal for the Walton brothers, who believe "downtowns are the beating heart of Northwest Arkansas."
They stopped short of saying their test through the Innovation Competition will lead to an annual fund, but are optimistic it could happen after the inaugural results.
"We're excited enough with the groups and the grant requests and the untapped opportunities that we feel like, maybe, some didn't get in on time or get the word this first time around," Steuart Walton said. "So building more visibility around it, doing it again, is something we'd really like to see."
SundayMonday Business on 04/24/2016