FAYETTEVILLE -- Smoke and heat billowed from grills and smokers as cooks slathered sauce and flipped chicken thighs Friday evening in preparation for the Bikes, Blues & BBQ motorcycle rally's People's Choice barbecue competition.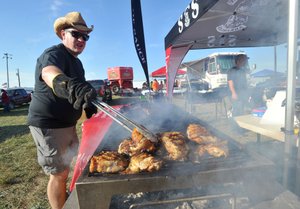 Photo by MICHAEL WOODS • @NWAMICHAELW / NWA Democrat-Gazette
Ethan Korpella with Sons of Sauce prepares a batch of chicken for the barbecue contest Friday at the Washington County Fairgrounds in Fayetteville. The annual Bikes, Blues and BBQ Motorcycle Rally continues today on Dickson Street, Baum Stadium, the fairgrounds in Fayetteville and Arvest Ballpark in Springdale. For photo galleries, go to nwadg.com/photos.
Photo by Andy Shupe
Visitors walk Thursday, Sept. 24, 2015, through the food vendors during the 16th annual Bikes, Blues & BBQ motorcycle rally on Dickson Street in Fayetteville. Visit nwadg.com/photos to see more photographs from the rally.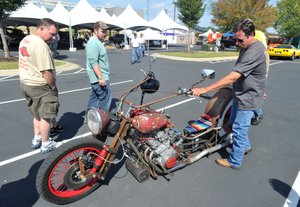 Photo by Michael Woods
Darrel Buford from Pryor Oklahoma, sounds his horn on his custom built rat bike while attending the 4th Annual Car/Truck Show Friday September 25, 2015 at Arvest Ballpark in Springdale. The 16th annual Bikes, Blues and BBQ Motorcycle Rally runs through Saturday on Dickson Street, Baum Stadium and the Washington County Fairgrounds in Fayetteville and all day Saturday at Arvest Ballpark in Springdale.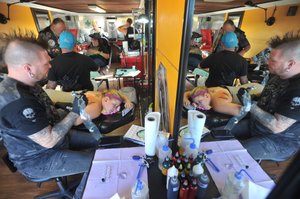 Photo by Michael Woods
Tattoo artist Al Farber works on the outline of a tattoo for Abi Eckert of Enid, Okla., on Friday at the Aristocratic Ink booth at the fairgrounds in Fayetteville.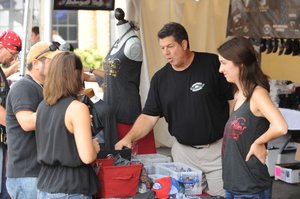 Photo by Andy Shupe
Tom Pagnozzi, former St. Louis Cardinals catcher and business owner, sells T-shirts Thursday during the annual Bikes, Blues & BBQ motorcycle rally on Dickson Street in Fayetteville.
Hundreds of people lined up at the gate just outside the Washington County fairgrounds an hour beforehand.
Bikes, Blues & BBQ
For a full schedule, venue locations, listings of some area campgrounds and more information about this week's rally, go to bikesbluesandbbq.org.
Carlos Johnson, who owns Big J's in Pine Bluff, calmly checked the 250 or so pounds of chicken in his smoker. It was his first time at the competition, he said, but worry and his barbecue don't mix.
"You just stick with what you know," said the self-labeled "one-man band," adding with a laugh: "My way of doing it is taking my time with what I do and putting a little love in it."
Cooks from across the state and region have converged on Fayetteville for this weekend, giving rally-goers a first taste of their fare Friday before turning to the judges in today's state championship held by the bike rally, the Kansas City Barbeque Society and other sponsors. The rally continues for its last day today at venues across Fayetteville and Springdale.
Across the way from Johnson, Jason Kula of It's Just BBQ from Paris, Iowa, brushed honey onto hundreds of pieces of chicken. The ever-present visceral rumble of motorcycles sounded in the distance.
"Here they come," Kula's helper Mike Gibbons called out at 6 p.m. as people began filing into the fairgrounds. Before long, lines stretched from one end of the lot to the other, threading their way between tents and campers. Cooks heaped meat onto plates and called out their booths' numbers, trying to stick in voters' memories.
One popular stop was the whole barbecued hog at the Sons of Sauce booth, where chicken and hundreds of pulled-pork sandwiches were also on hand.
"A little bit of everything," said Serrhel Adams of Fayetteville, the pit master. The cooks won second place in last year's People's Choice, and they were angling for first this year, he said. "It's going to be fun."
Results weren't expected until today, but eaters' opinions fell on all sides. Lisa Swanson of Tulsa said Johnson's chicken was hands-down the best.
"It's real smoke, it's not dry, it's got a lot of flavor," said Swanson, who said she goes to the rally every year. "Big J's. I gotta remember that."
But Janet Siesseger and Virginia Vela, friends who traveled from Leslie in Searcy County for their first rally, said It's Just BBQ was their winner.
"We like the meat moist and the sauce sweet and spicy," Siesseger said. She added of the rally: "Never seen so many bikes in my life."
All day Friday, riders on Harley-Davidsons and Indian motorcycles swarmed through Northwest Arkansas with a roar. Organizers said the rally's events at the campgrounds, Fayetteville's Dickson Street and Baum Stadium, and Springdale's Arvest Ballpark -- where the annual car and truck show took place earlier Friday -- had drawn more than 300,000 people in all.
At Baum Stadium's Motorcycle Village, Renee Powers of Tulsa strapped on a helmet to test drive a Harley-Davidson Softail, a bigger, more comfortable machine than what's she's been riding for the past four years.
"I'm nervous," Powers, who runs an embroidery business, said with a laugh Friday afternoon. "It's a very powerful bike."
Powers, a rally first-timer, went to the rally with three longtime friends. The four all agreed that riding feels like freedom -- and it's just fun.
"You have the wind behind you -- I think of nothing else," said Debi Hamilton, who's been going to the rally about as long as it's been running. On a bike she can smell the places she passes through: orange groves in Florida, farms in the Midwest. "I seriously feel like I have wings and I'm flying."
Powers' nervousness gave way to that same rush by the time she got back from her test run.
"A whole different ride," she said of the bigger bike. "I loved it."
Metro on 09/26/2015