Quick: Name a famous stunt performer.
The "spider walk" scene that was cut from the original theatrical version of The Exorcist appears in the 2000 director's cut.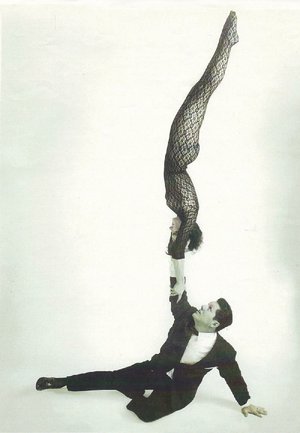 Ann Miles performed a gymnastic-based nightclub act with Hugo Domenech "for about seven years on weekends when I was breaking into stunt work and he was breaking into movie work as a dolly grip," she says. "He was a grip on The Exorcist."
Maybe you came up with Hal Needham. Maybe, if you're a real movie buff, you came up with Yakima Canutt, the rodeo cowboy who taught John Wayne to fall off a horse and provided the actor a model for his Duke persona. You might have thought of Michelle Yeoh or Dar Robinson.
But the point is that you aren't supposed to know who stunt performers are. The people who perform stunts on camera are technicians, anonymous by design. They are meant to be invisible, like harness lines erased from a frame in post-production. They are hired to support the illusion that the characters on screen are doing fantastic, dangerous things.
Arkansas native Ann Miles never expected to get famous for a couple of days' work she performed in 1973 on a Ceco Studios soundstage on 15th Street in New York. It was a job for a movie called The Exorcist. (Though the movie is set in the Georgetown section of Washington, where the exteriors were filmed, all of the scenes set inside the MacNeil house were filmed on this Manhattan soundstage.)
Miles briefly met the director, William Friedkin. Special effects supervisor Marcel Vercoutere laid out how they needed her to "spider walk" down a staircase. Dressed as Regan MacNeil, the possessed child played by Linda Blair, she needed to walk down the stairs on all fours, with her back facing the floor, her head leaning back so that the crown nearly brushed the floor. Envision a backward pushup.
To help her accomplish this feat, Vercoutere had designed a special harness. But it didn't work, and Miles -- a former college gymnast and self-described contortionist -- was able to do the scene without any help. A couple of times she scampered down the stairs for the camera. She didn't think much about it. At the time, no one could possibly know that The Exorcist would go on to be a cultural phenomenon -- that it would endure as one of the scariest movies of all time.
When the film was released, the "spider walk" scene wasn't in the movie. Which wouldn't surprise anyone who understands how movies are made. Lots of film gets shot; only some of it makes it into the final cut. Miles had been paid for her work -- she may have been mildly disappointed that the spider walk wasn't on screen, but it didn't bother her.
We know what The Exorcist became, and that it spawned four sequels and continues to excite imaginations. At some point in time, the spider walk outtake acquired legendary status -- people debated whether the scene was actually shot or not. When British film critic Mark Kermode traveled to Los Angeles in the mid-1990s to interview Friedkin (for the BBC documentary Fear of God: 25 Years of The Exorcist), the director denied ever having shot the sequence.
When Kermode found the footage in the Warner Bros. archives, he said Friedkin told him he had completely forgotten the scene. A version of the scene was put together for Fear of God and Friedkin cut together a different version for inclusion in the 2000 extended "director's cut" of the movie The Exorcist: The Version You've Never Seen. Finally, Ann Miles' spider walk could be seen by millions. Now it's not hard to find it on the Internet.
While, like most stunt performers, she couldn't expect any additional compensation or even credit, she could take some pride in performing a physical stunt that looks impossible.
...
Only she couldn't.
If you go on the Internet to research the Exorcist spider walk, it will not be long before you run into this paragraph (which appears verbatim on at least 34 websites), or a close paraphrase:
The contortionist Linda R. Hager was hired to perform the famous "spider walk" scene, which was filmed on April 11, 1973. Ms. Hager was able to perform the scene by use of a harness and flying wires hung above the staircase used in the set; she would advise Friedkin when she was just barely touching the stairs with her hands and feet; and then she maintained that light touch as she was moved down the staircase by the harness and wires. William Friedkin deleted the scene before the film's December release. He felt it was "too much" of an effect because it appeared so early in the film. He later admitted that another reason for omitting the scene was that there was no way to hide the wires from view at the time. Almost 30 years later, Friedkin changed his mind and added the scene back for the extended 2000 version, with the wires digitally removed.
This is incorrect.
In a letter to the Screen Actors Guild employee representing Ann Miles, mailed in October 2014, Jane C. Lee, the senior labor representative for Warner Bros., acknowledged that the studio was "able to credit Ms. Ann Miles as the performer who performed the 'spider walk' scene." But since there is no contractual requirement in the SAG Basic Agreement to accord credit" and Miles "did not negotiate better terms and conditions," she wouldn't be credited.
That's fine. Miles never expected to be credited. But the problem is not so much that she's not credited but that "Linda R. Hager" is credited. Not by Warner Bros. though, for as Lee wrote, "Warner Bros. Pictures has never credited any performer ... with the spider walk scene."
So how did Hager, who worked as one of Linda Blair's stand-ins on the production, come to be credited as a stunt performer?
She doesn't seem to have courted the credit. In a notarized statement provided to Miles, Hager says she "did not perform the stunt commonly known as the 'Bloody Spider Walk' during the filming of the original The Exorcist. Although I worked on that film, I did not have the physical skill or training to perform such an acrobatic movement ... " (We tried to contact Hager for this story but by our deadline she had yet to reply.)
Miles believes that Vercoutere may have been the source of the false information -- for years he had a website that credited Hager and his special harness for the stunt. Miles says he may have attempted to have Hager perform the spider walk in the harness, but those attempts failed. She says he was very interested in marketing the harness he had developed for the stunt. For a trained gymnast to have performed the walk without any mechanical assistance didn't fit his agenda.
Now the next step would be to contact Vercoutere and ask him what he remembers about the filming of the spider walk. Unfortunately he died in 2013. For her part, Miles doesn't believe he simply got her mixed up with Hager, but she does believe Hager is innocent of complicity in any plan to steal the credit for the stunt.
Miles understands it will be difficult -- probably impossible -- to scrub the incorrect information from the Internet. But she'd like to try.
...
Had The Exorcist not become such a cultural touchstone and had the spider walk not been shrouded in mystery for so many years, it's likely that Miles would not think of them as anything more than footnotes to her long career as a stunt performer and model. She was born in Malvern, where she grew up riding horses and competing in rodeos. She attended Florida State University on a gymnastics scholarship. In the summers she worked as a rider on diving horses at Atlantic City's Steel Pier. (The horses would plunge from 40 to 60 feet into an 11-foot tank with a rider on their back.) In 1961 she appeared on What's My Line, and Joey Bishop correctly guessed her profession.
She worked a lot on Allen Funt's Candid Camera back in the day ("he gave me steady work," she says), contorting her body so that it could fit in unlikely places. (She says the spider walk stunt was "fairly easy" for her.) She modeled for Tetley Tea, Coca-Cola, Dentyne gum and L'eggs pantyhose. Later she became a hairstylist, working on Broadway and television shows. She did the Beast's hair in the original Broadway production of Beauty and the Beast in 1994.
She retired in 2003.
"My family convinced me to return to Arkansas in 2005," she says. "To Pine Bluff" where her father, Hubert Eastham, had been the executive vice president of Pine Bluff National Bank.
After I interviewed Miles a couple of weeks ago, I put a still frame of the spider walk on my Facebook page and asked people to guess who I'd just talked to. No one guessed correctly, but when I told a filmmaker friend who it was, he asked if she was still working.
Probably not up for any stunt work, she says. But a walk-on role in a little horror movie? Maybe.
Email:
pmartin@arkansas online.com
blooddirtangels.com
MovieStyle on 09/11/2015