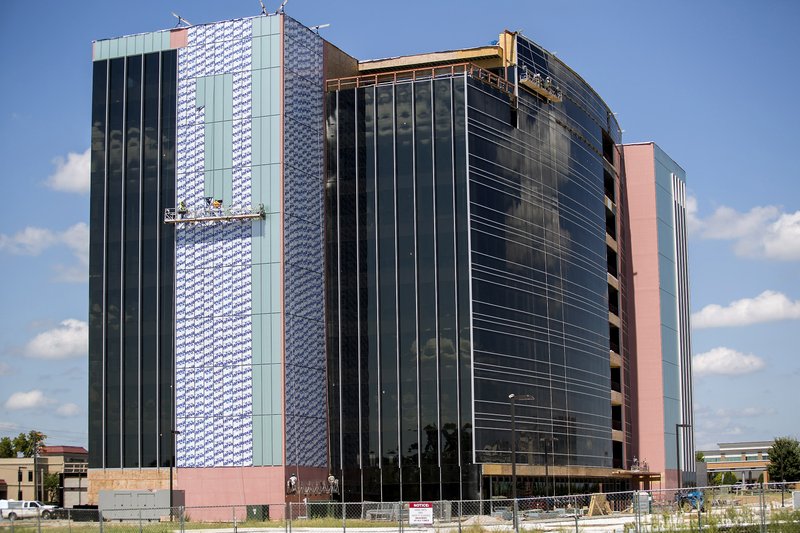 Hunt Tower, a 10-story, 830,000-square-foot office building opening later this year is again changing Rogers' landscape. Johnelle Hunt said in an August interview that she had to be persuaded to build one, 10-story building rather than several smaller buildings. - Photo by Jason Ivester
Northwest Arkansas' skyline is starting to look a bit more metropolitan. An increasing number of buildings are stacking up -- from a 10-story office building along the interstate to three-story homes in the downtowns.
Local factors such as land prices and availability drive the trend.
NWA Office Rates
Multistory office buildings are typically classified as Class A space, meaning they are newer and offer more amenities than older Class B sites. Below are lease rate ranges for Class A and B offices in various areas across Northwest Arkansas.
AreaClass AClass B
Bentonville downtown$20-$25$13.86-$15.80
Bentonville (all areas excluding downtown)$21.04-$21.32$14.79-$15.47
Fayetteville downtown$20-$34$13.67-$14.79
Fayetteville Mall Avenue/Joyce Boulevard area$19.80-$20$14.87-$15.24
Lowell$18.83$12.28-$12.39
Rogers Interstate-49 corridor$19.34-$21.63$16.89-$17.40
Springdale$18.28-$19.28$12.26-$13.49
Source: Center for Business and Economic Research
The region is also mirroring a national trend of more dense development around city centers as residents look for homes within walking or biking distance of amenities such as stores and restaurants.
Kathy Deck, director of the Center for Business and Economic Research at the University of Arkansas, said the semi-annual commercial and residential Skyline Report got its name after a mayor's comment before the first report in 2004.
"Then-Mayor Womack talked about the skyline going up by Embassy Suites and that Rogers was finally going to have a skyline," she said. U.S. Rep. Steve Womack was Rogers mayor for 12 years before becoming a congressman in 2010. The nine-story Embassy Suites hotel opened in 2003 on the west side of Interstate 49, south of New Hope Road.
Deck said the growth in taller buildings is consistent with the area's population growth. The U.S. Census Bureau estimates the area's 2014 population was 501,653, up 8.3 percent from 2010.
"The community is growing and reaching the kinds of density and size to support buildings that go up," she said. "You have to have enough economic activity to justify building up."
Tom Reed, an appraiser and partner with Streetsmart Data Services, said land price is determined by location and demand, with downtowns and lots around interstate exits typically demanding higher prices. Property also tends to be higher in developed commercial areas.
He would not point to any specific land values, but a search of area property for sale showed a wide range of values such as $743,000 for an acre near Fayetteville's busy intersection of College Avenue and East Joyce Boulevard to $122,000 for an acre near Bentonville's new community center. It is still possible to find undeveloped land for sale under $20,000 an acre, but it typically requires a buyer to travel to more rural areas.
Todd Renfrow, co-owner of Lamplighter Restoration, is building single-family and townhomes around downtown Bentonville. He said prices for land and property have nearly doubled in the past five years. It's not unusual for a downtown home to sell for between $215 to $250 per square foot. Trulia, a real estate website, shows $99 per square foot is the average price for all homes for sale in Bentonville.
"In general, it's all about location," he said. "The closer you are to the action, the prices are higher."
Choosing up
Sometimes available space forces a project vertical, but other times it may just be preferred. Greg Fogle, president of Northwest Operations for Nabholz Construction Services, said once a commercial project reaches 12,500 square feet they consider going to two stories.
Plumbing, air conditioning and duct work run straight up and down, reducing the amount needed. Fogle said that is why all the bathrooms are in the same place on each floor.
Multiple stories can also save on long-term repairs. A narrower but taller building, for example, will have less roof to fix, he said.
One downside is the cost of an elevator, he said.
"Questions people have to ask when trying to decide whether to go up or go out are: How much land do I have? What can I fit on it? What do the neighbors have on their property," Fogle said.
Deck said taller buildings can also have a psychological impact.
"People feel like tall buildings are important buildings," she said. "That they are an indicator of quality."
Jesse Fulcher, Fayetteville city planner, said it is also important to make sure tall building don't unnecessarily obscure residents ability to view the landscape.
He pointed to several projects around Dickson Street that reach up to nine stories but maintain the view of the University of Arkansas. Those projects include The Dickson, a nine-story condo and retail building built in 2009, and the five-story buildings of Sterling Frisco, a student apartment complex that opened in 2013.
"We're hoping all these new buildings become a natural part of the landscape. We need the mix of building heights," he said.
The trends
Chuck Flink, president of Alta/Greenways, said the trend of people moving back to cities really picked up in the past five years. Alta/Greenways was lead designer of the Razorback Greenway and the Springdale Downtown Revitalization Master Plan.
Younger millenials desire an urban lifestyle and don't necessarily want to buy a car or real estate. Millenials are generally described as being born from the early 1980s to the early 2000s.
"They are more experiential. They are more likely to want to go out to a nice restaurant and spend their money that way rather than on a mortgage or on a commute," he said. "They are making value decisions."
Many residential opportunities are popping up locally around downtowns where a growing number of businesses are opening.
Downtown commercial sites often have multiple floors with the ground level dedicated to retail and restaurants and the upper holding office space. Deck said buildings with mixed uses is an old concept used worldwide. These types of projects can increase walkability, which she said is an important factor in recruiting new residents, especially young professionals.
"It's a different pattern of development and communities need to embrace this and figure out how to address it," he said. "There is a lot of discussion that has to go on and it takes some time for cities to transition from the suburban mode."
City plans
Downtown master plans are helping some local leaders outline the growth they want to see.
The Rogers downtown plan allows a five-story building in designated zones, said Derrel Smith, Rogers senior planner. The building height can go up to six stories if it includes parking.
Smith said the downtown plan also has places for homes and townhomes that can be multistoried. A growing number of the area's new residents are looking for this type of smaller and taller home, he said.
Steve Luoni, the Steven L. Anderson chairman in Architecture and Urban Studies at the University of Arkansas' Fay Jones School of Architecture, said three- and four-story buildings around downtowns are the norm when looking back at the past century. He said single-use zoning started in the 1920s and made mixed-use zoning illegal.
"That really started horizontal development and really dumbed down development," he said.
Many industries moved away from downtowns after World War II because land was cheaper outside of cities, Luoni said. This shifted transportation costs to the workers, who started moving to the suburbs to be closer to their jobs.
He said the country was on a bit of an anti-urban movement that subsidized suburban living and encouraged strip centers from the 1940s to the 1990s. The pendulum is now swinging the other way, he said.
Wal-Mart Stores Inc.'s Bentonville headquarters is a good example of how a business can create an environment where people want to be close to the center and close to one another, Luoni said. Bentonville adopted a downtown master plan in 2004 and has seen seen steady growth around the square and an area that stretches about 10 blocks each direction.
Troy Galloway, Bentonville's community development director, said between 3,000-4,000 people live in the walkable downtown area. Recent amenities like bars, restaurants and stores as well as the opening of Crystal Bridges Museum of American Art and the Razorback Greenway draw residents, he said.
Downtown residents will once again have a grocery store within walking distance after a Walmart Neighborhood Market opens this fall. The Midtown Center, located between Northwest A and North Main streets, includes the market, a parking deck and two, three-story buildings with retail on the ground floor and office space above.
"People are seeing the unique qualities in living downtown," he said. "I think there is now a greater emphasis on city planning."
Galloway said city leaders are checking the comprehensive plan for needed updates. Some of the taller residential projects have upset nearby neighbors.
Residential
Garrison Roddey, a developer for Lin Roddey Homes, has learned the difficulty of trying to build taller in a traditional neighborhood. He was hoping to build three-story townhouses south of Rogers High School in south-central Rogers that would sell for about $125 a square foot. Nearby homes sold for around $115 a square foot, he said.
The Rogers Planning Commission denied the proposal last month and suggested it might be a better for the downtown area. Roddey scaled backed the proposal to two-story townhomes, but was again rejected by the commission.
"I love downtown Rogers and something tall and skinny like this would be great down there," he said. "If there was land and it was priced accordingly, we could consider it. We have some budgetary constraints as well."
Roddey said the more houses a developer can put on a piece of land, the more profitable the project. But costs are only one reason he likes taller residential buildings.
"We focus a lot on impact. If we are doing the same thing everyone else is doing, we don't feel like we are fulfilling our duties," he said. "We want to be forerunners."
Renfrow said Lamplighter Restoration sold all four of its three-story townhomes. He said the old adage that it's all about location is true. The closer a property is to downtown, the higher the price, he said.
Commercial
A 10-story, 830,000-square-foot office building opening later this year is again changing Rogers' landscape. Hunt Towers just south of Embassy Suites is a project of Hunt Ventures.
Johnelle Hunt, the group's chairwoman, said in an interview after the August 2014 groundbreaking that she had to be persuaded to build one 10-story office building rather than several smaller buildings.
"This plan will allow us to grow even more," she said last summer. "We are always looking for new ventures to do in the area. We will keep building buildings."
The planned 8W Center on South Walton Boulevard near Walmart's Bentonville headquarters is following the trend of taller office space. The six-story project will have retail space on the bottom and offices on top. It will also have a parking deck.
Paul Esterer, principal and executive managing director of Newmark Grubb Arkansas, said construction is slated to start in October and take about a year to complete. Newmark Grubb Arkansas is the developer and leasing agent for 8W Center. The multiuse center will replace a 5,022-square-foot building.
"The reason people usually go up is the price of land," he said. "The reason to go six stories there is to add density to the downtown core. There are only so many corners near the Wal-Mart office."
Esterer said he expects the area to see more high-density residential and commercial projects as the most desirable locations fill up.
"Height is all around clustering," he said. "I think there will be others in time."
NW News on 09/06/2015
Print Headline: Taller buildings shaping NWA skyline
Sponsor Content
Comments