SANTA CATARINA PINULA, Guatemala -- Rescue workers using shovels and pickaxes recovered more bodies from the rubble of a collapsed hillside on the outskirts of Guatemala City on Saturday as an official said the death toll had risen to 69 with another 350 people believed missing.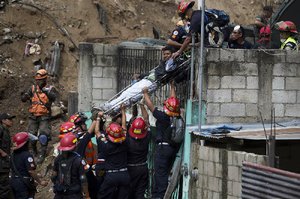 Photo by MOISES CASTILLO / AP
Firefighters evacuate an injured volunteer working Saturday at the scene of a mudslide in Santa Catarina Pinula, Guatemala, where dozens of people died when a hillside collapsed Thursday on about 125 homes. Officials feared that hundreds of people were trapped in the ruin.
Julio Sanchez, spokesman for Guatemala's volunteer firefighters, said the death toll will likely continue to rise as emergency crews dig through tons of earth that buried some 125 homes Thursday night in Cambray, a neighborhood in the suburb of Santa Catarina Pinula. Earlier estimates had said that 600 people could be missing.
Despite the passing time, emergency services coordinator Sergio Cabanas said rescuers "still have hope of finding people alive if we just keep searching."
At the search site, the workers labored without rest on Saturday, halting only when a long whistle sounded, testing if anyone was still alive under the mud and debris.
"We're from the rescue unit," one worker announced. "If there is someone there, please make some noise or yell."
When no response was heard, two more long whistles sounded, a sign that the workers should continue digging.
Cabanas said he had been contacted by several people who reported receiving messages on their cell phones from family members trapped under the rubble.
He said authorities had not seen the reported text messages, but he had asked local telephone companies to try to map out the places where the messages were sent from.
Later Saturday, hopes began to fade among rescue workers.
"Given the time that has passed, the truth is there is little hope" of finding survivors, said Ines de Leon of the Volunteer Firefighters Rescue Brigade of Retalhuleu province. "Only a miracle can save them."
Among those mourning the loss of their relatives on Saturday was Nehemias Gonzalez, who seemed to have run out of tears.
He lost his 21-year-old wife, Masiel Alexandra, and their 2-year-old child, Angel Efrain.
Gonzalez said he was working at a McDonald's restaurant when the landslide occurred.
He said he usually left work at 11 p.m., but that day he was given extra chores and didn't leave until 4 a.m. Friday.
It wasn't until then that he learned about the disaster.
"The last thing she said when I called her on the telephone in the afternoon was that she loved me," Gonzalez said, looking down at the ground. "I love her, too."
Also at the site on Saturday was Haroldo Perez, who traveled with four other relatives from San Marcos, about 177 miles west of the capital.
Armed with shovels, they were searching for his 36-year-old sister Mary Perez, a secretary they had not heard from since the mudslide.
Rescue workers laboring Friday in a frantic bid to find survivors pulled one man alive from the rubble of his collapsed home more than 15 hours after the landslide.
Sanchez said Friday that the dead, including two babies, were carried to an improvised morgue where weeping relatives identified the bodies.
The dead included Quani Bonilla, 18, who played on the national squash team, he said.
Also among the bodies, rescuers found a mother embracing her two girls, said Carlos Turcios, a doctor who saw them when he came to help the rescue.
The hill that towers over Cambray, a neighborhood in the suburb of Santa Catarina Pinula, about 10 miles east of Guatemala City, partly collapsed onto a 200-foot stretch of the hamlet just before midnight, burying an estimated 125 homes.
Raul Rodas, an assistant village mayor, said about 150 families had lived in the area where the mudslide occurred.
Some of the untouched homes in Cambray, which sits on the edge of a small river, were abandoned by their owners for fear of further mudslides.
Homemaker Dulce del Carmen Lavarenzo Pu said she had just returned from church Thursday evening when the ground shook and she heard a terrible noise.
A wave of mud slid from the nearby mountainside and buried everything just 150 feet from her house.
"Everything went black, because the lights went out," the 28-year-old said. "Ash and dust were falling, so we left the house. You couldn't see anything."
Her cousin was among those killed when the rain-sodden hillside about 300 feet high had collapsed onto her neighborhood.
She burst into tears upon seeing her cousin's body brought into the morgue on Friday.
All day Friday, restaurants brought pizza, hamburgers, coffee and bottle water for the workers, who took 30-minute shifts searching through the mud with the help of generators and overhead lights.
By afternoon, some were so tired they were seen taking naps on the floor.
The municipal government said it would provide coffins for the victims.
A Section on 10/04/2015