Nobody who knows Don House should have believed him.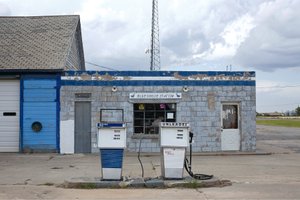 Photo by Courtesy Photo
Sabine Schmidt's "Blue Goose Station, Gotebo" is on show at the Fayetteville Underground.
In 2013, House and fellow photographer Sabine Schmidt set out to tell the story of the Wichita Mountains, a small and little known range that rises out of the plains of southwestern Oklahoma.
FAQ
'We're Not Telling You Everything'
Walk & Talk
WHEN — 4 p.m. Sunday
WHERE — Fayetteville Underground
COST — Free
INFO — 871-2722
"It always comes back to people, doesn't it? Who was I trying to fool into thinking that I could concentrate on the landscape, that I could position my tripod, aim my camera at the red granite beauty of the Wichitas, the vistas, the skies, the fences, and be done with it," House muses in an artist's statement. "If I ever bought into that fantasy, it lasted only as long as it took to stop at a small cafe near Lake Lawtonka, east of Mount Scott, and order coffee."
House says he looked into the face of a waitress he knew he had to photograph, and it "changed the way I thought about the project."
So House did what he does best: He captured the essence of a culture in the faces of its people, just as he has done so many times in Northwest Arkansas.
And Schmidt did for the Wichitas what she also sought to do in her new home in the Ozarks: She captured the same story in the lines and colors of what the culture abandoned.
"We think the story is really wrapped up in the faces of the people and the things that people have left," House says. "All the story is right there."
Schmidt, who is from Germany, and House met at the Fayetteville Underground's former basement location when she came to the University of Arkansas for a master of fine arts in creative writing.
"As soon as I moved here, I heard about Don House," she remembers. "I had always been interested in how he gets people to open up to him in the portraits. That's his great art and skill, that he makes this connection with the people who sit. I'm pretty sure I asked him about that early on."
"Sabine entered photography in a refreshing kind of way," House says, explaining that many photographers share the same story of finding the hobby as children and remaining "sold on photography" for the rest of their lives.
"She fell in love with the Ozarks and reached for photography as a way of expressing what she was seeing," he says. "She wasn't caught up in all the rules and regulations I was taught that can get in the way of expression."
Schmidt says she is "very much interested in composition, in geometry and color, especially in the landscape and streetscape photos." She was not, however, interested in shooting the Wichita Mountains.
"We hike, we roam the woods here, we go canoeing on the Buffalo," she says, "but southwestern Oklahoma was not high on my list of destinations. But I trust Don House's taste. He also timed it to coincide with my birthday -- and there was a bottle of champagne offered."
For House, it was in some ways a journey home.
"I lived there as a kid, when I was about 14," he reveals. "My dad was stationed [at Fort Sill]. And I fell in love with it. It's rugged and beautiful and unique. I had always wanted to do some sort of project there."
The result of "a three-year project, a hundred rolls of film, a hard drive of pixels, a few thousand miles, a tanker of gas, dozens of meals consumed over camera bags in the cab of a pickup, mountains climbed, people met, museums, books and websites visited and researched" is titled "We're Not Telling You Everything: Images from the Wichita Mountains," and it's on show through Nov. 29 at the Fayetteville Underground. House and Schmidt will do a "walk and talk" through the exhibit at 4 p.m. Sunday.
Asked what she hopes the exhibit engenders, Schmidt pauses.
"You create the photos, have them matted and framed, then it's up to the audience," she finally says.
"The thing that strikes me, of course, is how similar we all are, no matter where we live," House concludes.
NAN What's Up on 11/20/2015