A Little Rock native known as the "father of black aviation in Arkansas" died Tuesday of a heart attack near Atlanta.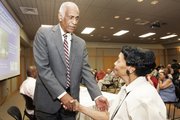 Milton Pitts Crenchaw, 96, was one of the original Tuskegee Airmen and an instructor of other pilots. He was one of the first blacks in the country -- and the first from Arkansas -- to be trained by the federal government as a licensed civilian pilot.
Before 1940, blacks were barred from flying for the U.S. military, according to the website of Tuskegee Airmen Inc., tuskegeeairmen.org. Civil-rights organizations and the black media exerted pressure that resulted in the formation of an all black pursuit squadron based in Tuskegee, Ala., in 1941. It became known as the Tuskegee Airmen.
They were the first blacks to fly for the U.S. armed services.
Crenchaw trained hundreds of cadet pilots while at Alabama's Tuskegee Institute in the 1940s and was the catalyst in starting the first successful flight program at Philander Smith College in Little Rock from 1947-53, according to a biography by Edmond Davis in The Encyclopedia of Arkansas History and Culture.
The heart attack occurred Saturday while Crenchaw and his daughter were getting ready to go to the post office.
"He was getting in the car with me, and he just froze," said Dolores Crenchaw Singleton of Lake Spivey, Ga.
Emergency medical technicians worked on Crenchaw, then transported him to Piedmont Henry Hospital in Stockbridge, Ga., where he was pronounced dead Tuesday.
Erwin Crenchaw of Washington, D.C., said his father's spirit had taken flight Saturday.
"I think dad really was ready to go," Erwin Crenchaw said. "His spirit left him without notice."
Erwin Crenchaw said his father had no regrets.
"He always said, 'I fought a good fight, kept us safe, did what God wanted me to do,'" Erwin Crenchaw said.
Another daughter, Countess Crenchaw of Jacksonville, Fla., said her father loved to work on junker cars in his spare time. He would rebuild them and sell them for small profits of $100 or $200.
"He'd say, 'I want that engine sounding like your mother's Singer sewing machine,'" Countess Crenchaw said. "My mother had really sharp hearing. She'd say, 'I hear a little tick, tick, tick in there.'"
Countess Crenchaw said her father would ask her to calculate times and distances during family car trips.
"He raised us like we were in the military," she said.
Although her father was a trailblazer among black aviators, Countess Crenchaw said he didn't see things from a racial perspective.
"The thing that I really respected about my father is he didn't see things in black and white," she said. "He never did. He said a man is a man is a man. It just depends on what position they're in. He didn't believe in holding grudges or having a racial chip on your shoulder. He said you get out there and do the best you can. I don't care if you're green, orange or blue. That's the way he raised us."
Milton Crenchaw was born Jan. 13, 1919, in Little Rock to the Rev. Joseph Crenchaw, a local civil-rights leader and a professional tailor, and his wife, Ethel Pitts Crenchaw, who was a door-to-door beautician, according to Davis' biography.
Milton Crenchaw graduated from Dunbar High School in 1937 and attended Dunbar Junior College while completing a teaching certificate in auto mechanics. He pursued a bachelor's degree in mechanical engineering at the Tuskegee Institute in 1939 but didn't complete his degree after becoming a pilot there.
After the bombing of Pearl Harbor on Dec. 7, 1941, Milton Crenchaw joined the Civilian Pilot Training Program, which was sponsored by the Army Air Corps. He graduated with his civilian pilot license and then commercial pilot certificate on Aug. 11, 1941, according to Davis.
Milton Crenchaw became a primary civilian flight instructor at Tuskegee and eventually one of the two original supervising squadron commanders under Chief Pilot Charles Anderson. He and Charles Foxx were the first instructors for the first group of student pilot trainees between 1941 and 1946.
Milton Crenchaw married Ruby Hockenhull of Kerr, Ark., in Tuskegee on Dec. 22, 1942.
After the end of his tenure at Tuskegee, Milton Crenchaw served as a flight instructor at several posts, including Fort Sill in Oklahoma (1953--1954), Camp Rucker (now Fort Rucker) in Alabama (1954--1966), and Fort Stewart in Georgia (1966--1972).
In 1947, Milton Crenchaw returned to Little Rock and presented an idea to the then-president of Philander Smith College, M. L. Harris, regarding the implementation of aviation/piloting courses. Harris agreed, and Philander Smith held such classes at Little Rock's Adams Field (now Bill and Hillary Clinton National Airport/Adams Field) in the building of the Central Flying Service. Crenchaw taught aviation at Philander Smith from 1947 to 1953. He was also employed by the Central Flying Service and worked as a crop-duster in central Arkansas and the Delta.
Roderick Smothers Sr., the current president of Philander Smith, said Milton Crenchaw left a great legacy at the college.
"We train Philander Smith College students to graduate with aspirations to change the world for the better," said Smothers. "Simply put, Milton Crenchaw's life was a soaring testament because he made the world a better place. The original Tuskegee Airman worked fervently and passionately to get young people involved in aviation, and we are forever grateful that he chose for a time to deposit his wealth of wisdom and passion into Philander Smith students. He will be remembered well not only for his heroic legacy, but also for his towering yet gentle spirit that he poured into his unwavering friendship to this institution."
In 1972, with over 10,000 hours on record logged in the air, Milton Crenchaw was signed on as an equal employment opportunity officer with the Department of Defense and as a race relations officer at Fort Stewart in Georgia until 1983, according to Davis.
Milton Crenchaw was inducted into the Arkansas Aviation Hall of Fame in 1998. In 2007, he, along with the other members of the Tuskegee Airmen, was awarded the Congressional Gold Medal by President George W. Bush in Washington, D.C. Crenchaw was inducted into the Arkansas Black Hall of Fame on Oct. 27, 2007.
Milton Crenchaw was preceded in death by his wife and a son, Milton Crenchaw Jr., who sometimes spelled his name "Crenshaw."
Metro on 11/19/2015