Dick Daniel's name is seldom mentioned in the company of Northwest Arkansas giants like Sam Walton, John Tyson, J.B. Hunt and Harvey Jones.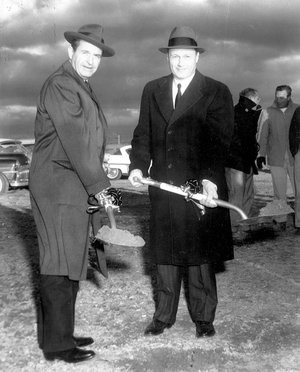 Photo by Courtesy Shiloh Museum/ Springdale News Collection (S-2000-133-55)
Arkansas Gov. Orval Faubus and Daisy chief executive officer and president Cass S. Hough break ground for the Daisy Manufacturing plant in Rogers on Dec. 7, 1957. The construction brought Dick Daniel to Northwest Arkansas to work for Daisy, and he's been here ever since.
Daniel didn't create a company like Walmart, Tyson Foods, J.B. Hunt Transport or Jones Truck Lines. But he did bring 500 jobs to Rogers in 1958.
Fast Facts
Dick Daniel Award
The Dick Daniel Distinguished Citizen Award will be presented for the first time Friday to Dick Daniel, longtime Rogers businessman, philanthropist and Rotarian. Future winners need not be members of the Rogers Noon Rotary Club, but may be individuals, families or businesses who have contributed to the community over a long period of time.
The Rogers Noon Rotary Club meets from noon to 1 p.m. every Tuesday at the Embassy Suites in Rogers.
Find out more about the club at rogersrotary.org.
Just 500? So what?
In those days, the two or three major manufacturers in the tiny town -- population less than 5,000 -- boasted about 50 employees each. Five hundred new jobs was so significant the community raised $100,000 to help bring Daisy Manufacturing to Rogers.
It wasn't enough, Daniel remembers. Moving from Plymouth, Mich., meant building a $2 million plant, and the company could borrow only a percentage. Community leaders handed pledge cards back to donors and told them to tear them up -- and triple their pledges.
They did. And Daisy Manufacturing became a cornerstone of Northwest Arkansas development, drawing 10,000 applicants from throughout the region for those first 500 jobs.
"It was the beginning of a real cascade," Daniel says.
Daniel had already told Daisy he wouldn't move to stay; he was Michigan born and bred, married to his high school sweetheart and had three children. But he did agree to come for a year to help get the company off the ground.
He says it was the spirit of community in Rogers that changed his mind. As an example, Daniel talks about those pledge cards. They didn't just come from businessmen and civic leaders who could afford it, he says.
"People took out second mortgages on their homes to give."
He adds that it didn't take long for the Rogers Noon Rotary Club to recruit him.
"I knew that I needed to become involved in the community," he says. "I wanted to be a good neighbor."
Fifty-seven years later, he'll receive the Dick Daniel Distinguished Citizen Award, a prestigious new award named in his honor, at a luncheon Friday. He admits he's a little embarrassed about it.
"I don't think I've done that much," he says. "I've just done my job."
Truth is, Daniel has simply done quietly what he saw needed doing.
"I've always felt a responsibility to the community."
Michigan roots
Richard I. "Dick" Daniel was born Nov. 7, 1926, in Detroit and grew up in Plymouth, Mich. His father, he says, "did many things," but the best one in his opinion was owning an ice cream and candy store when Daniel was a young teen. The ice cream machine was in the front window, and candy -- including 10,000 candy canes for Christmas -- was made downstairs.
"I could eat anything in the store," Daniel says, a grin spreading across his face. "But I couldn't give it away. I got caught a couple of times."
Daniel met his high school sweetheart when she moved to Plymouth from Detroit. He was active in a Presbyterian youth group, and she started coming to those meetings, he remembers.
He graduated from high school in 1944 and, leaving his girl behind, enlisted in the U.S. Naval Reserve, joining a program that allowed him to attend college while serving. Navy personnel made up about 75 percent of students at Notre Dame University in South Bend, Ind., he recalls, and he was among them, studying electrical engineering, playing trombone in the marching band and running track -- although there weren't many teams to compete with during the war.
It's not as though Daniel wasn't busy enough without extracurricular activities. He completed five semesters in 20 months, taking 21 hours per semester, before heading off serve four months at sea. After being discharged from the Navy in 1946, he returned home to the University of Michigan in Ann Arbor. Crowded with post-World War II recipients of the G.I. Bill, the university might not have taken him in, he says, but he had been accepted before his enlistment. He lived at home with his parents because student housing was full, he remembers -- and although he drove to school, the car couldn't be moved during the day.
"I did get in hot water for that once or twice," he says.
On April 3, 1948, Daniel married Jane Ann Lyons, and later that year he graduated from Michigan with a bachelor of science degree in electrical engineering.
Daniel's first job was with King-Seeley Corp. of Ann Arbor, which produced dashboards and other components for Ford Motor Co. It was his task to create a new "idiot light" for oil pressure -- perhaps the first of its kind. But he's not sure he wants to say that, he adds, because it's so difficult to define "first." Daniel says back in his day, electrical engineers created a system to display dashboard information on the windshield. No one was interested, he says. And today's technology is touted as the first of its kind.
In 1952, hungry for new opportunities, Daniel signed on as a research engineer with Daisy Manufacturing in Plymouth. His job included designing products such as cork guns, "noise" guns and bows with suction cup arrows. Along the way, he earned "several" patents on new products and was named director of research just after the move to Rogers.
Finally convinced he was staying in Northwest Arkansas, Daniel was joined by Jane and their three sons, Rick, Larry and Andrew. In 1963, he and Jane had a fourth son, Robert, and adopted a daughter, Kate. The last two children were just a couple months apart, and Daniel calls them the "almost twins."
In 1976, Jane fell and broke a hip. On Nov. 6, she went in to surgery for its repair and never came out. Daniel was left alone with two young teenagers -- until he met another Jane, Jane Barclay Taylor, a widow who also had two young teens at home. They were married in 1978.
In what was obviously the darkest time of his life, Daniel lost his second wife in 1990. He came home from a business trip to find her murdered in their home.
"I've had a lot of blessings -- and a few blows," he says quietly.
Daniel was married again in 1992, to Martha Olson Jones. They were set up by a friend in Chicago. She had five children.
Daniel doesn't know how many grandchildren and great-grandchildren he has if he counts Jane's and Martha's offspring. He knows he has 12 grandchildren and 16 great-grandchildren himself.
Arkansas successes
Over 31 years, Daniel rose to president of Daisy, by that time a division of Victor Comptometer and later a division of Walter Kidde Companies. He left in 1983, when the company went through a leveraged buyout.
"I elected not to be part of the group investing in the company," he says. "But I was only 58 and not at all ready to retire. Head hunters assured me I'd have no trouble getting a job." And he didn't, joining Sibley Engineering and Foam Molding Co. of Arkansas -- later FM Corp. -- in 1985.
The trouble was in the job itself.
There was an audit, and Daniel suddenly found himself chairman of the board. He recalls traveling to Dallas to meet with the company's primary bankers. It must have made for a long trip back. The company was deeply in debt, had checks in the mail it couldn't pay, checks to vendors that had never been mailed, and it couldn't meet payroll. He went to the local bank and personally guaranteed the payroll checks, took the company through Chapter 11 bankruptcy reorganization and "saved 300 jobs," he says with some pride.
Over the years, Daniel has been a member of many prestigious professional organizations, was president of the Rogers Chamber of Commerce, was on the board of Arvest Bank for 30 years and continues to serve on the board of CEI Engineering in Bentonville.
Dick Trammel met him at his first Chamber of Commerce banquet in 1975.
"I said then I'd like to be half the person I think Mr. Daniel is," he recalls.
"About a year later, I went on the bank board, and I got to know the real Dick Daniel," Trammel says. "The real Dick Daniel is a person with unbelievable integrity, character and vision. ... He's been involved in everything good that's happened in Rogers, Arkansas, since I've been here. One way or another, people always wanted his support, his vision, his opinion."
Joe Murphin, vice president of public relations for Daisy, puts it very simply: "His opinion matters."
Turning 89 on Saturday, Daniel still has a memory like a steel trap for dates, dollar amounts and details, but he demurs to his late brother as the smart one in the family.
"He was a scholar," he says, with pride again evident. "He had a Ph.D. in history. He decided in junior high that's what he was going to do."
And Dick Daniel?
He was four years younger and had to carve out his own niche.
"I fondly remember my mother and the efforts she put forth to get me through the third grade," he says with a chuckle.
Rotary rewards
Joe Spivey is immediate past president of the Rogers Rotary Club, a board member and chairman of the special events committee. He says the Dick Daniel Distinguished Citizen Award has been two years in the making, part of a celebration of the club's 100th birthday in 2016 and a nod not just to Daniel's work in Rotary but also in the community. The award will be presented annually, always in his honor, but not necessarily to a Rotarian.
"It's not just about him," Spivey says. "Dick Daniel represents many business leaders in Rogers who've gone before him. There was no one kingpin in Rogers. A lot of the success in Rogers was because there were a lot of people in those early years working together, having a vision, to make Rogers what it is today."
Daniel speaks with passion about Rotary's effort to eradicate polio worldwide, which has expanded to include all childhood vaccines in developing countries, and the Rotary programs that award scholarships for international study, praising them for engendering "understanding and peace." But the organization has been important to him for more personal reasons, not the least of which is building that sense of community to which Spivey refers.
"Rotary crosses [social] boundaries," he says. "It is a remarkable group of people."
NAN Our Town on 11/05/2015