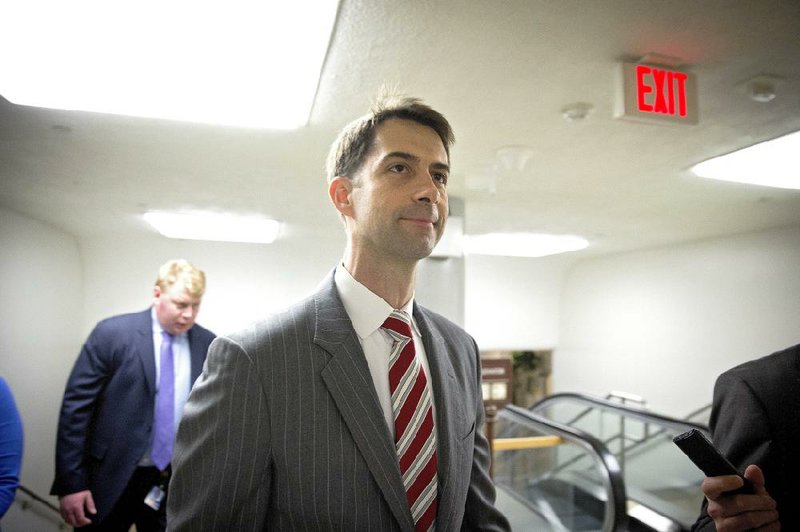 Sen. Tom Cotton (R-Ark.) walks from the Senate subway to a Republican policy luncheon on Capitol Hill in Washington, May 5, 2015. - Photo by The New York Times / DOUG MILLS
WASHINGTON -- About six years ago, Larry Higgins sat before a camera in a Bella Vista Veterans of Foreign Wars hall and told the story of his life.
"At the time I didn't figure that anybody on planet Earth would ever notice that I had even participated, but I was hoping that somebody would," Higgins, 65, said last week.
The remembrances of the former Air Force E6, or "technical sergeant," became part of the Veterans History Project, a Library of Congress program mandated by Congress that seeks to record the stories of as many American military veterans as possible.
The project collects firsthand accounts of U.S. veterans from World War I, World War II, the Korean War, the Vietnam War, the Persian Gulf War and the Afghanistan and Iraq conflicts.
Higgins, who served during the Persian Gulf War in 1991, said the program matters because every person's story matters.
"Everybody's life is important and I think that people need to know. People live and they die and they're around for 40, 60, 80, 100 years and you read the obituaries and it's like, 'They didn't really do anything, did they,'" he said. "But they did."
Volunteers record audio or video interviews with the veterans and also gather photographs, maps, memoirs, letters or diaries. People can hear interviews or volunteer by visiting loc.gov/vets.
To participate, veterans have to be willing to do one of three things: appear in a recorded interview lasting at least 30 minutes; provide 20 pages of diaries, memoirs or journals; or provide 10 original photos, letters, maps or pieces of art.
U.S. Sen. Tom Cotton recorded his recollections of his five years as an Army captain and his tours in Iraq and Afghanistan with the program's director, Bob Patrick, two weeks ago in a Capitol Hill studio.
"I found it to be a very rewarding and fun experience and I'm going to have my father do it, and just want to give every veteran in Arkansas the knowledge and means to do it themselves," the Republican from Dardanelle said in an interview last week.
He joked that he wasn't sure whether he would interview his father, Len Cotton, himself.
"I'm not sure if they'll qualify me to do that," he said, laughing. "My father doesn't talk a lot about his Vietnam experience, but he's not shy about it either. He told me about it when I was a younger boy and we talked about it some when I was in the military as well."
Len Cotton is on the state Veterans Commission and works with the American Legion's Boys State program and the Veterans of Foreign Wars.
"I think he'll look forward to participating, as will, I think, a lot of Arkansans," he said. "There are a lot of them that we need to capture quickly, not just my father and the Vietnam era -- he's 69 and a lot of Vietnam veterans are into their 70s -- but especially the Korea War and World War II veterans. ... We really want to aggressively promote the project and encourage them to provide their service story as possible so we don't lose it."
Cotton staff member Trent Garner, a former Army staff sergeant, is going to hold several events in Arkansas to call attention to the project over the next year and will reach out to civic groups, the senator said.
"He's taking the lead to try to reach out to veterans service organizations and other groups to make sure that all veterans in Arkansas know of this opportunity to give their testimony about their service," Cotton said.
Arkansas is home to an estimated 249,274 veterans, according to the U.S. Department of Veterans Affairs.
"Arkansas has some of the highest rates of enlistment in the country, and we have a disproportionate number of veterans ... plus their families. So if you speak in a group of as little as five or six people you're apt to find someone who is a veteran or has someone in their family," Cotton said. "I don't think many veterans, or their loved ones, would be anything other than very happy to participate in this project."
Nationally, over 96,000 veterans have submitted information to the collection, including 1,059 Arkansans, according to the Library of Congress. Many of them are already available online. A list of submissions can be viewed by state at lcweb2.loc.gov/diglib/vhp/html/search/browse-state.html.
The Arkansas submissions include one story from World War I, 647 from World War II, 171 from Korea, 215 from Vietnam, 21 from the Persian Gulf and 10 from Iraq and Afghanistan.
Dr. Bill Tate, 72, of Bella Vista said he initially refused when a VFW buddy asked him to participate eight years ago. Tate served in the Air Force in Vietnam and returned to the service in 1987, serving tours in the Persian Gulf and Iraq.
"At first I said, 'No. I'm just a guy. I don't have a history to share,'" he said. "Had he not been a real good friend I probably would have blown him off."
Once he learned about the project he consented to an interview and said he was glad he did.
Veterans History Project spokesman Monica Mohindra said the library receives about 100 submissions a week.
"Generally U.S. veterans aren't the kind of person to stand up and say, 'You've got to listen to my story,'" she said. Instead, it takes family and volunteers to push them to do it.
The collections are largely gathered by volunteers, Mohindra said, with about half gathered by people recording stories of their loved ones and the other half collected by civic groups, veterans association, local libraries, schools or Boy and Girl Scouts.
"There is such an extraordinary thing that happens when you sit down to gather the story," Mohindra said. "Clearly something magical happens because so many people do it more than once."
The library stresses that the volunteers should at least be high school juniors.
"It can be hard to talk about your war experience when you are looking at the cherubic face of a child," she said.
The library is focused on getting stories from a wide range of people of different races, faiths from across the country, she said.
"We need more women, we need more stories of people with diverse backgrounds," Mohindra said. She hopes Arkansans will help spread the news and gather the stories. "I need more from you and from your community. The project is not supposed to be top down ... but rather to really collect the whole story."
Metro on 05/25/2015
Print Headline: History project collects stories told by veterans
Sponsor Content
Comments