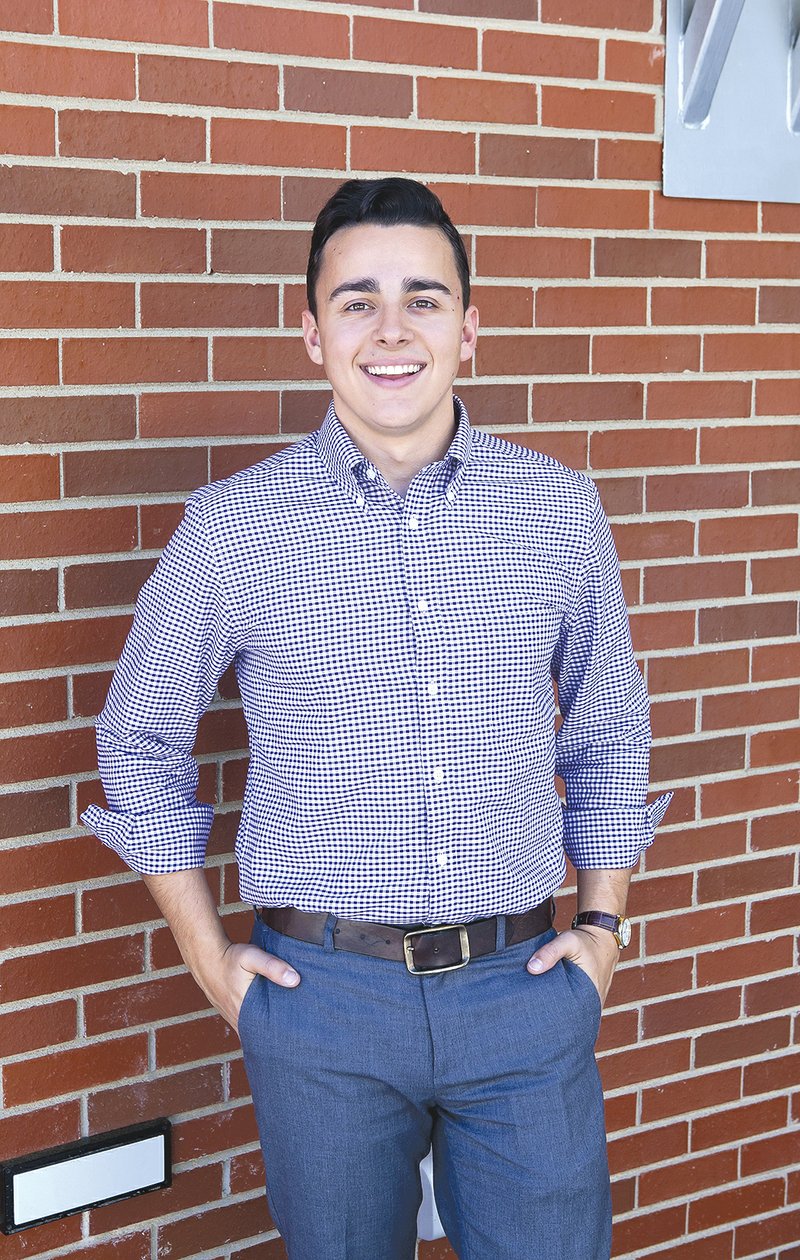 Courtesy Photo UAFS Student Andrew Haught has been selected to be the 2015 John Paul Hammerschmidt Fellow. Haught will work closely with Rep. Steve Womack during a hands-on internship in Washington, D.C., this summer. Haught said he credits some of his communication skills to community "jam sessions." He has played the banjo for nearly a decade.
Andrew Haught is smart. He's talented, well-spoken and loves his parents.
And he's also the John Paul Hammerschmidt Fellow for 2015.
A student at the University of Arkansas at Fort Smith, Haught is the first student to receive the appointment after the April 1 death of John Paul Hammerschmidt, Arkansas politician who served for 13 terms in the United States House of Representatives. The Fellowship was created in 2013 for college students with an interest in public service and allows students to experience the legislative process firsthand in Rep. Womack's Washington, D.C., office.
"John Paul Hammerschmidt was wholeheartedly committed to serving Third District Arkansans, including our students," said Womack. "While he is no longer with us, I am proud to honor John Paul's life and legacy with this fellowship and look forward to welcoming Andrew to our office."
Haught chose to attend UAFS after visiting and becoming intrigued by an aspect of the campus few students really notice.
"When I came for a visit, I saw how particular the grounds were," Haught said. "It made an impression on me that they paid attention to the details like that."
While on tour, a teenage Haught "stumbled" into Chancellor Paul Beran's office, he said, and spent a great deal of time speaking with some of the office staff regarding the UAFS Leadership Council Scholarship, a highly competitive scholarship awarded to students who demonstrate leadership capabilities both inside and outside the classroom.
Although the formal selection process had passed, Haught still made an impression on the chancellor, said Beran. "He was very intelligent and gifted."
Beran chose Haught for the scholarship, and now just a few years later the student who made a "impressive" first impression has been chosen to spend the summer interning with Congressman Womack. "He was picked for the same reason he was chosen for the scholarship," Beran said. "He's multi-faceted, has many interests, is very well read and holds a lot of solidly formed perspectives and opinions, but is open to other people's opinions and perspectives."
Haught credits his "natural" leadership abilities to his parents, he said.
"My dad instilled in me that my actions have more consequences than just my own," he said. "You only have one chance to make a first impression. I really do understand and am able to see opportunities that other people."
Home-schooled for most of his education, Haught said he is lucky to have been given so many opportunities to pursue more than just academic pursuits. He began playing the banjo 10 years ago, when he made the executive decision to play an instrument "not everyone else played," and said that interest had directly influenced his ability to work with others.
"It's a small group of people who play music, but it opened a lot of doors for me to meet a lot of people," Haught said. "The music is very community oriented. You go to a jam with a lot of people. There's no sheet music, so it's all by ear. It's given me the confidence to fail publicly, allowing me to become an individual and not feel timid about things."
His individualism, leadership and confidence will do him well this summer as he leaves Arkansas behind to join Womack for a summer Beran calls an "insight into the sausage-maker of politics." Highlighting the inner workings of the U.S. House of Representatives, Haught will be participating in legislative research, attending hearings and assisting with constituent communications.
"It's a great prestige, there are students from every college that participate in fellowships like this, but there's only one John Hammerschmidt fellowship, and it always goes to a UAFS student," said Elizabeth Underwood, executive director of government and community relations.
"Coming to UAFS has opened so many doors for me," Haught said. "My college experience has really been everything it could be."
NAN Our Town on 05/21/2015
Print Headline: Top of the class
Sponsor Content
Comments