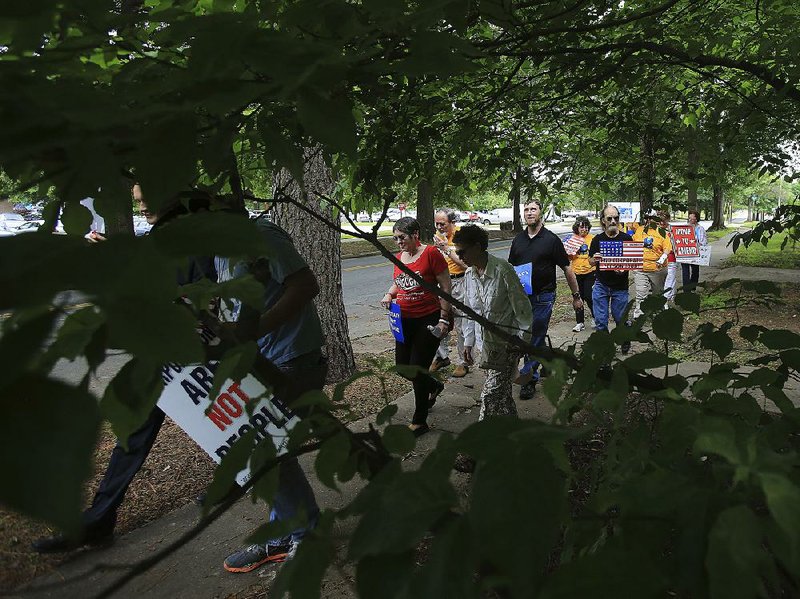 Demonstrators march along Commerce Street in Little Rock on Tuesday on their way to the state Capitol. They rallied in favor of greater restrictions on campaign spending. - Photo by Staton Breidenthal
About 40 activists took to the Capitol steps to protest the growing influence of money in political races and drum up support for a proposed initiated act.
Portraying campaign contributions as a threat to the democratic process, they called for greater state restrictions on campaign spending. Some speakers also called for an amendment to the U.S. Constitution to reverse the effect of the 2010 U.S. Supreme Court ruling commonly referred to as Citizens United.
Citizens United v. Federal Election Commission, and subsequent federal rulings ended caps on the money corporations and unions could spend on independent campaign advertisements.
Organizers are waiting for approval from the Arkansas attorney general's office on their proposed initiated act, the Campaign Finance Act of 2016, which would expand reporting and transparency requirements for independent expenditures by groups that advocate for or against a candidate or an issue.
The proposal also would call on the congressional delegation and the Legislature to support a constitutional amendment so that corporate spending on elections can be further restricted.
"Now, it's not the familial ties, or ties of kinship or sense of place that bind us with our politicians. There's no link anymore. It's whoever can bring the most money in to get on the ballot. And that's a bloody shame," said Paul Spencer, an organizer and head of the state's election reform group Regnat Populus. "The weight of argument has given way to the weight of money."
(Regnat populus -- Latin for "the people rule" -- is the state motto.)
Spencer said that though the attorney general's office has shot down several earlier versions of the initiated act, he is confident organizers will be able to start collecting signatures to put the issue on the ballot in 2016.
Metro on 05/20/2015
Print Headline: 40 protest sway of campaign cash
Sponsor Content
Comments