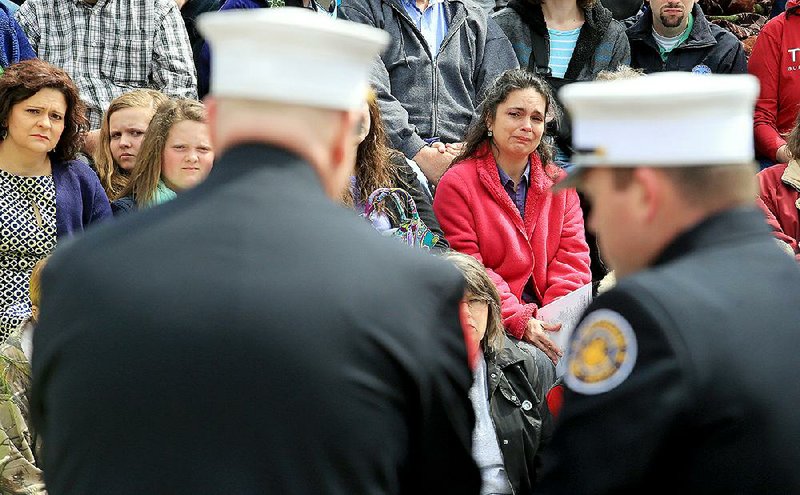 Pam Hutton Greene (left) and her sister Angela Hutton McBride (center) watch as two firefighters ring a bell, then read the name of their father, J.B. Hutton Jr., during Saturday's service at the Arkansas Fallen Firefighters Memorial on the grounds of the state Capitol. - Photo by Rick McFarland
J.B. Hutton Jr. was 77 years old when he responded to a brush fire in Dermott -- the aches of aging and the pleas of his family couldn't keep him away.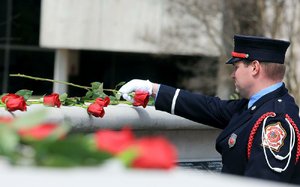 Photo by Rick McFarland
Dustin Bellers of the Jonesboro Fire Department places a rose Saturday atop the memorial wall listing the names of fallen firefighters.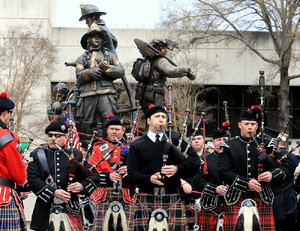 Photo by Rick McFarland
Pipes and Drums members perform Saturday during a ceremony at the Arkansas Fallen Fighters Memorial. In the front row, from left are Chris Boreani of the Newark Fire Department, Brian Quinn of the Little Rock Fire Department and Stewart Wilcox of the Conway Fire Department.
Always eager for decades to fight fires in the town he loved, the Oct. 1 fight would be Hutton's last. Just as the flames were extinguished, he collapsed of a heart attack.
"We tried to get him to retire," his daughter, Angela Hutton McBride, 41, said Saturday. "He looked at me serious and said, 'I can't retire. If I retire, they won't let me go to any more fires.'"
On Saturday, Hutton was recognized on the state Capitol grounds as the most recent addition to a long line of men and women who have lost their lives fighting fires in Arkansas. The Arkansas Fallen Firefighters Memorial held its first memorial service near the statue dedicated last year on the west side of the Capitol grounds.
For the event, Pipes and Drums volunteers from across the state -- dressed in black polo shirts and traditional kilts -- marched and played "Amazing Grace," a bit of "America the Beautiful" and other songs on their drums and bagpipes.
More than 100 people and dozens of men in uniform said a prayer for and honored their fallen loved ones and friends.
Arkansas Fallen Firefighters Memorial board member Johnny Reep recalled for the crowd a time when he was asked to assist in the memorial of a Warren firefighter in April 1986. Reep remembered seeing the man's widow and his small children at the funeral home.
"That family was shattered," he said, thinking of all the life events their father would miss out on.
"Somebody will get hurt," he said. "Somebody will die in the line of duty. But this memorial will be here."
A memorial wall with engraved names curves around part of the statue. It now contains 105 names of firefighters who have died on duty, starting with Julius Deiser of the Fort Smith Fire Department who died April 4, 1889.
Family members can place their hands on their loved one's names, Reep said, "and know that they haven't been forgotten."
Some family members shared memories of their fallen kin Saturday.
"He lived and breathed to fight fires," Pam Hutton Greene, 46, said of her father after the service. J.B. Hutton Jr., former assistant chief of the Dermott Fire Department, followed the passion of his father, J.B. Hutton Sr., who was a firefighter for nearly 50 years.
"The memorial was the best way to honor his legacy," Greene said, adding that she and her family were thankful for Saturday's ceremony.
Also at Saturday's memorial service were Sonya Richter Messick, 46, and Veronica Villalobos Pogue, 42, -- both widows and now friends -- who met through a National Fallen Firefighters Foundation peer-to-peer program designed to help people heal.
For Messick of Pottsville and Pogue of North Little Rock, the service contained moments both happy and sad.
Brian Richter died 14 years ago on his way to the volunteer fire station, and Messick still feels his absence. She choked up during Saturday's service.
Her 17-year-old son, Nicholaus, was able to honor his father as a drummer with Pipes and Drums. He's been practicing with the group in Conway.
Pogue's husband died a year ago: Randy Pogue, an Oak Grove volunteer firefighter, broke his back while responding to a fire on Feb. 2, 2014. He suffered resulting complications for 18 days in an intensive-care unit before his heart stopped.
"It still feels like a bad dream," Veronica Villalobos Pogue said.
"It's an honor to see his name there," Pogue said of the memorial. "At the same time, the reason is the hard part."
Metro on 03/29/2015
Print Headline: 100 remember fallen firefighters
Sponsor Content
Comments