FAYETTEVILLE -- A woman walking near the front of the Northwest Arkansas Pride Parade on Saturday morning clasped hands with her partner among the rainbow-colored flags.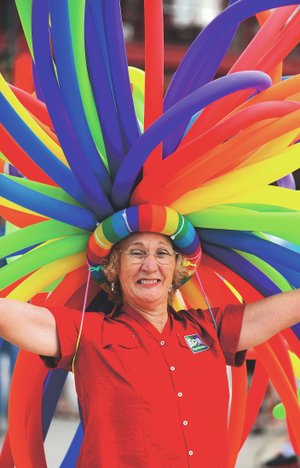 Photo by Andy Shupe
Roxie Howard of Eureka Springs wears a balloon wig Saturday during the NWA Pride Parade on Dickson Street in Fayetteville. Visit nwadg.com/photos to see more photographs from the parade.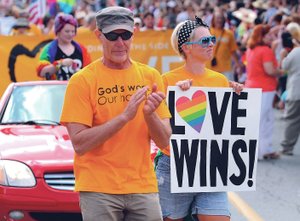 Photo by Andy Shupe
Participants walk Saturday while carrying flags and posters during the NWA Pride Parade on Dickson Street in Fayetteville.
Photo by Andy Shupe
Participants walk Saturday while carrying a large rainbow flag during the NWA Pride Parade on Dickson Street in Fayetteville.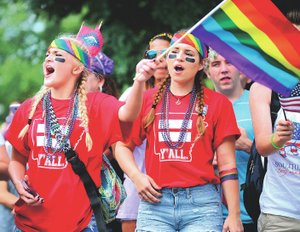 Photo by Andy Shupe
Cammi Tull (left), 16, and friend Madi Rotert, 16, both of Springdale, wave Saturday during the NWA Pride Parade.
"Freedom! Freedom is the way to go!" she shouted. People standing on the sidewalk cheered.
Grand Marshals
This year's grand marshals for the Northwest Arkansas Pride Parade were attorneys Cheryl Maples and Jack Wagoner, both of whom represented plaintiffs in the historic case that led a court to strike down Arkansas's voter-approved Amendment 83. The amendment passed in 2004 and banned marriage between same-sex couples. It was found unconstitutional in 2014.Source: Staff Report
More people turned out Saturday for the annual Pride Parade than ever before, organizers said. Roughly 2,300 people lined Dickson Street and downtown side streets to see floats and support equal rights this year, said John Forrest Ales, a parade organizer and a Northwest Arkansas Center for Equality board member.
Last year, about 700 people came, Ales said.
The center sponsored the parade as part of Northwest Arkansas Pride festivities this year.
More people came, partly, to celebrate the U.S. Supreme Court decision Friday to allow people to marry without regard to gender, Ales said. That ruling means gay marriage isn't going away, said Chaz Allen, the center's board of directors president and a parade organizer.
No numbers were available Saturday for how many people were in the parade this year, but participation was up, Allen said.
Groups of people -- some dressed in rainbow socks or tutus -- walked in the parade with signs that read: "Love Wins," "Love is Love" and "For Fairness, Freedom for Everyone." A wedding officiant played Queen's Another One Bites The Dust from his float.
St. Paul's Episcopal Church rang church bells during the parade. People stopped and hugged each other in the streets. "Congratulations!" were shouted repeatedly.
Two couples, including Chelsie and Robbie Coker, got married during the parade.
The Cokers held their wedding ceremony on a float to "show everybody else that love wins," Robbie Coker said. Thanks to the court ruling, anyone can get married -- it doesn't matter what their gender or their sexual identity is, Coker said.
"We've been waiting for it for a long time," Coker said.
Some people have been waiting for decades to have the same rights as everyone else, said Sylvia Geddes, who walked in the parade.
"I'm 68, and it's the first time in my life I've felt really free," Geddes said. "We are equal. We are celebrating."
Only one person showed up to protest the parade Saturday, Geddes said. The sign read: "Jesus loves you, but not your lifestyle," she said. Ales never saw any protesters, which is a change from previous parades, he said.
"I kept waiting for the hate-mongers and protesters, and they weren't there this time," Geddes said.
People came from Tulsa, Okla., Joplin, Mo., Springfield, Mo., and Little Rock to show their support, Allen said. Families, business and churches participated in the parade.
"I was tearing up when I was riding in our float because of all the outpouring (of support,)" Allen said.
Nicolette and Jerrmy Gawthrop brought their sons Bear, 3, and Fox, 5, out to see the parade to show their support, they said. Before the court ruling, Nicolette Gawthrop worried what to tell her children about why some people couldn't get married, she said. Everyone should be equal, she said.
"They should be proud of who they are -- who they are as people," Jerrmy Gawthrop said.
As the parade ended and people began leaving, young men and women shouted happily and ran up and down streets. Kaya Kidd ran up Dickson Street yelling: "I believe that love just won!"
The parade was a celebration, Kidd and her group of friends said. The battle over the rights of some people to marry has been long and hard, her friend Madi Rotert said. People should have the right to marry whom they love, she said.
Now, people can, said friend Cammi Tull.
"Love wins!" Rotert said.
"We did it!" Tull said.
NW News on 06/28/2015