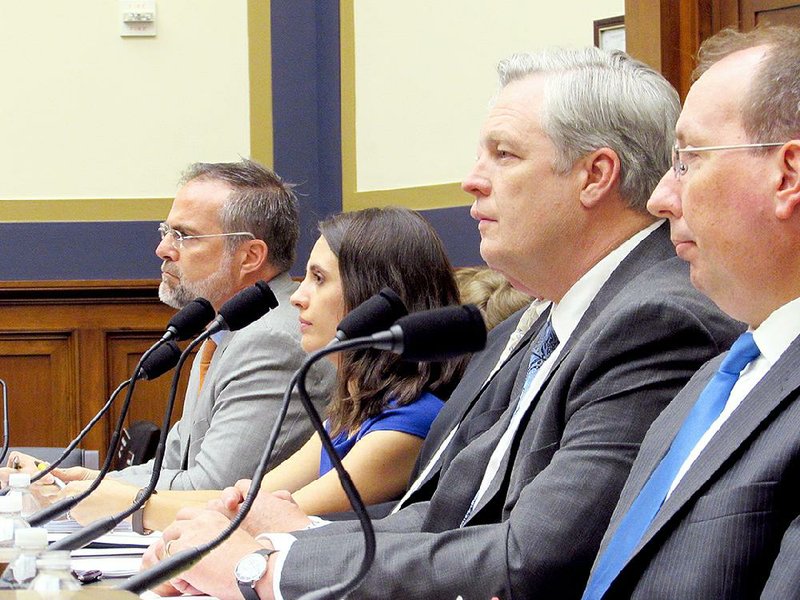 Rachael Cox, with Conway Machine Inc. in Conway, testifies Wednesday before the House Financial Services Committee. Seated with her are (from left) Daniel Ikenson of the Cato Institute, Michael Boyle of Boyle Energy Services and Technology, and Clifford Smith of Cliffs Natural Resources. - Photo by Sarah D. Wire
WASHINGTON -- When the Keith Smith Co. in Hot Springs began shipping hatchery eggs overseas in 2011, it asked the federal government to insure the foreign sales.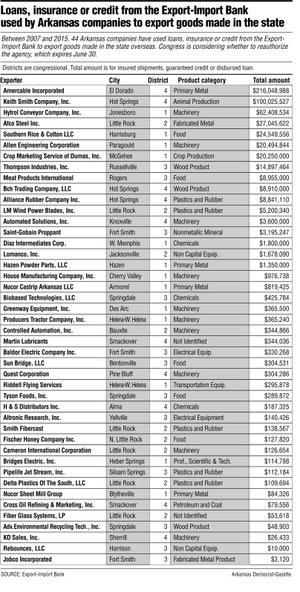 Photo by Source: Export-Import Bank / Arkansas Democrat-Gazette
Listing of loans, insurance or credit from Export-Import Bank used by Arkansas companies.
Keith Smith, the company's Latin American business manager, said the more than 35 percent increase in sales since then has helped the company expand its chicken houses across six southwest Arkansas counties.
"We can make investments, we can make jobs here in Arkansas for the export market, and it is safe and secure and profitable," Smith said. "We know that if any of our trading partners have a difficulty and can't pay or are not able to make good on their promises, that we have the full backing of the U.S. government that is there to help us recover."
But the federal agency that backs those sales, the Export-Import Bank, is just weeks away from closing unless Congress acts.
Created in 1934, the Export-Import Bank offers insurance to protect American businesses if foreign buyers don't pay up or if a shipment is damaged. It also offers billions in credit to finance overseas sales and loan guarantees for foreign customers who buy American products. In fiscal 2014, the agency supported $27.4 billion in exports from American businesses.
Supporters of the bank say the "Ex-Im Bank" allows small businesses to expand into foreign markets, helps U.S. businesses compete against countries with similar banks, and is the financing option of last resort when private banks aren't willing to back riskier ventures.
Opponents say the bank is misused by big companies that want federal assurances in routine deals, gives an advantage to a handful of large corporations over their competitors, and props up deals that the private market has dismissed as not worth the risk.
Senate Majority Leader Mitch McConnell, R-Ky., has said senators will vote on extending the bank's charter later this month, although he opposes the extension. The extension could be included in the National Defense Authorization Act, which the Senate is debating this week.
On the House side, where the extension has divided the Republican caucus, Speaker John Boehner, R-Ohio, hasn't committed to letting the issue go to a vote, and prominent Republican leaders like Majority Whip Kevin McCarthy of California and House Ways and Means Committee Chairman Paul Ryan of Wisconsin have called the Export-Import Bank corporate welfare.
According to the Export-Import Bank's most recent financial report, the bank operates off of user fees and interest instead of tax dollars, though loans are backed by the government, and in fiscal 2014 the bank earned a $675 million surplus that went into the U.S. Treasury.
Smith said the Keith Smith Co. passes the cost of the insurance on to customers who want to use credit to buy its products. Those who pay in advance get a small discount, he said.
Offering credit that's backed by the bank has improved sales and made it easier to attract new clients, he said. Foreign companies act differently when they know they aren't just dealing with a small Arkansas company, he said. "It's Keith Smith Co. supported by the U.S. federal government."
Assurance that the company will get paid extends to the 350 or so Arkansas pullet farmers in Clark, Garland, Hot Spring, Howard, Montgomery and Pike counties whose paychecks depend on Keith Smith Co.'s sales, he said.
"Because we know that we have this insurance, we know that we can make firm promises with our grower base so that they can go and borrow money, and build houses and create jobs in rural America," he said.
Keith Smith Co. is one of 44 Arkansas companies that have exported a combined $784 million worth of goods using loans, insurance or credit from the Export-Import Bank between 2007 and 2015, according to the bank. The Hot Springs company has exported more than $100 million insured by the bank, according to the Export-Import Bank.
Conservative groups that oppose the bank -- like the Koch brothers' Freedom Partners, the Heritage Foundation and Club for Growth -- say it picks winners and losers among American companies and industries, and panders to large exporting companies over small businesses, some of which have moved jobs overseas.
Recently, Arkansas' Americans for Prosperity chapter has run a state-level campaign to drum up opposition to the bank -- meeting with groups, sending mailers and encouraging people to contact their congressmen about it.
"It's been a very multifaceted approach," the group's state director, David Ray, said. "We've met with all four of the [Arkansas] House members specifically on the Ex-Im issue."
In a series of meetings last week, the House Financial Services Committee and the Senate Banking Committee heard from Export-Import Bank Chairman Fred Hochberg, as well as bank supporters like the U.S. Chamber of Commerce and opponents like Delta Airlines.
Richard Hirst, Delta's chief legal officer, told the House committee that the financing the bank provides to overseas airlines to purchase Boeing jets puts Delta at a "competitive disadvantage." Delta and Boeing have spent billions in recent years fighting over the issue in court.
Some supportive committee members argued that when the bank helps one American business at the detriment of another, at least it is making the decision between two U.S. companies, and the jobs stay in America. If the bank didn't exist, the advantage would go to businesses in nearly 60 countries -- including China, South Korea, Japan and France -- that have their own export credit banks, Hochberg said.
Among those testifying on Capitol Hill was Rachael Cox, vice president of sales and marketing at Conway Machine Inc. in Conway. She told the House Financial Services Committee that her family's company began exporting in 2010 as a way to weather the financial downturn. The company considered using the bank to insure its sales but decided that the paperwork was too burdensome.
"Conway Machine is not dependent on the government for its success," she said. "When I researched the Ex-Im Bank, especially the sign-up process, it became clear it was designed more for large businesses. The amount of information required was pretty overwhelming at best and invasive at worst."
After the hearing, Cox said the company opted for no insurance rather than go through a private bank.
In 2014 and 2015, about a quarter of the 30-person company's sales were to foreign companies, and Conway Machine is expanding, she said.
The committee and Americans for Prosperity characterized Cox's testimony as criticism of the bank, but Cox stressed after the hearing that she doesn't oppose the bank. She said the committee invited her to speak about what it's like for a small business to export without using the bank.
"I just wanted to see some changes made to make it friendlier for small-business use," Cox said. "I am a small-government advocate, but the fact is that there are a lot of small businesses and large businesses that need the bank right now, and to pull that rug out from under them would be devastating. There's too many people relying on it."
Members of Arkansas' all-Republican congressional delegation said they are still weighing what to do.
U.S. Rep. French Hill of Little Rock said he's still learning about the Export-Import Bank, which he didn't deal with often in his decades as a banker.
"I'm listening to both sides and am interested in what the issues are," Hill said.
U.S. Rep. Steve Womack of Rogers said he's still trying to determine how closing the bank would affect Arkansas businesses, specifically the aerospace industry, and if changes to the bank should be made.
Complicating the issue for him is what would happen to small businesses that supply parts to larger companies, like Boeing. He said criticism of big companies that use the bank doesn't take into account the small businesses that produce parts for them and benefit indirectly.
"You can't just put it in a vacuum," he said. "So much of the supply chain gets kind of lost in the discussion."
U.S. Rep. Bruce Westerman of Hot Springs said he's heard from passionate proponents and opponents on the bank.
"There are people back home who are adamantly opposed to it, and there are small businesses that use it that are creating products that are being shipped to other countries," Westerman said.
U.S. Rep. Rick Crawford of Jonesboro said in a statement that "the support of American jobs and export of American products abroad is paramount, but we must ensure that we advance the best policies that achieve those goals."
U.S. Sen. John Boozman of Rogers said he wants to see "significant reform" in the bank's structure and how it is led.
"Just renewing the bank as it is now, I'd oppose," he said. "If there were significant reform, then I'd be open to a vote."
U.S. Sen. Tom Cotton of Dardanelle questioned Hochberg during a Senate Banking Committee hearing Thursday. Afterward, he said he has reservations.
"I think the marketplace can best allocate capital. We're putting taxpayers at risk of substantial losses as we continue to use the government to allocate capital as opposed to just let the marketplace decide," he said.
The Arkansas companies that work with the Export-Import Bank are spread around the state, with those in the 1st Congressional District, which Crawford represents, and the 4th District, which Westerman represents, doing the most exporting.
Some are well-known, like Tyson Foods, Inc. and Delta Plastics of the South. But there is also ReBounces LLC in Harrison, which used $10,000 from the bank to help sell tennis-ball pressurizing machines, and Lomanco Inc. of Jacksonville, which has used about $1.7 million to insure sales of attic fans overseas.
Lomanco Inc. controller Jim Byrd said it's easier to use credit through the Export-Import Bank than through a private bank.
"It's a lot cheaper, and it gives you a full guarantee, and you don't have to go through all the paperwork and red tape," he said. "It's kind of a politically sensitive topic right now, but it has really worked good for us, and I think it has really worked good for most companies that are doing any overseas shipments. I hope it continues, but I guess that is to be determined."
SundayMonday on 06/07/2015
Print Headline: State firms praise U.S.-insured sales
Sponsor Content
Comments