BENTONVILLE -- Alice Walton and Uvalde Lindsey shared a high-five Monday to celebrate a job well done, while noting the job is far from over.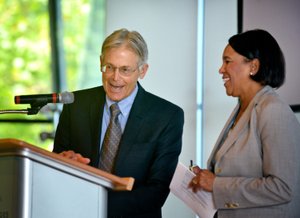 Photo by Ben Goff
Jim Walton, CEO of Arvest Bank Group, acknowledges his predecessor Rosalind Brewer, CEO of Sam's Club, during the transfer of presiding co-chairmanship of the Northwest Arkansas Council Monday as the Northwest Arkansas Council celebrates its 25th anniversary at its annual meeting at Crystal Bridges Museum of American Art in Bentonville.
The pair were part of the Northwest Arkansas Council when it started 25 years ago and attended the group's annual meeting and anniversary celebration held at Crystal Bridges Museum of American Art. About 135 community leaders were at the meeting, including fellow founding members John Elrod, a partner at Conner & Winters; and Mark Simmons, chairman of Simmons Foods.
By the numbers
The Northwest Arkansas Council began 25 years ago. Below are some key statistics comparing 1990 with 2015.
1990 2015
MSA population: 239,464 501,653
Centerton population: 491 11,193
Number of Latinos in NWA's five largest cities: 1,952 58,560
Benton County residents under age 5: 6,657 17,932
University of Arkansas enrollment: 14,600 26,237
Northwest Arkansas Community College enrollment: 1,200 8,164
Interstate miles: 0 227
Walton Arts Center program attendees: 0 193,324
Walmart supplier offices: 25 1,480
Wal-Mart Stores Inc. annual revenue: $32.6 billion $482.2 billion
Tyson Foods Inc. annual revenue: $2.5 billion $37.5 billion
Value of 1990 $10,000 investment in JB Hunt Transport stock: $10,000 $321,500
Source: Northwest Arkansas Council
"The fact this organization is still going is a testament to the group," Elrod said. "Back then regionalism was right up there with communism."
Mike Malone, council president and CEO, said while it's fun to celebrate and look back at the council's efforts, it's also a good reminder of what still needs to be done.
"The region is changing quickly," he said. "Building a region takes team work."
The Northwest Arkansas Council is a private, nonprofit organization collaborating with business and civic leaders to work on regional economic development, community vitality, educational excellence and infrastructure.
Lindsey said the group's first meeting was in July 1990 after Sam Walton gathered his colleagues so they could work together to improve the entire region.
"Out of that became the genesis that, 'I don't live in Fayetteville, I live in Northwest Arkansas.' That was a concerted effort to bind all our communities together," Lindsey said during a video highlighting the council's 25 years.
He served as the council's executive director from 1990 to 2005 and was honored Monday with an honorary lifetime membership. The council has only handed out that honor three times previously -- to President Bill Clinton, U.S. Sen. John Paul Hammerschmidt and Alice Walton, Crystal Bridges founder and board of directors chairwoman.
"It feels like it was just yesterday that we got started, and yet it feels like a long time ago," Lindsey said before the meeting.
He pointed to the opening of Northwest Arkansas Regional Airport, the widening of U.S. 412, construction of what is now known as Intestate 49 and formation of the Benton/Washington Regional Public Water Authority as milestones.
Scott Van Laningham, CEO of the regional airport since it opened in 1998, said during the video the council did not build the airport or the interstate, but was an advocate for it. The organization brought people together to work toward a common goal.
Lindsey said the council is a unique organization because it brings together community, business and civic leaders working for the greater good of all people.
"You have set high standards," he told the group.
Gov. Asa Hutchinson said he was in Congress when the effort to build the regional airport was kicked into gear and said he will never forget the intensity of Alice Walton.
"It took that kind of intensity and vision to make sure it was accomplished with all the mayors and cities," he said. "Great things have been done, but more is to be done for this generation and the next."
Preparing the council for the next generation was a common theme during the two-hour event. Engaging the next generation of nonprofit, public and private sector leaders is listed as a key to future success in the council's development strategy it released in January.
Jim Walton, chairman and CEO of Arvest Bank Group, took over Monday as the council's presiding co-chair from Rosalind Brewer, president and CEO of Sam's Club. This marks Walton's third stint in the leadership role and he joked that it better be his last.
"We need to continue to building leadership for the future," he said after the meeting. "Getting more younger people involved will help us build this region."
Marshall Saviers, a partner with commercial real estate firm Sage Partners, is someone council leadership points to as an example of the group's future. The 35-year-old joined the council last year and was named Monday to its 14-member executive committee.
"Hopefully I can bring a different perspective. I understand culturally what the younger folks in the area want," he said, pointing to trails, restaurants and entertainment options.
He also brings commercial development experience he said will help him push the group forward.
"I want to keep Northwest Arkansas sustainable and thriving in a way that is good for everyone, not just certain parts of society," he said.
Christie Swanson can be reached at [email protected] or on Twitter @NWAChristie.
NW News on 07/21/2015