A few experts in the field offer these tips for keeping your New Year's resolution to "get organized."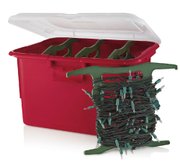 • Check to see what areas are most in need of a post-holiday cleaning/organizing sweep. "The common areas of the house are usually in need of attention after the holidays, since families have been spending a lot of time at home sharing these spaces," says Lorie Marrero, spokesman for Goodwill Industries International. Living rooms and kitchens and laundry rooms are usually good places to start.
• If you didn't do a pre-Christmas purge, it's not too late. "Be ruthless and honest with yourself and your family about what you use and need," says Jenna Ruhe of Northwest Arkansas-based Simple Spaces. "If it doesn't fit either of those categories, trash it or pass it on." Laurie Malloy, Ruhe's mother and business partner, as well as a life coach, seconds that motion. "If you didn't put a specific Christmas decoration out this past year, why not?" she asks. "Is it worn out, do you not like it anymore, do you not have a place to put it? If any of those are true, consider donating or discarding."
• The "centralizing" method is the most efficient way to un-deck the halls, Marrero says. "Find a staging area like a dining table and gather all of the holiday decor from around the house and place it there for sorting. The rooms quickly return to their former pre-holiday state, and you can see everything and sort it and make decisions about the storage."
• Whatever you decide to keep, don't just throw things into a box or in the attic in an unorganized fashion. Michael Silva-Nash, executive vice president of Molly Maid of Greater Little Rock, names his company's three simple rules for post-Christmas packing: 1. Are you really going to use it again? No? Throw it out. "If it looks like junk, feels like junk, and nobody knows what to do with it, it's junk," Silva-Nash says. "If you haven't used it lately, you probably won't anytime soon." 2. Keep Christmas decorations separate -- the string of lights don't go in the same box as the ornaments. 3. Whatever you put up first, store last. "We all know you have to put the tree up before you put up the ornaments on the tree -- so put the tree to be more accessible or in front of the ornaments in the attic," Silva Nash adds.
• Got some smaller Christmas memorabilia items you hate to part with but they don't seem to fit in anywhere else? Use them to decorate a Christmas wreath. "It's like a big charm bracelet, I think ... It's more fun to have a wreath that's more personalized," says Becca Clark, owner and professional organizer for Your Best Move and Creative Convenience in Hot Springs. "And you're also honoring those things, rather than having them stuck away in a drawer somewhere."
• When children receive new toys, ask them what they are no longer playing with. "It's a lot easier for children to let go of things as they see they have new things to replace them," says Mary Johanson, professional organizer and owner of Mary Organizes in Rogers.
• It's a good time to snag some bins to help you organize, especially Christmas-specific storage items, Clark says. Get storage containers for precious, breakable, and antique ornaments. Storing such items in boxes with dividers is easier than wrapping them in tissue. Buy the storage spindles on which strings of lights can be neatly wound.
• Always keep a bag or small box handy for items to be donated. The container, when full, can be given to a charity that runs a thrift store.
-- Helaine R. Williams
HomeStyle on 01/10/2015